Ever since its announcement last year, the excitement around the FAU-G game has been quite high. This could be attributed to a number of factors that range from the fact that it's going to be a 'made in India' game to its patriotic premise. However, as with anything that is popular in tech, there are bound to be some imitators. So as one might expect, the Google Play Store is littered with apps that either:
Use the same acronym/sound similar to FAU-G
Use the game logo has FAU-G for the image
Claim to be a guide for the game
Some apps use a mix of the above, but the point remains the same. FAU-G has not been released yet. In fact, the developers of the game, n-Core Games, released the first teaser only a couple of days ago and it is scheduled to release sometime in November. As such, people are advised to not download any game claiming to be FAU-G, or even a guide to the game as nobody is sure what the game will be about.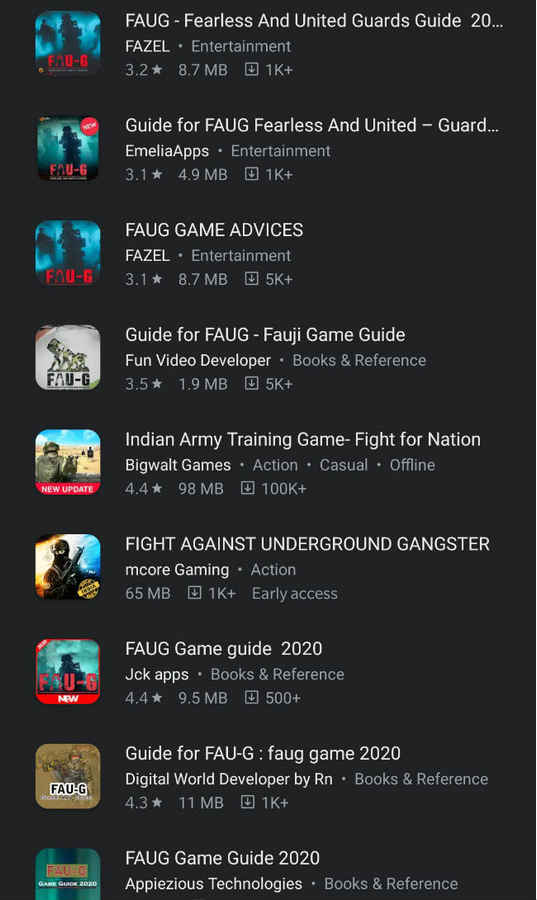 If you do end up downloading one of these apps, you may end up with a bunch of issues. If you are lucky, you'll end up with an asset-flipped game that looks cheap and plays terrible. At worst, the 'game' might end up being malware and could potentially steal your information. As a result, you are better off being a little patient and waiting for the official game.
As mentioned earlier, n-Core Games dropped the first teaser for FAU-G a few days back. It seems to be pre-rendered, so it can be difficult to ascertain actual gameplay elements. But it suggests a focus on the Galwan Valley clashes that happened between India and China. Interestingly, there doesn't seem to be anyone using firearms in the game. Instead, there seems to be a focus on melee-based combat with soldiers resorting to clubs and hand-to-hand combat. There also seems to be a focus on team-based action as towards the end we see five soldiers standing together. Not quite sure if FAU-G will allow for cooperative or competitive multiplayer.
Main Image Credit: Fight Against Underground Gangster