HARMAN Professional Solutions has launched the new JBL Professional One Series 104-BT and 104-BTW desktop reference monitors with Bluetooth in India. The speakers bring with them a compact form factor along with a host of connectivity options. The speakers are targeted at professionals as well as consumers. The JBL 104-BT is available in two colour options - Black, with the model number 104-BT and white with the model number 104-BTW.
"We are excited to bring studio-quality audio to budding artists and established professionals in the comfort and safety of their homes. Music production has evolved beyond the recording studio, and today's creative professionals and music lovers need reference monitors that deliver neutral, accurate sound to create mixes that translate well in a variety of listening environments," said Aditya Todi, Senior Director, Professional Solutions, India and SAARC, HARMAN. "While ideal for musicians, producers, podcasters and audio engineers, JBL 104-BT monitors will fulfill any audio enthusiast's need for an accurate, reliable sonic reference and a truly enjoyable listening experience."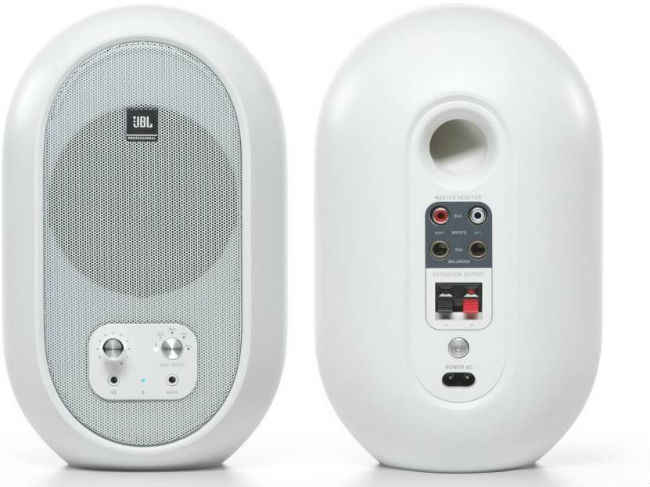 The JBL 104-BT reference monitor claims to feature a "cutting-edge coaxial driver that pairs a contoured low-frequency woofer with a soft-dome tweeter, for accurate frequency response, superior imaging, crisp detail, and a wide sweet spot". The speakers have 30W output per speaker giving the system a total output of 60W.
JBL One Series 104-BT Desktop Reference Monitors specifications
Coming to the specifications of the JBL 104-BT, the speaker has a 4.5-inch low-frequency driver and a 0.75-inch soft dome tweeter. It has a power output of 60W (30W per speaker) and a frequency response of 60 Hz - 20 kHz. The speaker with the amp weighs 2.06kgs while the passive speaker weighs 1.73kgs.
Coming to the connectivity options, the JBL 104-BT boasts of Bluetooth, Aux, RCA, TRS and a headphones port. For Bluetooth, it supports Bluetooth 5.0. The inputs can be changed via a button on the front of the speaker. There is also an "all" option that combines the output from all the inputs. An optional protective carrying case will also be available for the speakers.
JBL One Series 104-BT Desktop Reference Monitors pricing and availability in India
The JBL Professional One Series 104-BT and 104-BTW will be available starting today, for a special launch price of Rs 11,499. Additionally, a 10% prepaid discount will be offered on all card transactions along with no cost EMI.