The design of Google's upcoming Android TV dongle codenamed Sabrina has appeared online. The design is more oval when compared to the round design of the Chromecast. It has appeared online in three colours - black, white and pink.
Google's upcoming Android TV dongle, codenamed Sabrina has been a part of the rumour mill for some time. We know that the device will be very similar to the Google Chromecast in design, will come with a dedicated remote control and run on the Android TV platform. Now XDA Developers has shown us what the device could possibly look like. The XDA Developers website reads, "That brings us to today. While I am unfortunately unable to share any details on the branding, pricing, or availability of Google's Android TV dongle, I can share what are likely official renders of the device. We obtained renders of the device code-named "Sabrina" from a pre-release firmware build".
From the revealed images it looks like the device will have an oval shape as compared to the round shape of Chromecast we have gotten accustomed to. It will also be available in three colour options - black, pink and white. From the image, it looks like the HDMI end of the dongle will still stick out of the device just like it does on the Chromecast. It isn't visible in the renders, but we think the device will have a USB-C port for power. The Chromecast has a micro USB port.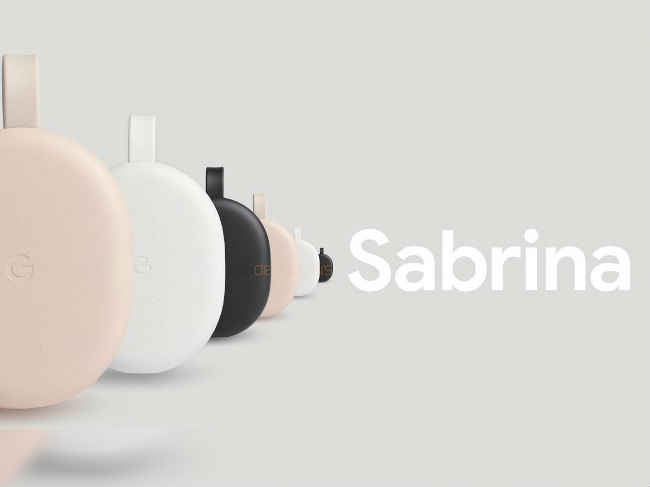 Coming to the remote control, the design is very reminiscent of what we got with the Google Daydream headset. Only half the remote is visible in the image, but it shows a navigation button, an ok button, back, home, play/pause and mute buttons along with a 'star' button. It isn't clear whether it will have a volume rocker or dedicated OTT buttons. There are some images of the UI as well, and it isn't clear whether Android TV will get a UI overhaul with this new device. According to XDA Developers, the device will support Dolby Vision as well. There is no information about a release date or pricing of the device.
The Chromecast was one of the first devices to add smart capabilities to a TV. Before that, users had to rely on devices like the WD TV Live. With the Chromecast, the user's smartphone is the remote control and compatible apps simply "cast" content on the screen.
We have seen devices like the Nvidia Shield, Mi TV Box 4K (read our review) and many more give an Android TV UI along with the convenience of a remote control. We also have the Fire TV Stick from Amazon that brings with it a fluid UI and an Alexa-enabled remote control.