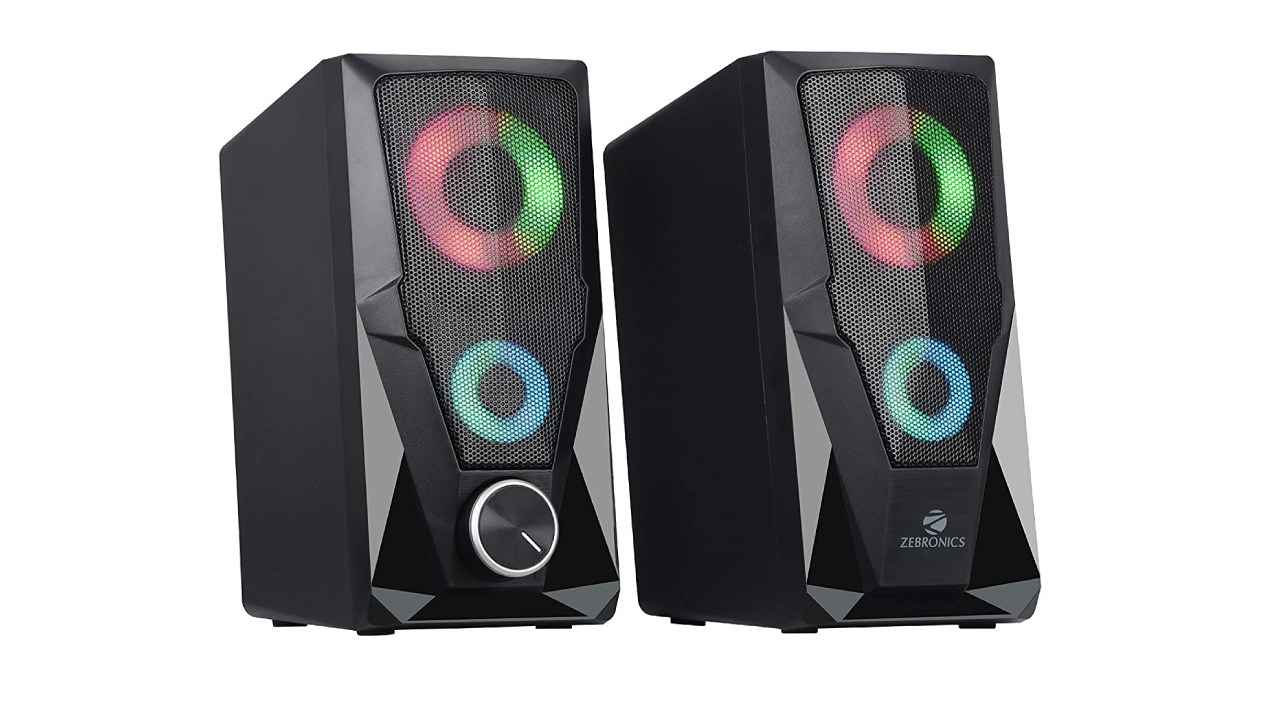 Whether you're working, watching content, or are playing games, you need good-quality computer speakers by your side. Fortunately, you can find many options that are available at a budget-friendly price. The following are a few affordable computer speakers that are ideal for everyday use, available on Amazon.
Zebronics Zeb-Warrior 2.0 Multimedia Speaker with Aux Connectivity
Zeb Warrior is a USB powered 2.0 speaker set that could be an ideal fit for your gaming experience as it comes in a modern design and adds a unique element with its RGB LED lights. The speakers come with breathing RGB LED lights that will add a customised element to any space. This will help create beautiful colours and a sense of calm around your workstation while producing good sound output through the speakers. The speaker comes with a volume knob, making it super-efficient to control your volume when playing games, watching movies and more. The speaker also comes with an AUX input. This means you can control the type of input and the volume as and when you like depending on the music or movie you are watching. The speakers also weigh only about 732g, making it easier for you to move them around the house.
iBall Decor 9 Multimedia Speaker
The iBall Décor 9 comes with dynamic duo computer speakers for more balanced sound output, which is supposed to give you a consistent listening experience. The stylish design of this product will add aesthetic value to your home and workstation and produce good sound. The product has a bass port to produce a deeper and enhanced bass sound for an overall audio experience that's ideal. The absence of this could be a great deal breaker for music savvy individuals looking for gadgets producing deep bass. The speakers are powered by a USB cable, making it easier to charge as you only need to connect the speakers to the laptop or computer through the USB port.
Zebronics Zeb-Pluto 2.0 Multimedia Speaker with Aux Connectivity
The Zebronics ZEB-PLUTO is a 2.0 speaker set that comes in a compact size. This set can be the perfect companion for your PC as it should produce good sound while listening to music, watching movies and even gaming. It comes with an AUX input as well, so you can either plug this into your laptop/desktop or play from your phone/mp3 player. In a similar fashion as other Zebronics speakers, this speaker set comes with a volume control knob making it easy to increase or decrease the volume while you're watching movies or listening to music. The speakers' dimensions are 8 x 15.2 x 8-cms, which allows them to fit into any sort of work cabinet due to their small size. You can easily put it next to your computer without requiring too much space on your table.
AmazonBasics USB-Powered PC Computer Speakers with Dynamic Sound
The AmazonBasics computer speakers come with a brushed metallic finish (black or silver), and glowing blue LED accent lights, making the contemporary-looking speakers fit easily with any modern workspace. Even more, the entire base features a soft rubber foam, which keeps the speakers securely in place, plus it protects the surface from scratches. When it comes to video games, movies, favourite soundtracks, and more, the portable speakers claim to deliver crystal-clear audio. The set-up and operation of the product are also supposed to be extremely easy as you simply need to insert the USB cable into your device's USB port for power and then plug it in your device's 3.5mm headphone jack, and the speakers are good to go. Furthermore, you can raise or lower the volume via the computer or by using the speakers' handy in-line volume control.
Artis S21 2.0 Channel Stereo USB Multimedia Speaker
The Artis 2.0 USB powered multimedia speaker system is specially designed for laptops, desktops & smartphones. The power input is DC 5V via a USB port; Audio Output is through a 3.5-mm audio jack which can be connected to a desktop PC, Laptop or smartphone. You can connect the speakers to a device of your choice either through USB or AUX. It has two speaker units of 2.5W RMS each, providing powerful sound quality when listening to music or watching movies. The wired volume control, enhanced low-frequency effect and powerful bass make for a unique and superior audio experience.
HP Multimedia DHS-2101 HD Speaker with 3.5mm Audio Jack
The HP Multimedia HD speakers are 2.0 speakers that are small in size but claim to offer impressive sound output. Despite their compact design, they deliver loud, crystal clear sound. These travel speakers produce low, deep bass that is exceptionally pleasing to the ear. This will allow you to crank up some old rock music in your bedroom without annoying everyone else in the house. The HP black compact speakers are magnetically shielded to prevent sound distortions, frequency glitches and prevent friction against other magnetic devices. They are easy to connect to external devices and are compatible with a number of digital devices like your smartphones, laptops, PCs, and music players.