With Apple TV finally landing up in India, the obvious question is, should you buy it?
The Apple TV has finally landed on the shores of our wonderful country and no doubt, elitists and pseudo-snobs are probably planning to line-up outside Apple retail stores to get themselves a unit (or two, or more). However, if you're a small part of an even smaller community that prefers to make well thought-through purchase decisions, then you're probably wondering whether you should get the new Apple TV or not. Well, we're not going to tell you whether to shell out your Gandhi or not, but what we are going to do is break down this new product's efficacy for your living room.
Content Conundrum
So I have had the opportunity to run an Apple TV in my dorm room when I was a student living in the US. It was a nice break from the laptop screen (and the rigmarole) of having to download or stream my favourite shows onto my laptop. All I needed was an Ethernet cable and a subscription and I could watch all my favourite shows on my big screen, thanks to the tie-up apple has with Hulu Plus and Netflix.
Between these two giants, there really was no need for a third, but every time I felt the need for some laughs and giggles, I could easily fire up YouTube as well. The idea that the movies, shows and viral videos I watched on my tiny 13 inch screen could now be enjoyed on a large 41-inch LED all thanks to this little box was absolutely amazing. Of course it was a little frustrating that it didn't do much for my DVD collection or the random rips I had lying in my external hard drive. Yet, Netflix's unmatched movie library (and amazingly affordable subscription) made me not miss out on my discs and rips.
In India, the story is completely different. We don't have Netflix here and while Hulu refuses to stream anything to an India IP, Hulu Plus is just out of the question. Apple TV in India does come with YouTube and Vimeo partnership, but chances that you'll find the latest episode of Grey's Anatomy on either of these services is most unlikely. If you love your typical Hindi soaps on the popular TV channels, then once again, you're sh*t out of luck. Currently, Apple TV can only stream content from YouTube, Vimeo, MLB Live Sports and WSJ News in India and that hardly counts as an entertainment package.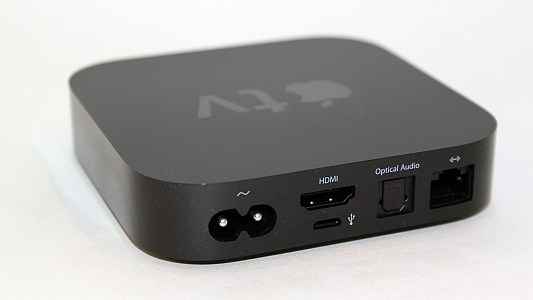 Bandwidth Bashing
If there is anything I have realized from streaming content, it's that if you want the best quality (1080p), then you better be willing to put a serious load on your bandwidth. I have often noticed that when I try streaming a full 1080p movie, there are times when my bandwidth chokes up and the movie stops in order to buffer. This is despite having my Xbox 360 running the internet off an Ethernet cable.
The problem here isn't with the Apple TV or the Xbox 360, but with the existing internet infrastructure we have. Not everyone has an 8Mbps lines installed in their homes and even if they do, the bandwidth caps are hardly enough to support streaming for those who consume content quite heavily. Even if you do manage to get your daily dose of movies (which one might have purchased from the iTunes Store), exhausting your data cap would result in frustratingly slow internet.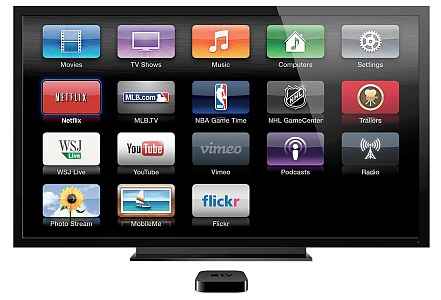 Great if You're an Existing Apple User
An Apple TV in your living room makes sense if you're already tied into the Apple ecosystem, or at least that is the case in India. The only way to get compatible content for the Apple TV is from the iTunes Store, and the only reason to have an iTunes Store account is if you already own a Mac, or an iPhone or an iPod Touch. What if you own neither? Let's for a moment only consider the iTunes store as the source of content, in which case you will have to get iTunes and an Apple ID just to be able to get content streaming to a device that you already had to shell out a lot of money for. The Apple TV offers way too little in order and therefore isn't the recommended "first Apple device" that one should own.
Alternatives
A good alternative to the Apple TV would be the Western Digital TV Live Media Player or a similar device which not only offer compatibility with a variety of formats, but also USB support so that you can connect your external hard drive to the box. Would you want to own a device that can only play files of one specific format, that have been purchased from one specific store? Sounds quite stifling, unless you're already caught up in the ecosystem. The Apple TV also only supports HDMI Out, which means that anyone who uses a component input-based television is out of luck with the Apple TV.
Just for disclosure, I ditched my Apple TV unit in favour of an Xbox 360 simply because I can do a lot more with it. Using my PC, I can stream any and all media files to the Xbox, and as for purchased content, the Xbox 360 has the same limitations as the Apple TV. No access to Hulu Plus or HBO or Netflix, but my YouTube app runs without a single moment of buffering.