HIGHLIGHTS

YouTube has added a new feature that enables users to switch from audio to video.

The option is now available for users on Android and iOS.
Google announced its YouTube Music and YouTube Music Premium audio streaming service back in March in India. The new music streaming service enables users to stream audio from thousands of albums and songs and one could also switch to watch the music video. However, there was a small toggle button on the top-right corner to make the switch and now, YouTube is updating this UI to show two big buttons instead. YouTube Premium and YouTube Music Premium subscribers will now be displayed Song and Video buttons for their currently playing music and this change is aimed at simplifying the process of changing from audio to video.
The feature also works in a way that there's no interruption while switching from audio to video or vice versa. Additionally, if a user doesn't want to watch video, they can head over to the app's settings and turn off the music video option by toggling the 'Don't play music videos' option. YouTube says it has "perfectly time-matched" about five million official music videos to their respective audio tracks, which means that one won't miss a few seconds of the track while flipping between audio and video modes. The new option is now available from today on Android and iOS.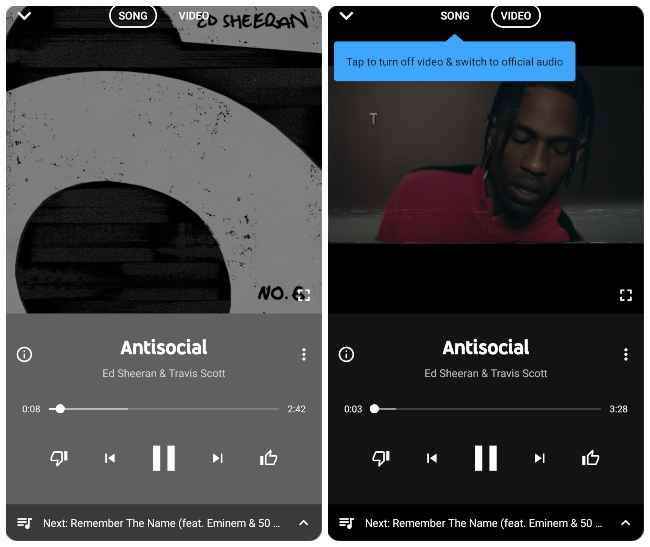 Speaking of YouTube Music, the service is competing with many other similar offerings like Spotify, Apple Music, Amazon Prime Music, Gaana, JioSaavn and others. To get ahead of the competition, YouTube introduced a new Student Plan in India, which is available for both YouTube and YouTube Music Premium. YouTube Music Premium and YouTube Premium is available for Rs 59 and Rs 79 per month respectively for students. Standard users need to pay a monthly fee of Rs 99 and Rs 129 to get premium access to YouTube Music and YouTube respectively.