Want to modernise your banking loan application?
Build an application that analyses credit risk with #IBMCloud Pak for Data on #RedHat #OpenShift
Click here to know more
Advertisements
In a bid to gain more subscribers, and increase overall revenue, YouTube has announced a new Student Plan in India. The new plans are available for both YouTube and YouTube Music Premium, and students will have to shell out less money when opting for the plan. Students who are eligible to opt for the plan will be able to subscribe to YouTube Music Premium at Rs 59 and YouTube Premium at Rs 79 per month. Standard users need to pay a monthly fee of Rs 99 and Rs 129 to get premium access to YouTube Music and YouTube respectively.
In India, the 'Student Plans' are currently open for full-time students from accredited colleges or universities. Eligibility rules to opt into student plans dictate that one must be enrolled as a student at a higher education institution in where YouTube student memberships are offered and which the verification platform SheerID has approved. One will have to check if their college has student plans available by visiting the YouTube Premium or YouTube Music Premium page, selecting 'Get Student Plan' option and punching in their college in the school SheerID form. If their college name appears, then they can avail the service.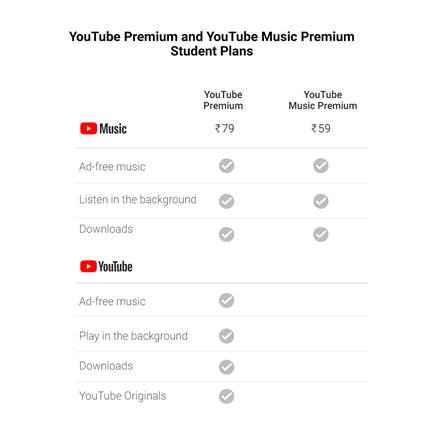 Do note that after successful verification, one will be eligible to continue with the student plan for four years but will need to re-verify every year. In addition, if one currently uses an active premium subscription of YouTube or YouTube Music but wants to shift to a discounted student membership, they will need to first cancel the existing subscription. The new student plans by YouTube are not dissimilar to what other online music streaming services offer. For example, Spotify's student plan in India enables one to avail premium subscription to its service at Rs 59 per month. Apple charges Rs 60 monthly to students who buy an Apple Music membership.