Working from home?
Don't forget about the most important equipment in your arsenal
Click here to know more
YouTube for Android seems to be finally getting the Dark Mode update, which was initially announced back in July this year. The dark theme for YouTube was already available for devices running on iOS and as per XDA Developers, is now being rolled out widely for Android. We checked on our devices and found that the feature is nested under the General tab, within the app's Settings, where one can enable or disable it. On one of our Android devices, the option was not available, however, after clearing the cache and data, it showed up. The new theme is applied throughout the app, even in the search bar and the comments section as seen in the screenshot below.
When YouTube initially announced the Dark Mode for mobile devices, it also introduced a new feature that filled black stripes on the sides of a video that is being played horizontally. The change is independent of the display aspect ratio. For vertical videos, the black stripes are changed to white in colour and the standard 16:9 videos use up some of the screen's extra white space to enhance the video size without impacting its quality.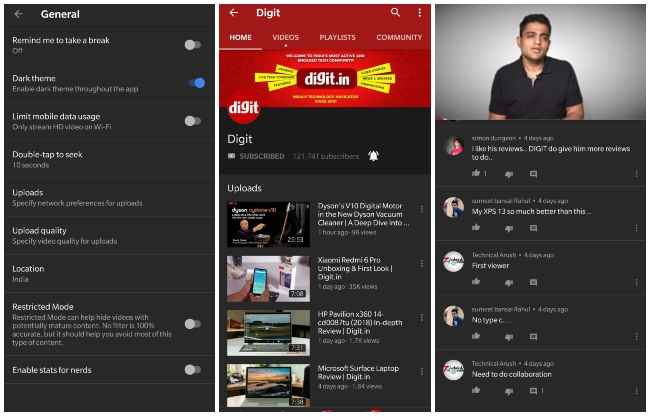 Speaking of the Dark Mode, Google also recently seeded the new colour scheme for its Android Messages app, after rolling-back the update even before it could reach every user who is using a compatible Android phone. Additionally, instead of releasing a new update via Google Play for restoring the old UI, Google apparently chose a server-side update to discard the changes. Google didn't announce the reason why the update was rolled back but one plausible reason seems that the company might have found a critical bug. Downloading the version 3.5 of the Messages app will bring the new Dark Mode, a revamped UI and a Smart Reply feature for the app.