Over the years, Google has made a lot of changes in YouTube UI to enhance the users' viewing experience. Two years ago, it rolled out a feature that started adding recommended videos at the bottom of the content that is already playing in landscape mode on a phone. In the latest update, the company has added actions below these recommended videos. These actions will let users Like or Dislike a video, share it with a friend, or save it to a playlist, without leaving YouTube's full-screen experience. The latest change to YouTube's fullscreen UI is rolling out today on both stable and beta versions of YouTube, indicating a server-side change.
In related news, Google has announced that it would bring YouTube to Facebook's Oculus Quest virtual reality (VR) headset, which will start shipping from May 21 in the US. Just like in the existing versions of the Oculus Go, Samsung Gear VR, and other headsets, YouTube VR will offer access to both 360-degree and traditional 2D videos. This means that those who buy the headset will have access to over a million public VR videos and experiences. Google generally rolls out YouTube VR support a few months after a VR headset is launched, with the only exception being Google's own Daydream devices.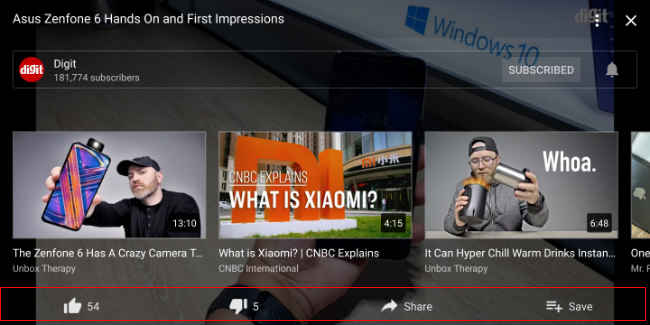 Recently, YouTube announced that YouTube originals and special shows that were reserved for YouTube Premium users until now, would now be available for everyone to watch, but with ads. In Addition, YouTube also announced its new and returning original series and specials, including Cobra Kai seasons 1 and 2. YouTube Chief Business Officer, Robert Kyncl, made the announcement at YouTube's annual Brandcast event.
At its annual flagship event, Brandcast, YouTube announced that India is now its largest and fastest growing audience in the world. Citing data from ComScore, YouTube's CEO Susan Wojcicki announced that the platform has more than 265 million monthly active users in the country. In the last one year, YouTube's consumption on mobile has increased to 85 percent, with 60 percent of watch time coming from outside of the six largest metros in India.