To get the Dark Mode, you need to send the crescent moon emoji, exit the app, re-open it and then check 'Settings'. The Dark Mode toggle will be the top option.
Highlights:
You can get Dark Mode in Facebook Messenger by sending crescent moon emoji in Messenger.
The company is putting "finishing touches" on the mode.
A native Dark Mode in an app has gained a lot of popularity lately. Several leading apps like Google's Android Messenger, have already got a dark mode while some have been reported to be working on the same. Facebook Messenger, for example, is one such app for which people have been requesting a Dark Mode. The company hasn't implemented the mode but those who want to get a black UI instead on the current white and blue interface, can reportedly do it by sending a moon emoji.
Spotted on Reddit, the process of getting the native Dark Mode is easy and, unlike previous methods, it does not require the phone to be rooted. Reportedly, there is an easter egg in Facebook Messenger, according to which, you have send a crescent moon emoji to anyone in chat in Messenger. As soon as you send the emoji, a lot of crescent moons will start dropping from the top.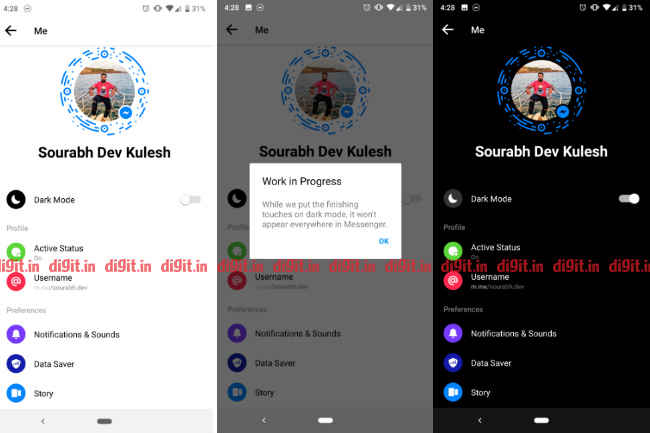 After that, exit out of the app completely, enter back again and you will see the dark mode toggle pop up on the Settings screen. Of course it sounds silly, but Digit can confirm it works. The mention of Dark Mode has been hogging a lot of limelight in the media corridors. One of the advantage of this mode is power saving. The mode essentially turns off display pixels and as a result, much less battery is consumed.
In January, Facebook Messenger was reported to be working on a dark mode. Well-known tipster Jane Manchun Wong posted a screenshot on Twitter which showed that the company was putting the "finishing touches" to the feature. WhatsApp, another instant messaging app owned by Facebook, is also reportedly working on new 'Dark Mode' for Android and iOS. The development was first reported by famous WhatsApp watcher WABetaInfo.
Related Read: