Key Highlights:
The Mint browser sports data saver, voice search and more features
The browser is around 11 MB in size
The browser is currently available only on Android
There are plenty of internet browsers available for Android on the Google Play Store and Xiaomi has also thrown its hat in the ring. The smartphone manufacturer has published its own Mint browser on the Play Store, which the company says is "Lite, Fast Web, Safe, and AdFree." The web browser is indeed light in size as it will take up around 11MB of space on a phone. It also comes with a bunch of features like dark mode, data saver, voice search and more. It should be noted that we were unable to find the app on a phone via the Play Store app and had to install from the listing on the Play Store website.
The Mint browser by Xiaomi supports tabbed browsing to make it easy to navigate between different web pages. It also supports incognito browsing and a reading mode, which removes all unnecessary elements from a web page, leaving only the text and relevant images. As mentioned above, the data saver feature is also present and it could be helpful for users in areas with patchy connectivity. One can enable the features from the hamburger menu on the down-right corner and while the dark mode can be enabled by tapping on the moon icon next to the exit option, the data saver feature is available in tools.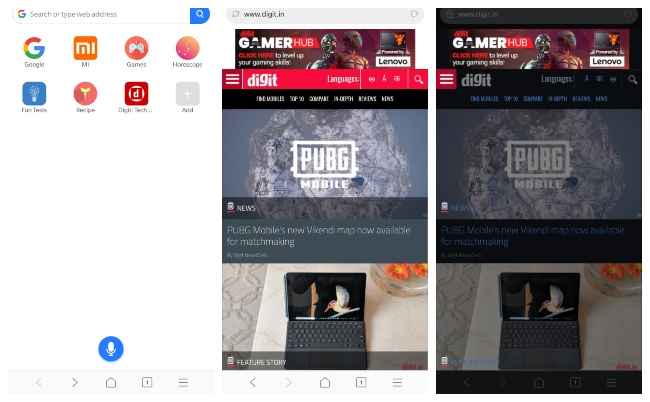 "Mint Browser is one of the best web browsers for Android phones. Breakneck speed, privacy, and security all come in a single tiny package. Our 10 MB app is a lifesaver when you prioritize user experience over pricey specs," the app's description reads on the Play Store. One can also force the browser to render websites as it would load on a desktop, iPhone or an iPad. This can be done by navigating to the app's settings and changing the User-agent string to the desired device under the Advanced menu.