Want to modernise your banking loan application?
Build an application that analyses credit risk with #IBMCloud Pak for Data on #RedHat #OpenShift
Click here to know more
Advertisements
WhatsApp will soon roll out a feature which will ensure that you send an image to the right person. The feature has released in the Android beta update version 2.19.173, and the Facebook-owned app could roll it out to the stable version of the app soon. Those who have installed the latest beta will be able to see a list of names before sending images or videos to their contacts. This allows them to double check the recipient name before sending media files to them. The feature works for both individuals contacts and groups, mspoweruser.com reported. Unfortunately, there is no information whether this feature will be available for iPhone users.
Currently, when you send an image to an individual or group, you just see the recipient's small profile picture in the top left corner. Not sure but as a user, I generally don't verify the person whom I'm sending a media file to, and this is probably why sometimes I make mistakes in sending files. Probably, a mention of the contact name below the caption area may prove better in helping the sender identify the correct person and reduce the instances of sharing an image with the wrong contact.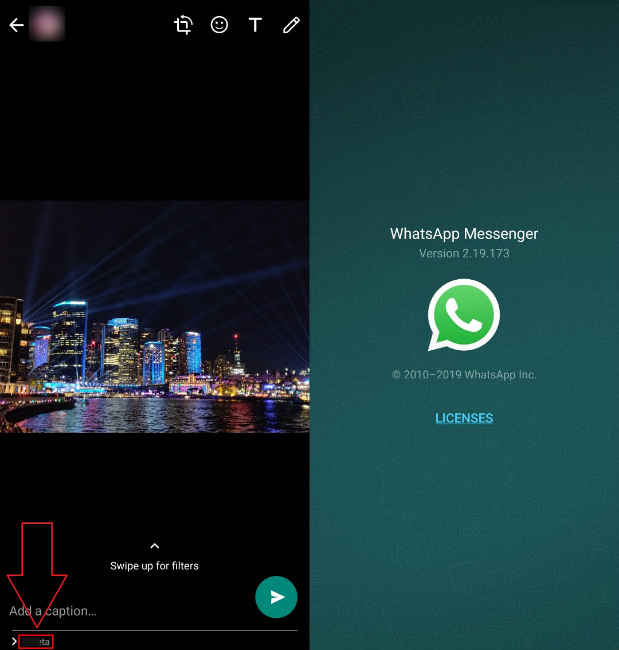 In the recent image-related development, WhatsApp removed the possibility to copy, save and export the profile picture of contacts in iOS. The functionality, which was rolled out in the iOS beta version 2.19.60, is still available for groups, where users can save group icons. WhatsApp has already removed the same feature in the last Android beta updates and in the WhatsApp Business beta for iOS 2.19.60.4 and 2.19.60.5 on TestFlight.
WhatsApp has already released a beta with QR Code and Share To Facebook features. While QR Code will make it easy for users to share phone numbers, the Share To Facebook feature will make it seamless to share Whatsapp Stories to the parent company's app Facebook. These features were seen in the Android app which got the beta update version 2.19.151.