WhatsApp has already taken a lot of steps to curb the dissemination of fake news on the platform and it is now testing another feature to fight the circulation of misinformation. According to WABetainfo, the company now plans to give group admins the power to stop the participants from forwarding Frequently Forwarded messages. The feature has already rolled out in the beta version 2.19.97 on the Android platform, and there is no news on the rollout on iOS.
"This option will be available in future in Group Settings, and only administrators can see and edit it. When the feature is enabled, nobody will be able to send a frequently forwarded message in the group," the WhatsApp observer said. Needless to say that people can copy the frequently forwarded message, and send it as a new message in as many individual groups as he/she wants to but then, this action will slow down the process.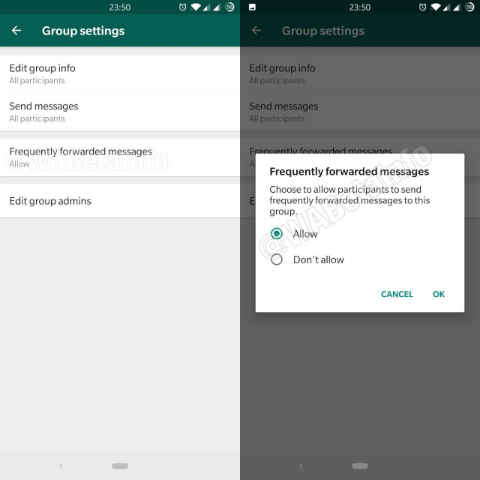 WhatsApp rolled out the Forwarding Info and Frequently Forwarded features in the beta version 2.19.80 for Android. While the Forwarding Info feature will let users know how many times a message has been forwarded, the Frequently Forwarded tag will appear on the top of the text bubble if it has been forwarded more than four times. This feature will help the user to understand when a message is very "popular" on WhatsApp. If it has been forwarded too many times, it might contain incorrect or spam information.
Last week, WhatsApp rolled out a new privacy setting and an invite system for the app, which is aimed at giving users more control over who can add them to a group. The new privacy setting will let users select who can add them to a group by selecting from three options, "Nobody," "My Contacts," or "Everyone." Not only this, the instant messaging platform also launched a new tip line in collaboration with PROTO, an India-based media skilling startup. The tip line number +91-9643-000-888 can be added by WhatsApp users and can be used to verify text messages, videos and photos circulating on the platform with regards to the 2019 Lok Sabha elections.
WhatsApp also rolled out the feature that will restrict forwarding messages to five contacts globally. This was done to curb the spread of fake news and to fight misinformation on the online messaging platform. Reportedly, the app is may soon come with an option that lets users perform a reverse image search on images forwarded to them by others. The new feature is said to use Google's Search by Image feature to perform the reverse image search.
Related Read: