Snapchat held its first Snap Partner Summit 2019 recently and made a slew of announcements at the event. The company has announced its new AR Camera Platform, Discover Originals, Snap Games and Snap Kit at the Snap Partner Summit 2019. Snapchat users will get access to the company's new original shows called Snap Originals. These shows will be available on the app's Discover page globally for all Snapchat users and are said to average five minutes in length. Additionally, Snapchat has announced that it's App Stories can now be created for select other apps. It has also unveiled new Snap Kit capabilities that will unlock more features for users across other apps and has announced new partners across the Snap Kit ecosystem.
Snpachat has also announced 'Snap Games,' which is said to be a real-time multiplayer gaming platform featuring original and third-party games from game devs like Game Closure, PikPok, Spry Fox, Zeptolab, and Zynga. There are also new Augmented Reality and camera search feature that adds to the existing augmented reality capabilities of the app. Here's a brief look at what each of these new features will offer Snapchat users.
App Stories for third-party apps and Snap Kit integration
Snapchat's App Stories are now opening up for third-party apps and users will be able to create a story on Snapchat and share it with some apps that the company has partnered with. Tinder, Houseparty and Adventure Aide are the three apps the new feature is currently supported on. Tinder and Snapchat users can now update their profiles with new "My Tinder Story" option from within the Snapchat app. These Stories integration will launch throughout 2019.
The company's Snap Kit, which was announced back in June 2018 is also receiving new Snap Kit capabilities. There is now a new Bitmoji Kit that enables the apps' users to use Bitmoji in other apps and products. Fitbit devices will now show Bitmojis smartwatch clock faces that are dynamically updated. Venmo, the payments app will also integrate Bitmojis in its payments app. A Creative Kit will enable developers to design and build custom stickers, links, filters and more that can be shared from their app into the Snap Camera. JioSaavn, Netflix, Breaker and more are Snapchat's partners across the Snap Kit ecosystem.
Snap Originals
Snapchat has currently announced ten new Snap Originals, which are short mobile shows that will be available exclusively for its users. These new shows will be available globally on Snapchat's Discover page and will commence airing from May 2019. The shows being made by the app are said to span across a range of genres including comedies, character-driven docuseries, serialized scripted dramas, unscripted social commentary, and more. Production partners on the project include Bunim/Murray Productions, Dakota Pictures, New Form, and Bazelevs, along with some other film and television writers and producers.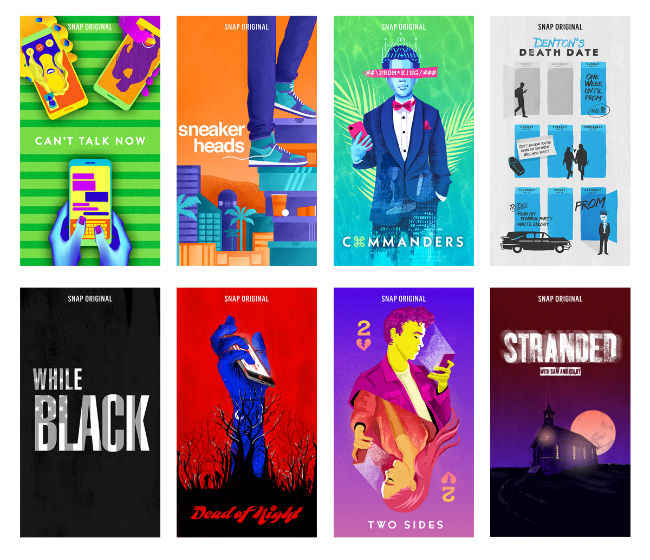 Each episode in a Snap Original is said to averages five minutes in length. Brands will also be able to purchase Snapchat's six-second, non-skippable commercials within these shows. New shows announced for the platform include Two Sides, Commanders, Sneakerheads, While Black, Untitled BuzzFeed Daily Show, Can't Talk Now, Compton Dream, Denton's Death Date, Stranded with Sam and Colby and Dead of Night.
Snapchat AR and camera search experiences
Snapchat has announced new augmented reality and camera search experiences for creators, partners, and Snapchatters. The company is updating its Lens Studio application that enables lens creation and adding more features to enable hand tracking, body tracking, and pet tracking. Lens Studio now features templates for new Landmarker Lens Experiences that enable AR experiences to transform some iconic landmarks in real-time. These templates are currently available for five locations today: Buckingham Palace, United States Capitol Building, Eiffel Tower, Flatiron Building, and the TLC Chinese Theater. More filters for monuments are slated to be added soon. Snapchat users can visit these locations to experience Landmarker-enabled AR Lenses now.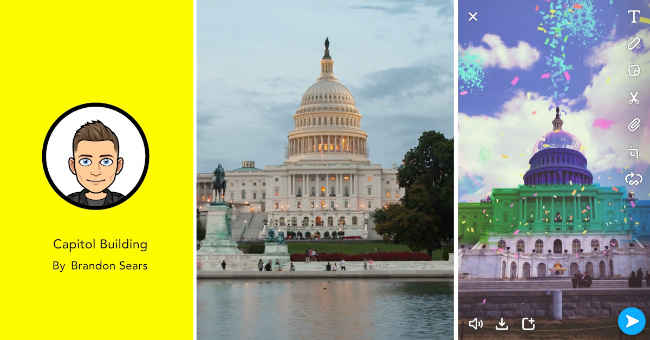 There are some additional camera capabilities added to Snapchat. Users can now press and hold on the Snapchat camera screen to Scan and unlock "relevant experiences" based on what's being displayed on the viewfinder or environment. One will also be able to scan a Snapcode to unlock some special Filters and Lenses and scan a physical product or barcode to get search results on Amazon. Additionally, the app now has an integration with Shazam to help users identify more about the playing music.
An AR Bar is added to Snapchat, which is aimed at enabling users discover and navigate Lenses and camera search experiences on the app. There's also a new Scan button that is designed to display contextually relevant Lenses and camera-based experiences. There are new Scan partners as well, one of them being Photomath, which is said to provide a solution to a math equation when they scan it with the Snapchat camera. Additionally, Giphy will dynamically generate GIF Lenses based on what's in the Snapchat camera view.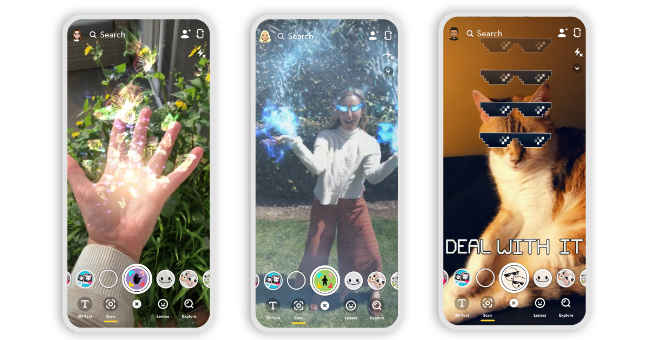 Snap Games
Snapchat has also unveiled Snap Games, which is said to be a new real-time multiplayer gaming platform featuring original and third-party games. The company has partnered with game developers like Game Closure, Spry Fox, Zeptolab, PikPok, and Zynga to add games to the new service. The app will commence rolling out a series of 'made-for-Snapchat' games that currently include Alphabear Hustle, C.A.T.S. (Crash Arena Turbo Stars) Drift Race, Bitmoji Party, Snake Squad, Tiny Royale, and Zombie Rescue Squad. Snapchat users will be able to access and play games directly from Chat.
Related Reads:
Snapchat rolls out new app redesign for iOS