Highlights:
Slack on Android and iOS gets dark mode theme.
The dark mode was being tested in beta but can now be enabled from Settings.
Desktop version of the app is also expected to soon receive the dark mode update.
Almost all major app developers are rolling out a dark theme for their apps to make them easier on the eyes and save battery. If you have a phone with an OLED display, the dark mode will help extend your device's battery life. Keeping with the trends, developers of the chat app for workplaces, Slack, are now rolling out the dark mode to the app on Android and iOS. Users of the app need to update to the latest version for enabling the dark mode on Slack. The update is now rolling out for both iOS and Android users and the dark theme can be enabled from the app's Settings menu. The dark mode is applied for the main window, the Settings screen and almost every window inside the app. Do note that the option to toggle the colour scheme from white to dark might take some time to show up as it could be a staggered rollout.
As per the Slack app's changelog, noted by 9to5Mac, the dark mode is currently available for only mobile devices. It could is expected to soon arrive for the desktop version, sometime later. As mentioned earlier, many other app developers have also introduced the dark mode for their apps. Facebook and Google are two of the major developers who recently enabled dark mode in their Messenger app and the Chrome Canary browser respectively. Google has been quite active in testing dark theme for its apps. It is reportedly testing the colour scheme on Google Assistant app, however, the interface could use a bit of polishing.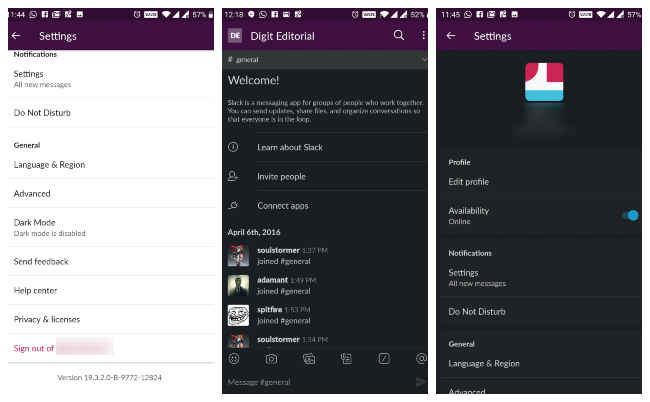 Speaking of Google, the Android operating system developer is also expected to bring system-wide dark mode with the upcoming Android Q OS. As per a previous report, a Googler says that the dark mode is an "approved Android Q feature." Reference to the darker theme was also spotted on a Chromium Gerrit tracker created by the Googler Lukasz Zbylut, which states, "[Android] Q team wants to ensure that all preloaded apps support dark mode natively." As one might speculate, "all preloaded apps" are most likely Google and Android Open Source Project (AOSP) apps.
Related Reads:
You can enable Dark Mode in Facebook Messenger by sending crescent moon emoji