Want to modernise your banking loan application?
Build an application that analyses credit risk with #IBMCloud Pak for Data on #RedHat #OpenShift
Click here to know more
Advertisements
Since the early 2000s, Shazam has been one of the most popular tools for identifying songs played in the open. But there's one thing users could never do: identify songs played through headphones on the device running it. Well, that little limitation has been overcome now because the latest version of Shazam can indeed identify songs played on the device running it, whether it's through the loudspeaker or through connected headphones. Unfortunately, the new feature is available only on Android and not on iOS.
When Shazam is updated to the latest version and opened on an Android device, it suggests you try out the new feature. Called Pop-Up Shazam, the feature requires system permission to display over other apps. When the feature is finally enabled, a small alert pops up to tell you, "Start Shazaming from the notification at any time without having to open the app. Visit Settings to disable." When the app is minimised, a small movable Shazam icon sticks to the side of the display for easy reach.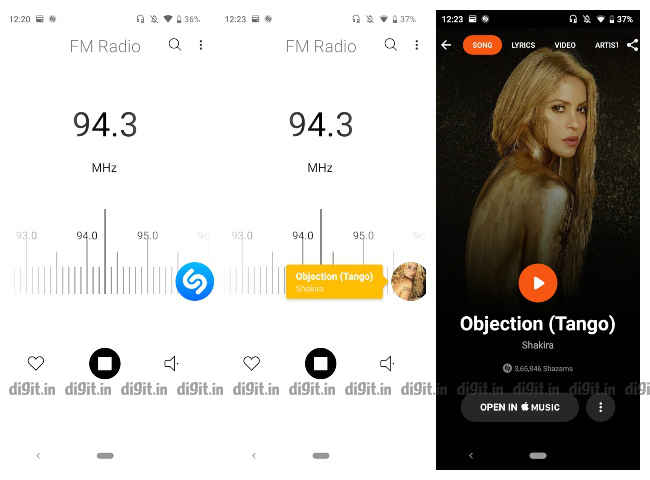 In a quick test that we performed, the new Pop-Up Shazam feature worked on a random FM radio channel slowly but surely. Shazam took longer than usual to identify Shakira's Objection but pulled through after about seven or eight seconds. During the identification process, the little Shazam icon pulsated. When a match was found, a small pop-up message appeared next to it but only for a few seconds. Sure enough, the record was saved in the My Shazam section of the app for future reference.
Considering that Apple is currently the owner of Shazam, it's surprising (and even a bit ironic) that the new Pop-Up Shazam feature made it to Android first and not iOS. But that's understandable because it's easier to develop a feature like this for Android than iOS. Apple imposes stricter rules about third-party apps using the device's microphone for active listening in the background. For that reason, it's hard to say when iOS will get Pop-Up Shazam.