Highlights:
WhatsApp rolls out beta bringing Dark Mode for Android.
The feature is currently available for testing.
The latest version also brings an update to the audio files UI.
Last year, it was reported that WhatsApp was working on a 'Dark Mode' for Android, and now the update has been rolled out in the latest beta version of the app. Apart from the 'Dark Mode', WhatsApp beta version 2.19.82 also updates the audio UI, and with that, the name of the audio file will appear in the audio bubble. In October, WhatsApp beta version 2.18.100 for iOS had also showed the Dark Mode for WhatsApp.
The first mention of the 'Dark Mode' was seen in the 2.19.47 beta update that was released in the September. "WhatsApp has redesigned all Settings. There was a reason why they did so: to make Settings compatible with the new Dark Mode," WABetainfo said. Testers who want to use the mode need to update the app to the latest version.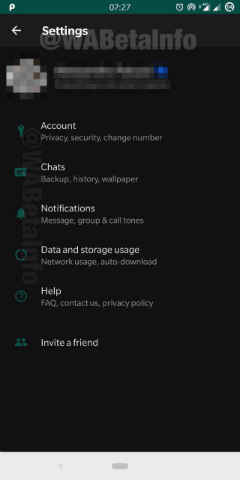 The news comes a few days after, WhatsApp rolled out Forwarding Info and Frequently Forwarded features in the 2.19.80 beta update. While the Forwarding Info feature will let users know how many times a message has been forwarded, the Frequently Forwarded tag will appear on the top of the text bubble if the message has been forwarded more than four times. Once these updates are rolled out, users can also check for how many times the message was forwarded.
WhatsApp is also working on other features to combat fake news globally. In the beta version 2.19.73, the app was reported to come with an option that lets users perform a reverse image search on images forwarded to them by others. The new feature appears to use Google's Search by Image feature to perform the reverse image search. Tapping Search opens up the phone's default browser to perform a reverse image search on Google, a feature Google Images has had since 2011.
Related Read:
WhatsApp reportedly testing fingerprint authentication feature, revamped Audio Picker option
WhatsApp tests limiting mass forwards to five chats at once and removal of quick forward button to curb fake news