Highlights:
JioRail app is available only through Jio App Store on JioPhone and JioPhone 2
JioRail app allows users to make train reservations and cancellations
JioRail app needs Jio data to function
Reliance Jio has launched a new app called JioRail on the Jio App Store for reservation and cancellation of train tickets. The JioRail app is available only on the JioPhone and JioPhone 2. It allows users to book and cancel train tickets, check PNR status, file TDR and view booked ticket history. The app uses IRCTC's reserved ticket booking service to make bookings and cancellations. It accepts payments in the form of debit cards, credit cards, and e-wallets. While JioPhones can connect to Wi-Fi, the app requires connection to Jio data in order to authenticate bookings.
Apart from the features it offers, JioRail will reportedly expand its offerings to introduce additional services allowing users to locate trains as well as book their food orders on trains using the app.
While the introduction of the JioRail app could be another big sales driver for the JioPhone, JioPhone 2, it's not like Jio needs the numbers. According to a recent report by Counterpoint research, Jio was the overall market leader across all handset types in 2018, with a market share of 21 percent. Reliance Jio managed to capture 38 percent of the feature phone segment in just over a year. Additionally, Jio's Monsoon Hungama offer helped it to drive sales in the second half of 2018. Still, train ticket booking is an important functionality to have in an app, and to make that available to feature phone users is a step in the right direction by Jio.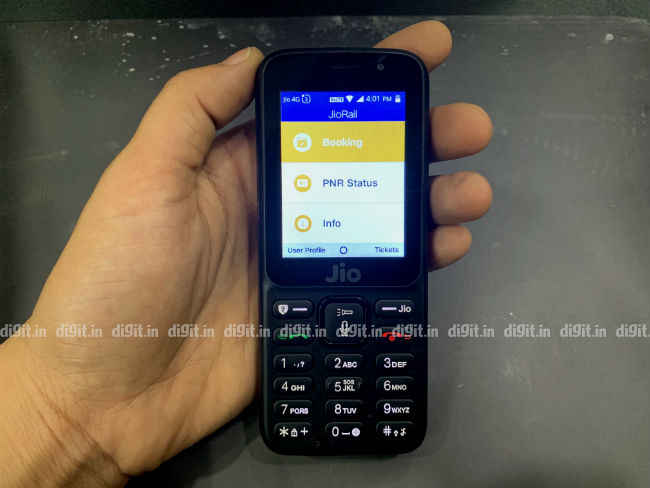 How to use JioRail app
To download the JioRail app, head over to the JioStore on your JioPhone or JioPhone 2. Make sure your JioPhone has a Jio SIM in it to be able to access the Jio App Store. Without a Jio SIM, the Jio App Store will not be functional, even if your phone is connected to Wi-Fi.
Once in the Jio App Store, search for JioRail and download the app. The interface is pretty straightforward and you will get options for 'Booking', 'PNR Status', and 'Info' upfront. The buttons on either side of the four-way navigational key on the JioPhone can be used to view User Profiles or Tickets.
To book tickets, press the 'Booking' option and select the departure and arrival stations, along with the date of journey. Stations can be searched for using station codes or city names, just like on the IRCTC website. Make sure you are connected to Jio 4G and not Wi-Fi in order to book tickets. The app uses the Jio network to authenticate, hence it will only book tickets if you are on Jio data.
Once you have selected your destination and departure station, you can view ticket options and continue to book the same.
To check PNR Status, users just need to input their 10-digit PNR number after selecting the PNR Status option.
The Info tab on the app provides access to FAQs, Privacy Policy and T&C.