Adding a new branch to its existing ways to connect with friends in Direct Messages, Instagram has now introduced 'Chat' sticker that will let users create conversation groups directly from Stories. It is available among other Instagram stickers like polls, mentions, question boxes, locations, among others. Users who have placed the sticker in their Story will also be able to select which friends (or followers) they would like to add to the conversation.
This sticker is helpful in situations that invovle inviting people for a cause or making plans. For example, if you are making plans to go on a trip to the mountains, you can place the sticker in your story inviting people to join you for a conversation and the trip. When it comes to businesses or publications, they can use it to talk about a certain product (see below) in a closed group. Conversations can also happen on Facebook posts, however, the user who has posted the information originally won't have control over the number of participants.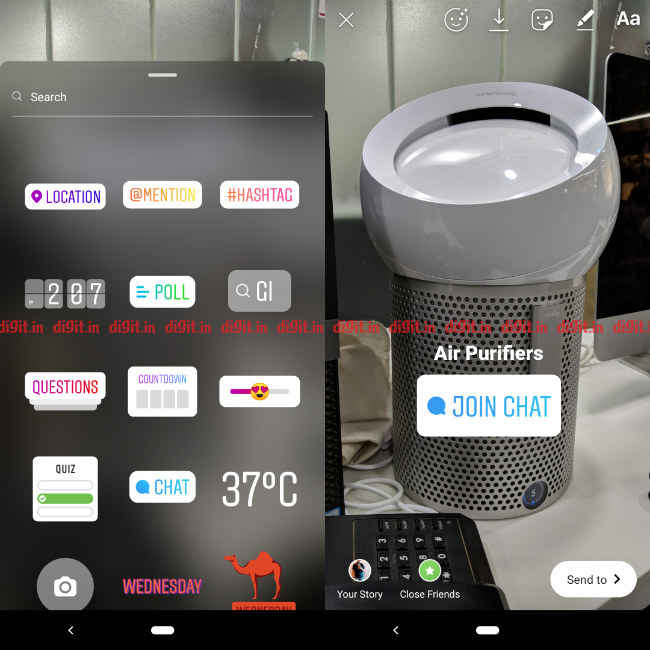 If your friends have posted the 'Chat' stickers in their Stories, you can tap 'Join Chat' sticker to request access to the chat. The original posters can then choose whom they want to include in that specific chat, which will take place in their direct messages inbox. It also gives the original poster the power to end that chat at anytime. The sticker is rolling out now and available on Android and iOS in India as well.
Last month, Instagram introduced the lyrics feature to the already announced Music sticker. The option enables users to select lyrics for a song of their choice, which is placed in their Story. If the lyrics are available, they will be shown with the Story. The feature is available only in the regions that have the Music sticker, which means that it is not available in India.