Google has released version 7.6 of its customisable keyboard app Gboard for Android. The update brings the ability to shrink or stretch Gboard and place it anywhere on the smartphone screen. Gboard's floating keyboard can be accessed from the overflow menu on the top left corner of the keyboard after updating the app. Tapping on the Floating button brings up a smaller keyboard with a D-Pad below it. The D-Pad can be used to move the floating keyboard around, making it more flexible to use with certain apps. The keyboard can also be resized, so you can stretch it or shrink it as per your comfort.
It's good to see Google constantly updating Gboard, which is now a pretty popular keyboard thanks to its customisation options and handy features. Gboard has been installed over 1 Billion times and comes with Google Search built right into the keyboard. It also has useful features such as Glide Typing, Voice Typing, ability to write in cursive and printed letters in 100 languages, Emoji and GIF search, support for Google Translate and more.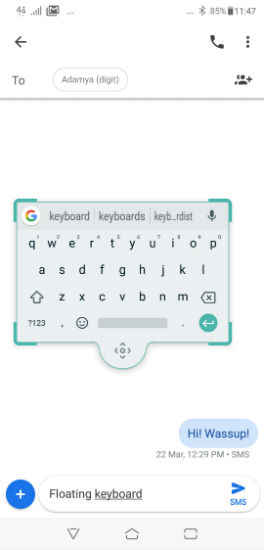 Recently, Google updated Gboard for Android with a 'Make a GIF' feature. The feature lets you make your own short GIFs with images and text added to them.The new Gboard update also supports 15 new languages for the search feature in stickers. You can read more about how to use these new features here.