Google has partnered with various companies and online Job portals so that users can find jobs directly via Google Search. Users can also filter job listings on the basis of location, company, title and more.
Google has unveiled a new job Search experience in India to make it easier for users to find jobs in the country. The company aims to make the task hassle-free and quicker by allowing users to find job listing aggregated from various online career portals, and classifieds on the Google Search platform. The new Job Search experience also allows users to filter the listings as per their requirements. Users can also share job listings and save them for later or sign-up for email based alerts. Google Search users can access the experience in English through the Search app on Android and iOS, or through Google Search on both the desktop and mobile. It should be noted that the feature is currently not available while using Google Search in any other regional language.
Now, when a user searches for "jobs near me," "jobs for freshers," or any other similar job-related query, Google Search displays a special module that can be expanded for a more interactive experience. One can click on a job listing in Search to read a summary of the profile and view other relevant information such as job title, location, full-time or part-time, and more. Google will also constantly update the listings and remove jobs that have been filled or are no longer available. After viewing the listings, users can proceed to apply for their selected job by visiting the source website of the job listing. There is no option for applying for a job from within the search result and there never will be such an option. As mentioned earlier, to make the job search experience faster and more relevant, users can apply smart filters within Search. These will enable users to filter job listings on the basis of job title, location, type and more. When searching for a query, users can turn-on email alerts and tweak them to receive instantly, daily or once a week. When a job listing is saved, it will be shown under a separate tab for easy tracking.
Google has roped in various partners to provide these job listings in Search, including - IBM Talent Management Solutions, LinkedIn, Aasaanjobs, Freshersworld, Headhonchos, Quezx, QuikrJobs, Shine.com, T-Jobs, TimesJobs, and Wisdomjobs. Job listings from Naukri.com are not yet available directly via Google Search, but from what we were told, the two companies are in talks for the integration.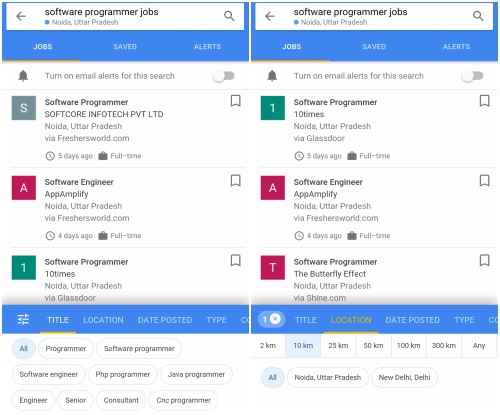 Google will also impose penalties on the job rankings of the aforementioned partner sites if they display expired jobs. However, the penalised partner site will have an option to inform Google that it has removed said expired job listings to restore its Search rankings. This move is essentially to make sure that the partner sites keep their job listings updated and users don't end up applying for expired jobs.
The company has also released an open documentation in order for companies, both large and small, to make their job openings discoverable on the new Search experience. The open documentation is based upon structured schema.org web markup standards, which are supported by Google.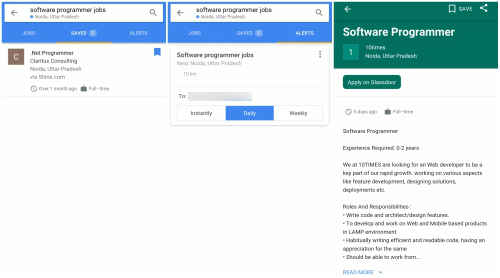 Commenting on the launch, Rajan Anandan, Vice President India and Southeast Asia, Google, said, "We know that people turn to Search while looking for a job. In Q4 last year, we saw more than a 45% increase in the number of job search queries, and this number is continuously growing. However today, the job search experience is not always effective. On the other hand companies -- especially SMEs -- that are the largest job creators are often unable to make their listings discoverable. This new job search experience powered by our partners and our open platform approach attempts to bridge this gap."
Achint Srivastava from the Google's Search Engineering team said, "From a fresher looking for her first job, to a seasoned professional seeking out better prospects, finding the right job opportunity can be challenging. By working with our many partners to integrate their comprehensive listing of jobs, and offering an open platform where any third-party job search board or direct employer and can now surface their jobs to a broader audience, we hope this new experience on Google will help make the job search simpler and more effective."