Technology companies have come under scrutiny for the way their services impact people's minds. Facebook, for example, has talked in detail about how spending too much time on social media could be bad for people. Google was one of the first companies to announce a solution to this problem by introducing an activity Dashboard on Android P at this year's Google I/O. Apple followed suite by introducing Screen Time on iOS 12. Following the same approach, Facebook has introduced new tools to help users monitor as well as manage their time on Facebook and Instagram.
"Today we are announcing new tools to help people manage their time on Facebook and Instagram: an activity dashboard, a daily reminder and a new way to limit notifications. We developed these tools based on collaboration and inspiration from leading mental health experts and organizations, academics, our own extensive research and feedback from our community. We want the time people spend on Facebook and Instagram to be intentional, positive and inspiring," Ameet Ranadive, Product Management Director at Instagram, and David Ginsberg, Director of Research at Facebook, said in a blog.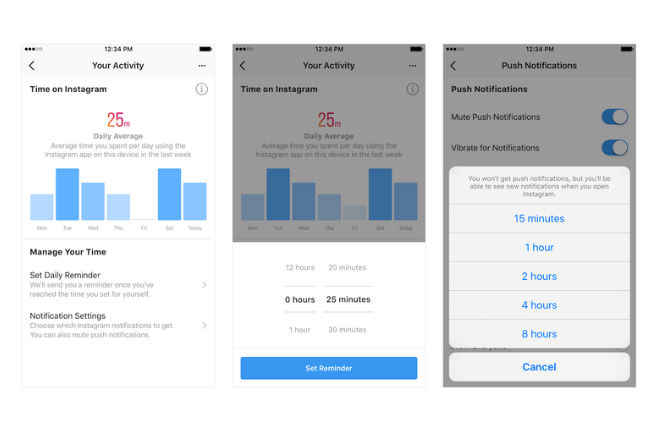 The company hopes that these tools will give users more control over the time they spend on the platforms and also foster conversations between parents and teens about the online habits that are right for them. These tools will be available for Facebook as well as Instagram .
To access the tools, you need to go to the Settings page on either of the apps. On Instagram tap "Your Activity," and on Facebook, tap "Your Time on Facebook." At the top, you will see a dashboard showing your average time for that app on that device. Tap any bar to see your total time for that day. Below the dashboard, you can also set a daily reminder to give yourself an alert when you've reached the amount of time you want to spend on that app for that day. Facebook has also given an option to people to change or cancel the reminder at any time. At times when you need to focus on work, you can also tap on "Notification Settings" to quickly access the new "Mute Push Notifications" setting to limit your Facebook or Instagram notifications.
"We have a responsibility to help people understand how much time they spend on our platforms so they can better manage their experience. In December 2017, we shared insights about what the team at Facebook is doing to create experiences that help people connect and build relationships," the executives said.
These tools are the latest addition to already launched initiatives and features that the social media giant unveiled to empower users to better control the content they want to see, eventually making the overall experience better. Over the past year, Facebook has improved News Feed quality to show people the most relevant posts with features like See First, Hide, Unfollow, and Keyword Snooze. On Instagram, the company launched tools like the "You're All Caught Up" message in Feed, keyword filtering, sensitivity screens, and offensive comment and bullying filters, to proactively care for the community.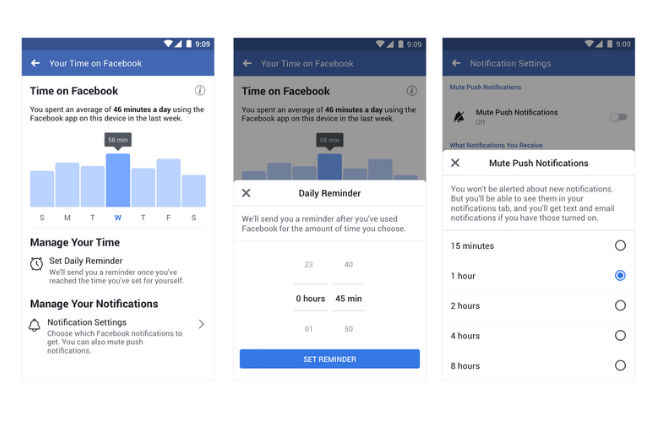 "We also have an ongoing, global commitment to suicide prevention, including the expansion of proactive detection and improvement of first responder identification. Our approach was developed in collaboration with mental health organizations such as Save.org and with input from people who have had personal experience thinking about or attempting suicide," Facebook claimed.