A new homegrown social media super app called Elyments, made by the Art of Living Foundation was launched in India by the Vice President of India, M Venkaiah Naidu, and is now available on the Google Play Store and iOS App Store. With the ban of TikTok and 58 other Chinese apps, Indian app makers have a vacuum to fill. The popular social media platform has already seen a bunch of homegrown alternatives like Roposo, Chingari and Mitron rack in the downloads as a large number of users are migrating and looking for a new platform to speak their minds and show off their creativity.
What is Elyments?
Elyments is an all-out social media app that rivals Facebook in terms of features and things you can do with it. It's also completely homegrown, developed by Bangalore-based private IT consultant, Sumeru Software Solutions with more than 1,000 IT employees working on it, on behalf of the Art of Living Foundation.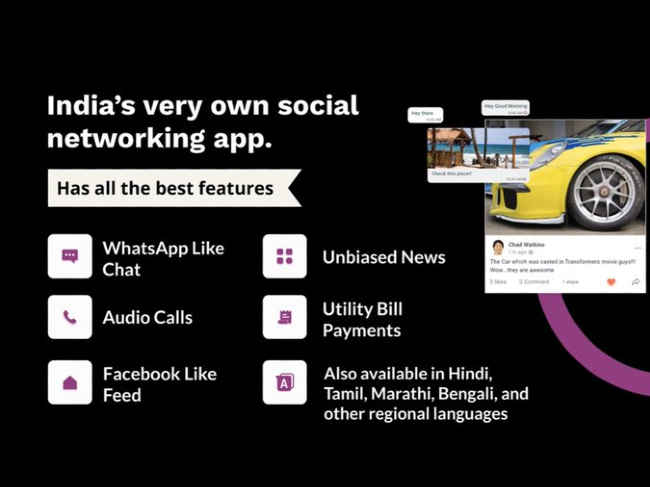 The app essentially takes the popular features from various social media apps like Facebook, Instagram, WhatsApp and the likes and combines them to offer an all-in-one platform for people to engage with each other. And it doesn't shy away from admitting where it took its inspiration from. The app has already garnered 5 million downloads. There's no web version of the app, yet.
Elyments positions itself as a super-app of sorts. One that can do it all. It's available in more than eight Indian languages and for now, you can make friends, chat with them, browse their content on your feed and even make a call to them.
Why is Elyments called a super app?
The app is divided into three main sections — Hub, Social and Chat.
The Hub offers curated news content. You can get a fix of content based on themes like health and lifestyle, fashion, or sports. You can even small games here on the hub. The second section is social, which wasn't working as it should as of writing the article. But based on the headings, there will be a feed, dedicated to the content shared by your friends, and a 'Discover' section which we're guessing will surface content that has gone viral. The chat section is where you can see friends who are online, and chat with them, and even make audio calls.
Using the app, provided there are enough people on the platform, one can easily garner friends and followers, like in the early days of Facebook. You need a phone number to create an account.
But this is not where the buck stops. While Elyments seemingly begins its journey as a Facebook-clone, it harbours an ambition to become India's WeChat by integrating more elements into the app. At the launch, the Elyments team said they also plan to add more features in the coming weeks. This includes secure payments, video calls, public profiles and also a curated commerce platform.
How sound is Elyment's privacy policy?
On its Twitter feed, Elyments claims 'hardware-based encryption technology' with the data being stored within Indian shores. The app also has a bunch of privacy settings where you can tweak who can see your content and personal info.
However, the privacy policy of the app clearly states it collects personal information like date of birth, email address, contacts stored in your phone, professional and educational data, preferences and interest-related data and more. This includes personal data shared voluntarily by the user as well as those that are collected in the background. Among other things, the data is also shared with third parties who may provide services on the app in a revenue-sharing model.
However, the privacy policy also states Elyments has strict contracts in place with third parties to prevent them from using the personal data outside of the domain both parties have agreed upon.