Highlights:
Apple is allowing shoppers to gift in-app purchases to friends
Earlier, people could only gift paid apps to others
App Store made $12 billion in Q3, 2018
Apple is allowing shoppers on App Store to send their in-app purchases as gifts to others. The announcement was spotted by MacRumors after the company updated the App Store Review Guidelines. Previously, shoppers could only gift paid apps to other people, but not paid in-app content. There is no clarity on how this feature will work. Reportedly, a third "gift app" option is available with paid apps, but there is nothing specific for gifting in-app purchases.
Earlier, the guidelines read, "Apps should not directly or indirectly enable gifting of in-app purchase content, features, or consumable items to others." After the change, the current guidelines say, "Apps may enable gifting of items that are eligible for in-app purchase to others. Such gifts may only be refunded to the original purchaser and may not be exchanged." You can read the full guidelines here.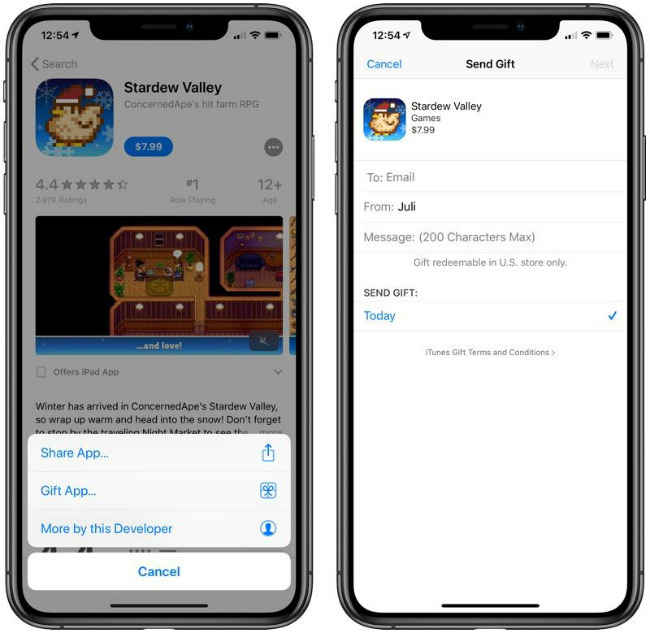 During its WorldWide Developers Conference 2018 (WWDC) event in June, Apple CEO Tim Cook took the stage and shared some interesting insights regarding App Store. He said that there are more than 20 million app developers on the Apple App Store who have earned nearly $100 billion dollars since the App Store's inception. Recently, a research firm said that App Store has been earning more than Google Play.
According to a new report from Sensor Tower, the App Store earned nearly 93 percent more than Google Play in the third quarter. Approximately 66 percent of the $18.2 billion in mobile app revenue generated in the quarter came from App Store. The store made $12 billion in the quarter, which is up 23.3 percent from the $9.7 billion year-on-year. In comparison, Google Play earned $6.2 billion in the quarter, up 21.5 percent from $5.1 billion it made during the same period last year.
Image Courtesy: MacRumors
Related Read:
Apple WorldWide Developers Conference 2018
Epic Games pulls all Infinity Blade games from Apple's App Store
Google may be working on a subscription service for paid apps