Apple has launched its first Android app that it had developed in-house. The new app is called Move to iOS and, as the name suggests, allows Android users to move to iOS. The new app was first announced alongside iOS 9 at its developer conference. The launch of the app coincides with the launch of iOS 9.
The app is aimed to facilitate users who wish to move from an Android device to an iPhone, iPad or iPod Touch running iOS 9. The app supports any Android smartphone or tablet running Android 4.0 and above. During the iOS 9 setup process, users will be given an option to switch to iOS. When that option is selected, it will provide a code. This code will have to be entered in the Move to iOS app on the Android device. Users will then be able to select the types of content they wish to transfer from the Android device. According to Apple, the app supports the transfer of contacts, message history, camera photos and videos, web bookmarks, email accounts and free app. Paid apps are put on the wishlist on iTunes and App Store for purchase. The app creates a private Wi-Fi network to transfer content. The app will also notify users if there was any content it wasn't able to transfer to the iOS device.
At the time this story was published, the Move to iOS app on the Google Play Store had a rating of 1.8 out of 5. Most of the complaints directed towards the fact that most users chose Android to get away from the walled garden ecosystem of iOS.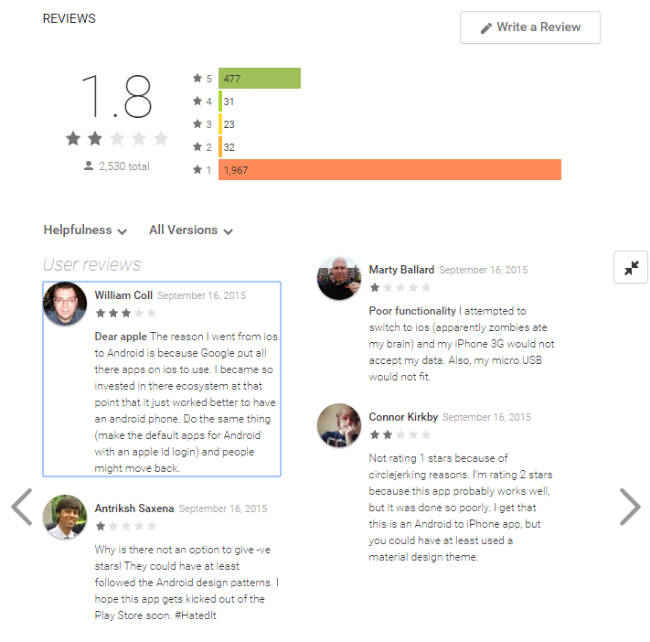 iOS 9 Beta was released to the public in July this year. The new OS comes with a new font and has Low Power mode. It also has Spotlight Search and a upgraded Task Manager interface. The settings were also tweaked. Apple introduced CarPlay support and Switch control. Switch controls let users highlight an app or a feature and ensures that it opens that app when an accessory is plugged in.