Amazon India is running quizzes and games under its Amazon Funzone July carnival. The e-commerce giant is offering rewards of up to Rs 100,000 as Amazon pay balance, as well as a chance to win new mobiles, best laptops, and more for customers. The Amazon Daily Quiz runs 24 hours daily and starts every day at midnight. To play the Amazon daily quiz users can log in to the Amazon app and become eligible for a lucky draw of Amazon Pay Balance, which can be used to purchase items from Amazon.
1. To play the Funzone daily quiz download the Amazon App from Google Play Store OR Apple Store.
2. Open the Amazon app on your phone and sign in.
3. Next go to Home Page and go to Funzone.
4. Click on the "Amazon Quiz" Banner
5. Now just tap on Start Tab to play the quiz and win exciting prizes.
Here is the Daily Quiz for July 26, 2021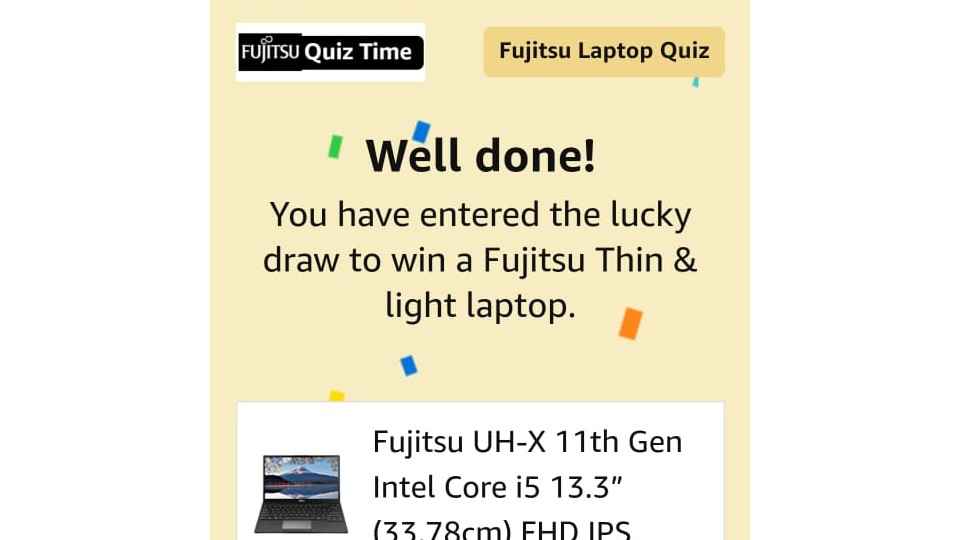 1. Margherita Hack, an Italian astrophysicist who was recently honoured with a Google Doodle, is known by which of the following names?
Answer- The Lady of the Stars
2. Jardalu is a unique mango variety from which state of India?
Answer: Bihar
3: Lynetteholm is an artificial island being built in which country?
Answer: Denmark
4: Name this popular breed of dog
Answer: Beagle
5: Which type of basketball shot is shown here?
Answer: Dunk
Amazon Prime Day 2021 has kickstarted today and brings new launches for customers. You can play the Amazon Fujitsu Laptop Quiz questions and answers to win a new Fujitsu laptop.
How to find Amazon Fujitsu Laptop Quiz?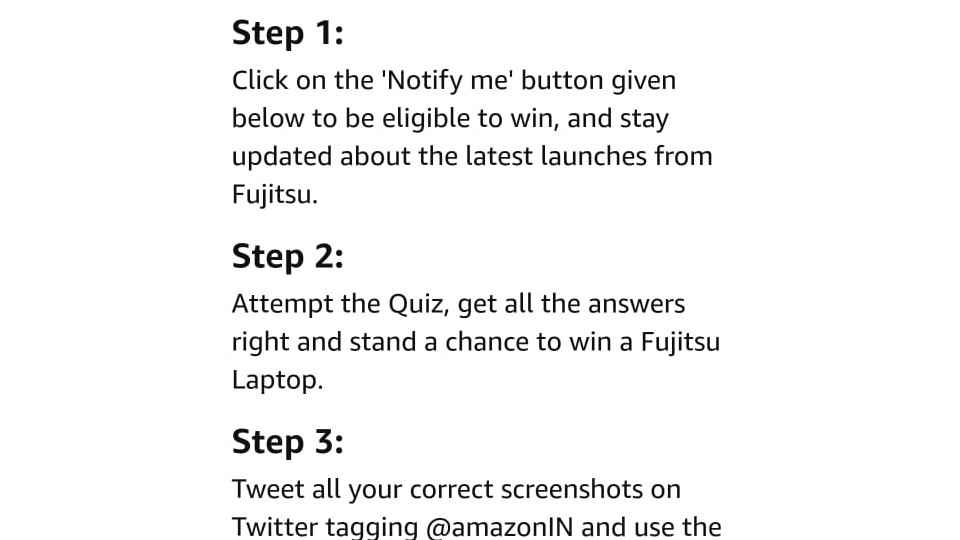 The Amazon Fujitsu Laptop Quiz is now available on the Amazon Funzone quiz section of the app.
-To play the quiz search for Funzone and click on the first result.
-Now, scroll down to find the "Prime Day Games | New launches" section.
-You will see the Amazon Fujitsu Laptop Quiz.
-Simply click on the banner and it will take you to the quiz.
Here are the Fujitsu questions and amazon quiz answers-
1: When was the year in which the Fujitsu brand was established?
Answer: 1935
2: Fujitsu is launching a Convertible touchscreen product this Prime day.
Answer: TRUE
3: In which of the following locations is Fujitsu headquarters located in Japan?
Answer: Tokyo
4: Fujitsu provides services to over ____ countries & regions across the world.
Answer: 180
5: How many products are Fujitsu set to launch in India?
Answer: 2
When will the Laptop Quiz winners list be revealed?
Amazon Fujitsu Laptop Quiz is from July 16th, 2021 to July 27th, 2021. Three participants will be selected as winners and their names will be revealed on July 28th. The winners will be informed via email or SMS and the prize will be credited to all the selected winners by September 20th, 2021. You have a chance to win the best laptops in India.
Amazon AMD Laptops Quiz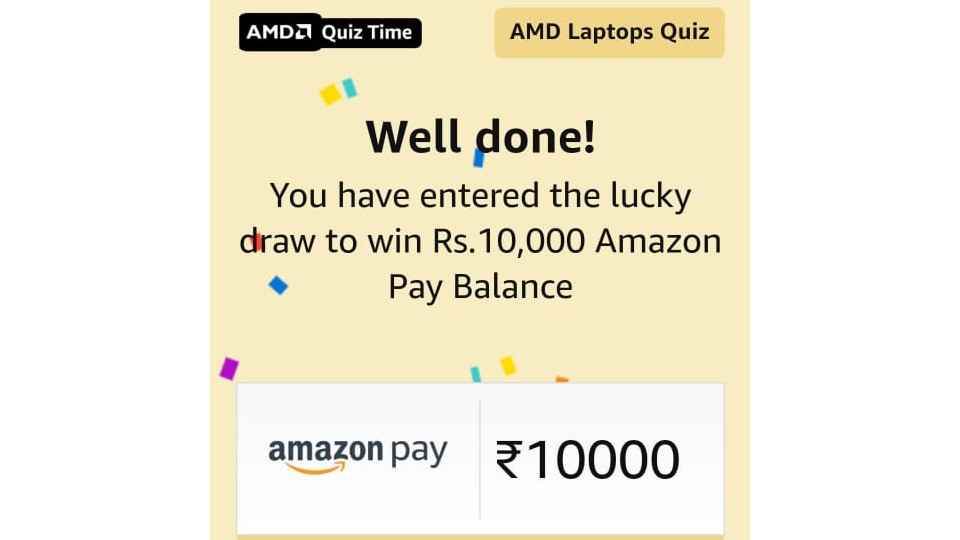 1. What is the latest Tagline of AMD Mobile Processors for Laptops?
Answer: Power Your Next
2: Up to how many cores and threads are available in the latest AMD powered ultra-thin laptops?
Answer: 8 and 16
3: Which of the following are the advantages of using laptops powered by AMD Ryzen 5000 series mobile processors?
Answer: All of the above
4: Gaming Laptops with AMD Ryzen 5000 series and top-end graphics cards deliver 70% better performance than the previous generation of laptops.
Answer: TRUE
5: The latest AMD laptops come with __________ for a stutter-free video conferencing and seamless connectivity.
Answer: Wi-Fi 6e
Amazon Intel Laptops Quiz questions and answers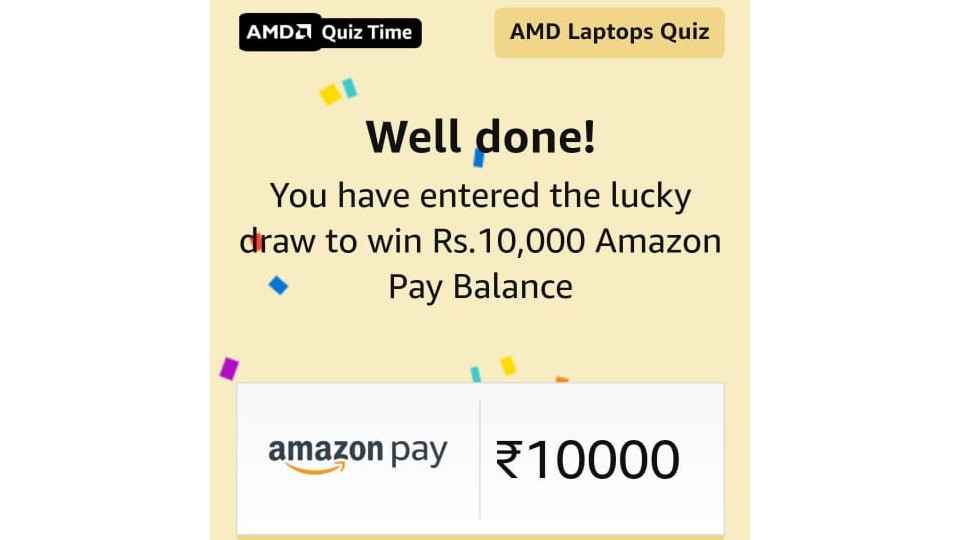 1: Which is the world's best processor for thin & light laptops?
Answer: 11th Gen Intel Core processors
2: The 11th Gen Intel Core processor-based laptops offer 32% faster productivity compared to older laptops.
Answer: TRUE
3: Which of the following features describe the laptops powered by the Intel Evo processors?
Answer: All of the above
4: The Intel Wi-Fi 6 technology delivers up to ____ faster connectivity versus standard Wi-Fi.
Answer: 3x
5: Which is the latest graphics technology built into 11th Gen Intel Core processors?
Answer: Intel Iris Xe Graphics
What are the Terms and Conditions of the Amazon Laptop Quiz?
-The lucky draw for the quiz will be done at the end of the contest period.
-Winners will be informed via email or SMS to claim their prize.
-The mobile number of the contestant will be verified with Amazon.in to claim the prize.
-All information shared in connection with the contest will be treated according to Amazon's privacy notice.
-Amazon can use your image or likeness for promotion if you participate.
-Amazon reserves the right to change the terms and conditions at any time. The company can also cancel the contest at any given time.
To participate in the quiz, you have to be a legal resident of India and over 18 years. Winners must provide valid identity proof like a Voter ID, PAN card, Driving License or Indian Passport. Amazon employee or their direct family members or affiliates are not eligible to participate in the lucky draw.
For more technology news, product reviews, sci-tech features and updates, keep reading Digit.in or head to our Google News page.