Kaiterra has announced its latest air quality monitor, the Sensedge, at an event on September 5 in India. The company's latest device is meant for keeping an eye on indoor air quality and although it can be used in homes to monitor current indoor air quality, it is also aimed at buildings, offices, hospitals and more. The company uses Grade B sensors on the device, which can also be customised for detecting specific particulates in the air. We attended the launch event and were able to spend some time with the Sensedge air quality monitor. Here is a quick impression of it.
Unlike many clunky air quality monitors, Sensedge sports a rather fresh design with a large display. However, the display is bound to draw more power and the device is also thick, which can be attributed to the size of the sensor modules. The device is touch enabled and the UI is pretty straightforward and simple to use. When the air quality monitor is booted up, one will be greeted with the main interface that displays the overall Air Quality Index in the center. The AQI is calculated based on the current PM2.5 readings. There is a vertical column on the right where other particulate values like PM2.5, CO2, TVOC, humidity and temperatures are shown. We could not verify how well the device works and how minute variations in air quality it can register with the short amount of time we spent with it.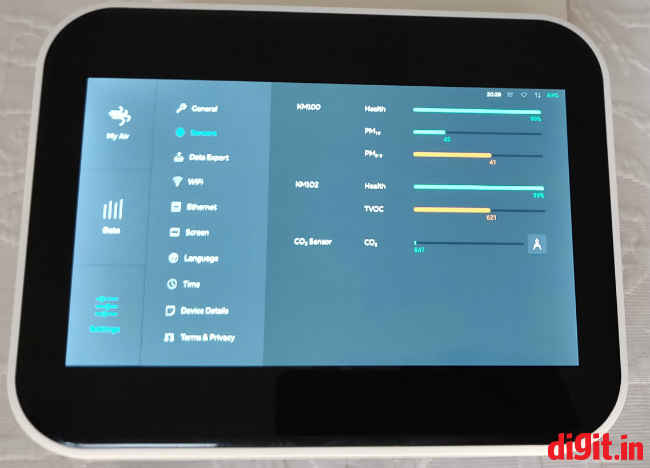 The Sensedge can monitor air quality continuously and offers a slew of connectivity options so that one can access the data remotely if needed, along with end-to-end data encryption. Liam Bates, co-founder of Kaiterra, says, "We are extremely excited about bringing Sensedge to South Asia. Concerns about air quality here have been rising and there is an urgent need to invest in healthy buildings since we spend most of our time indoors. Sensedge empowers commercial building owners to accurately measure the quality of air indoors and work towards improving it."
Nita Soans, CEO-Kaiterra India, adds, "With the introduction of the Sensedge in India we look forward to bringing the commercial buildings segment a product that is much better suited to their needs and much easier to maintain. Sensedge avoids a time-consuming annual calibration, which can cost weeks of data records." The company already offers some of its other products like the Laser Egg, Laser Egg 2 and Laser Egg 2+ in India. Accurate price and availability of the Sensedge air monitor can be known on request.In the United States, it is priced at around $1300 (Rs 93,500).