How To Close your Zerodha Account Online
Here, ape the steps below:
1. Go to this Zerodha website link — console.zerodha.com/account/segment-activation
2. Scroll until you find the red Close account button. Hit it.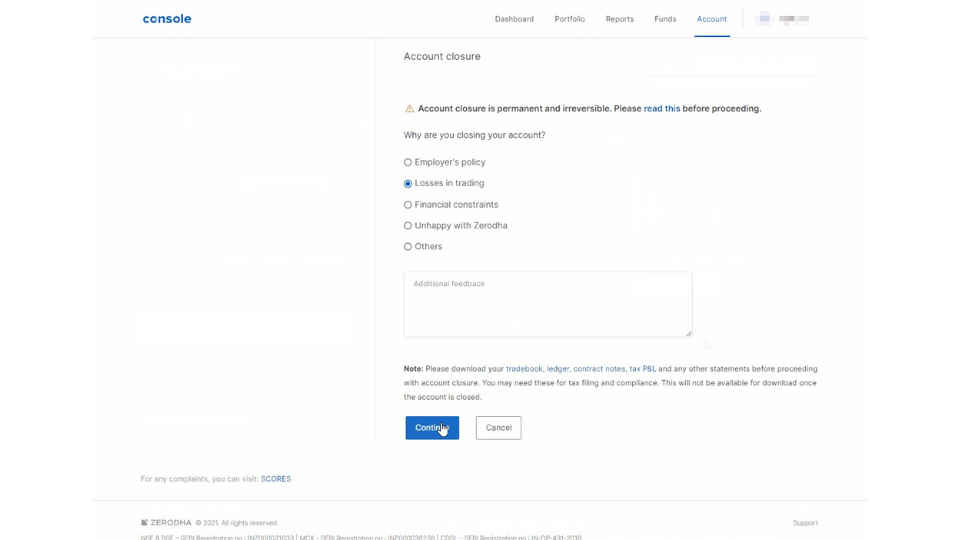 3. You'll be asked for the reason for account closure. Choose the one which is your reason and click on the Continue button.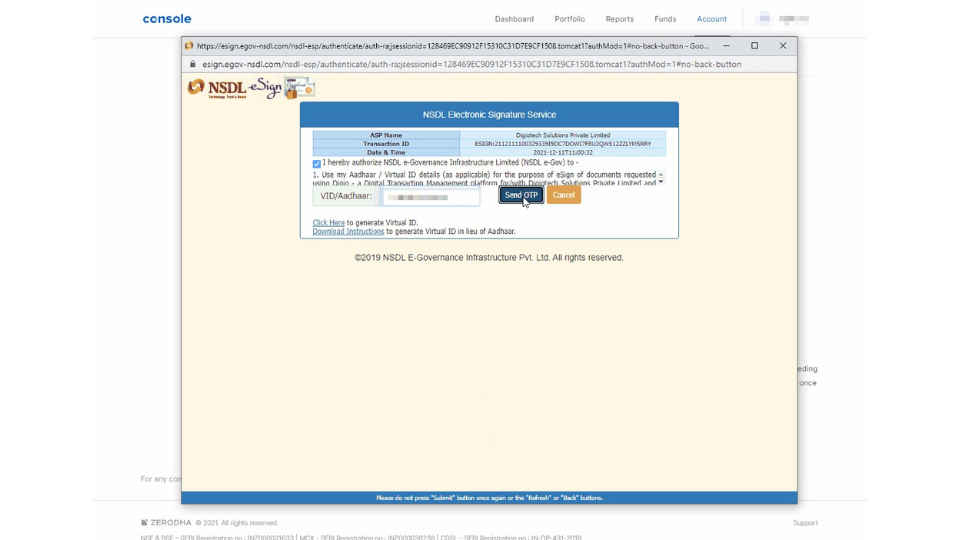 4. Next up, you have to eSign and click on the Sign now option.
5. Accept the terms and conditions.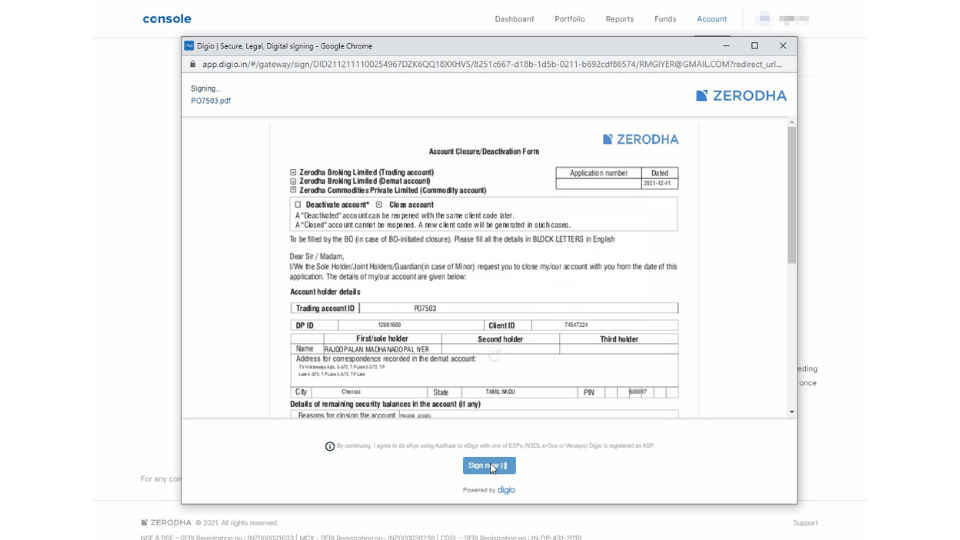 6. Submit your Aadhaar card number and press on Send OTP. The OTP will be sent to your Aadhaar linked mobile number.
7. Enter and verify that number.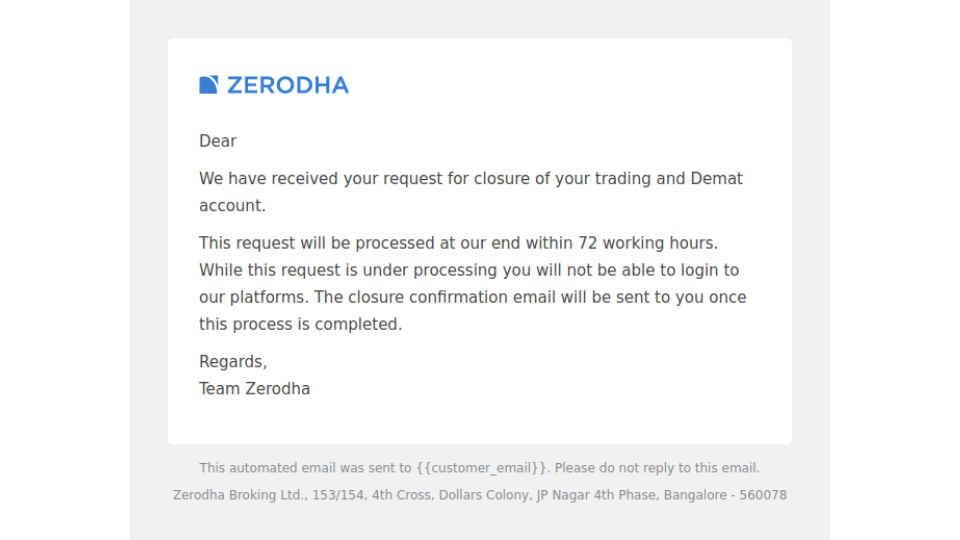 That's about it. Your Zerodha account will be closed within 72 hours.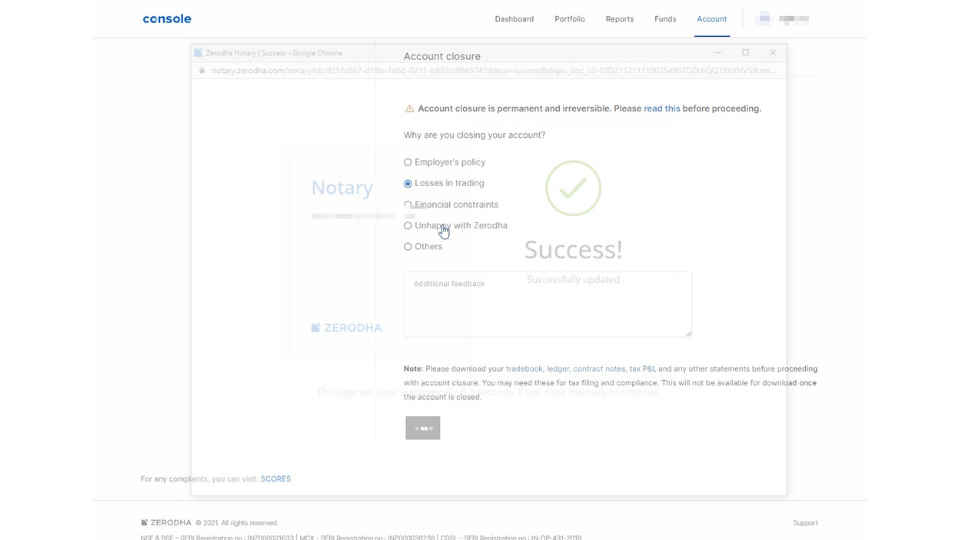 How To Close your Zerodha Account Offline
1. Print and fill out the Zerodha account closure form ( PDF ).
2. Send it to the following address (via post, registered post, speed post, or courier):
Zerodha,
153/154, 4th Cross, J.P Nagar 4th Phase,
Opp. Clarence Public School,
Bengaluru - 560078
Offline, the Zerodha account closure process takes place around 5-7 working days.
But, if you don't want to close Zerodha permanently, you can disable/deactivate it for some time.
How To Deactivate Zerodha Account? How To Kill Switch Your Zerodha Account?
Kill Switch is a fancy term for Zerodha account deactivation. So, if you wonder, what is Zerodha Kill Switch, know that they are the same thing. Here's how you do that:
1. Visit console.zerodha.com/account/segment-activation
2. Toggle off the segments you don't want to continue anymore. Do all of them and your Zerodha account is technically deactivated. Zerodha notes you will be charged the AMC during this period. Check this post for more details.
As for other news, reviews, feature stories, buying guides, and everything else tech-related, keep reading Digit.in