How To Update Your Mobile Number With Otp If Your Current Number Is Registered
If your existing number is registered with Aadhar you can change it to your new number via an OTP message. Follow the below-mentioned steps to update your mobile number via OTP.
1. Visit the official UIDAI website https://uidai.gov.in/
2. Next, go to the home page, and go to the 'My Aadhaar' section, and select 'Aadhaar Services". Then select "Verify Email/ Mobile Number".
3. Next, you will need to fill in your 12-digit Aadhaar number
4. You will have to enter your mobile phone number
5. Enter the security code and complete the CAPTCHA procedure
6. Next, you will receive an OTP on your mobile number
7. Click on verify the OTP option and tap on submit
8. Once the authentication process is completed you will receive a message which will say, "Your mobile number is successfully verified"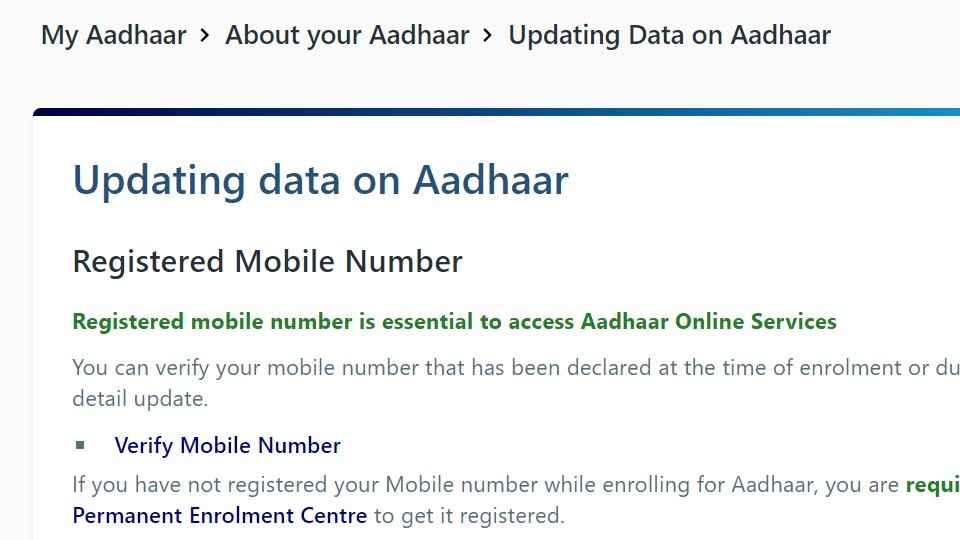 How To Change Your Mobile Number In Aadhar Without Otp
In case your phone number is not registered on your Aadhar card, then you will need to update an alternative mobile number. Follow the below-mentioned steps to update the alternative mobile number with your Aadhar card.
1. Visit https://uidai.gov.in or https://resident.uidai.gov.in
2. Click on the option "Aadhaar Card" Service and enter your 12-digit Aadhaar Number or the UID or the VID -a 16- digit Virtual Identification Number or EID-a 28-digits Enrolment ID
3. Next, it will ask you to enter the security code
4. Then you will see a message which says, "If you don't have a registered/ listed mobile number, please check in the box". Please click on this.
5. Next, enter your Non-Registered or your Alternate Mobile Number
6. Click on "Send OTP"
7. Then click on the "Terms and Conditions".
8. Click on the "Submit" key to complete OTP or the TOTP verification
9. On the next page, the website will show you your Aadhar card details to authenticate before you place the order for the reprint
10. Click on the option "Make payment" and you will be redirected to the Payment Gateway.
11. After the payment, a receipt will be generated with a digital signature and you can download it in PDF format. Next, you will get a Service Request Number via an SMS on your mobile number.
12. You can track the status of the SRN till dispatch of your Aadhaar Letter on the option "Check Aadhaar Card Status"
13. SMS with the AWB number will be sent once the same is dispatched from DoP- Department of Post. You can also track the delivery status on the official DoP website. It is to be noted that you will have to physically visit the Aadhar enrolment centre to update / change your mobile number.