Xiaomi's Mi Band series has been the byword for a budget fitness tracker for a few years now. The tracker takes a page from smartphone siblings and tends to offer a lot of value for what it asks. The new Mi Band 4 aims to continue the tradition and at least on paper, it looks all set to do so.
Designwise, the Mi Band 4 is pretty much the same as its predecessors. A single detachable module, housed in a silicon strap that uses a single prong system to buckle. Nothing new there.
The most notable new addition to the Mi Band is the colour AMOLED display. It's vibrant and is definitely one of the better displays I have seen on a budget device yet. It is touch sensitive and pretty responsive. The single button below the display is still present and is used to go back or end workouts. Sunlight visibility is good, with the option to manually adjust brightness. As far as watch faces go, you only get three watch faces to choose from, at the time of writing.
The Mi Band 4 is capable of tracking outdoor runs, treadmill, cycling, walking, cycling, exercise and pool swimming. The most notable addition here is swim tracking, which tends to be an absent feature among budget devices, even on ones that are waterproof. The information you get with the Mi Band 4 is the same as the one you get with the Mi Band 3. This includes workout intensity, calories burned, heart rate, as well as minutes into aerobic, anaerobic and VO2 max. It is unable to track individual exercises types. It should be noted that you cannot access information about your old workouts on the wearable itself. You will have to access the Mi Fit app for that.
As far as tracking goes, the wearable will give you the usual trove of information such as total number of steps, speed, cadence, pace, and calories burned. However, I noticed that it would start counting steps if I held the tracker in my hand and moved it in a jerking motion. This doesn't bode well for its accuracy, but stay tuned for our full review for an indepth look into this.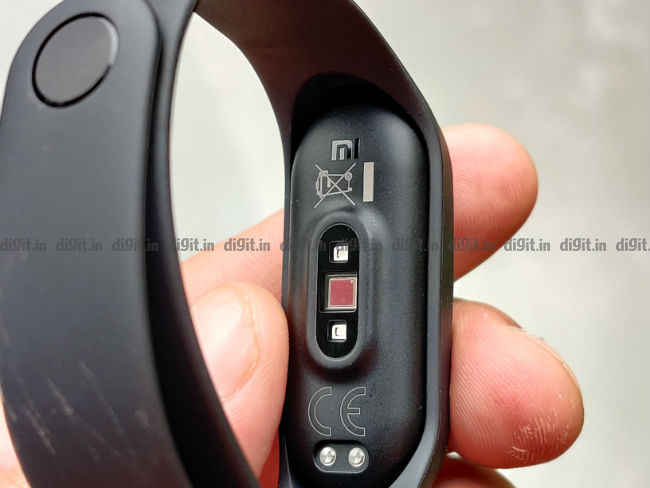 As far as battery life goes, Xiaomi has promised a 20 day battery life. Which is the same as what its predecessor promised. We will put the device through its paces during our review to see if it really lives up to that promise, while offering a colour display.
First Impressions
At Rs 2,299 The Mi Band 4 makes for a strong contender for THE budget tracker to buy. However, the inconsistency with step tracking, as well as a few other niggles has got doubt creeping through our heads. Wait for our full review to see how well the Mi Band 4 performs.