Samsung took a big step forward in the smartwatch market last year. The company's Gear S2 and its rotating bezel was a big step forward for how a smart device on your wrist should be interacted with. However, the Gear S2, for all its goodness was still a little rough around the edges.
In its second iteration, though, Samsung has made it better. The Gear S2 was my favourite smartwatch of 2016 and the Gear S3 Frontier takes the cake this year. It still lacks app support, but given that no smartwatch apps are really useful anyway, I could look past that.
Design
The Gear S3 Frontier is more of a manly device. It's huge 46mm body doesn't really conform with women's watch designs. That said, I do know women who like wearing such watches. In a way, the Gear S3 looks to me like a Casio G Shock, and that's not a bad comparison to be a part of. Unlike the Gear S2, the Gear S3 looks less like a toy and more like a real and rugged watch. The Classic feels more plasticky than the Frontier, but still decidedly more rugged than the S2.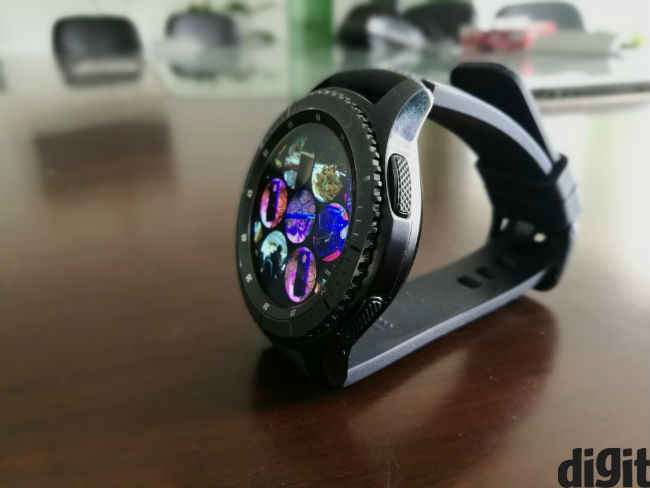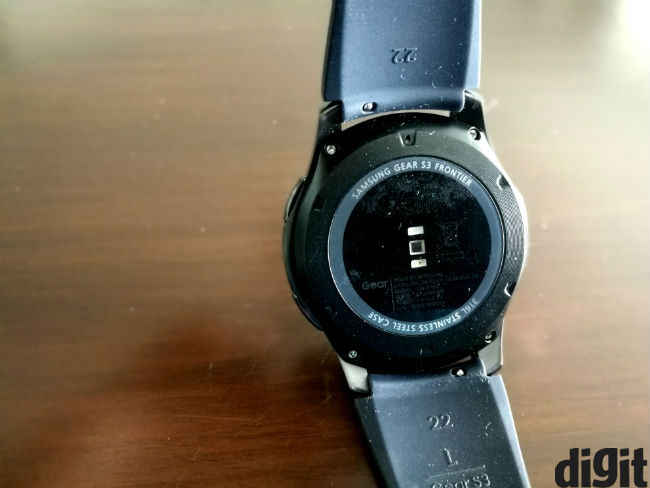 Personally, I do like the Gear S3's Frontier's looks, but others may differ on that. After all, looks are subjective. What I think most will agree on, though, is the build quality. The rotating bezel slightly elevated over the dial, which makes it easier to...well...rotate. It is also a more ridged design, which looks and feels rugged.
The two buttons on the right side are also ridged and clicky, which feels good and conforms with the rest of the design. You'll find the optical heart rate sensor on the back, and a leather strap out of the box. A standard pin mechanism keeps the strap in place, meaning you can go to any watch maker to get another 22mm strap that fits.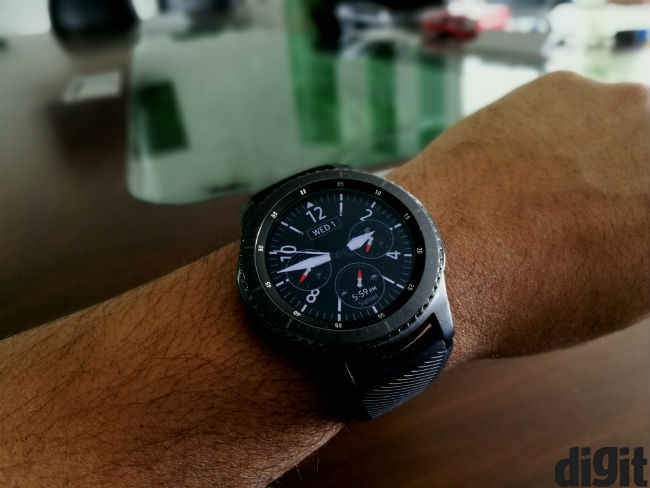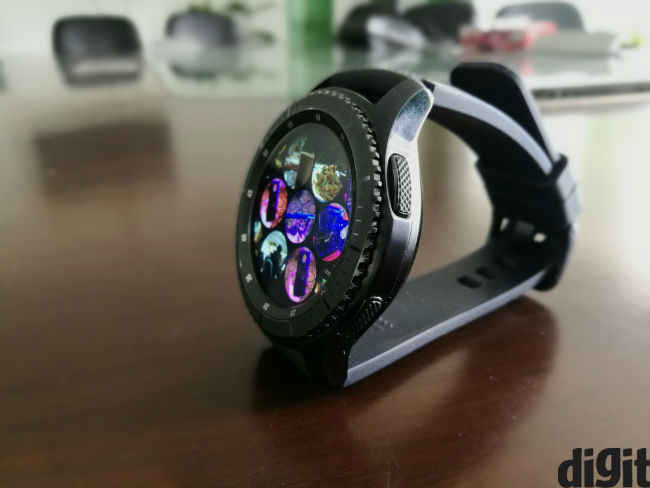 The Gear S3 Frontier is also IP68 certified, meaning you can take a bath with it, or go out in the rain if you need to.
Display
Samsung uses its Super AMOLED panels on its smartwatches as well, and the Gear S3 Frontier is perhaps the best you can get. Rivalled only by the Apple Watch 2, the Frontier has a 1.3 inch 360p display, with bright and vibrant colours. Corning's Gorilla Glass SR+ has been used to avoid scratches and make the display stand against bumps as well. I bumped it few times, sometimes inadvertently on a car door and a few times on the armrest of my chair, but there is no visible scratch on the glass. I even tried bumping the watch on the wall deliberately, but that didn't lead to any scratches either.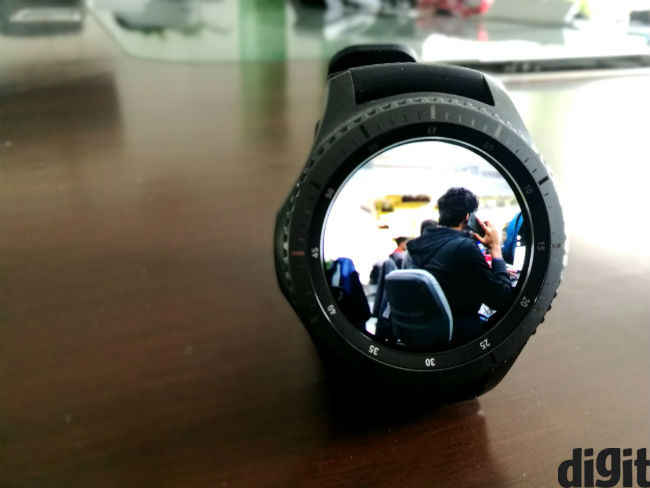 AMOLED panels, especially those used by Samsung, are guilty of oversaturating colours, though, and that remains here. However, what's surprising is how well the Gear S3 Frontier renders photos synced from your phone. It's not that you'll always use it, but if you need to, it shows details pretty well and images look crisp.
OS, Speed and Usability
Using Tizen for its OS of choice, Samsung actually has a double-edged sword to deal with here. While the OS and interface is far smoother and faster than competing Android Wear, or even Apple's Watch OS 2, there's really no apps to use with it. I ended up downloading Uber, which sometimes comes in handy, but for the most part I didn't need anything else Samsung's Gear app store had to offer. There are apps like News Republic, CNN, Guardian News Pro and even some games, but none that I really used on the watch. Also, I hate the fact that most games are paid games right now.
A point to be noted here is that Samsung's Gear app is incredibly slow. Samsung has overhauled the design over the years, but the app takes too long to download or update services. In fact, as I write this, I still have 5 apps pending update since I couldn't be bothered to deal with the Samsung Gear app.
On the other hand, Samsung has made the bezel much more useful this time. You can obviously navigate the watch using the bezel, but it's also compatible with some games and apps now. Furthermore, the bezel is slowly becoming the centre-point of all of Samsung's watch interactions. For example, while you can swipe on the watch face to take calls, it directs you to rotate the bezel clockwise or counter-clockwise to accept or cancel calls. Over time, I started rotating the bezel only, instead of using touch. It's not quite the one stop solution yet, but you can see where Samsung is headed with this. In my personal opinion, Samsung's Rotating Bezel is a much more intuitive way to interact with a smartwatch than the Digital Crown on Apple's version.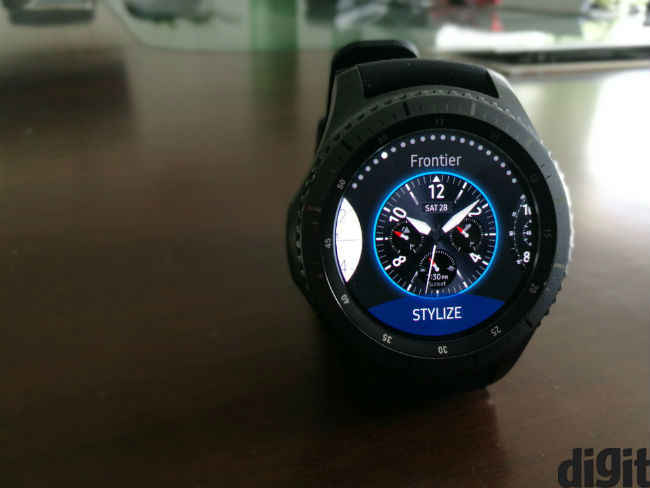 In terms of sheer speed and usability, I find the Gear S3 Frontier to be the best of the lot, despite the lack of app support right now. Apple's Watch OS remains the one to beat for the moment, but given that none of the apps there are really useful either, I'm not complaining.
Fitness, GPS tracking and other important features
Much like the Apple Watch 2, the Gear S3 comes with built-in GPS, and it works as well as you'd expect. You can take the watch out for a run, while it tracks your location without the phone. You can even put some music on the device to listen to with a Bluetooth headphones. You have only about 2GB of usable space out of the 4GB, though. If you are carrying your phone along, Samsung has a built-in microphone that allows you to receive calls right from the watch.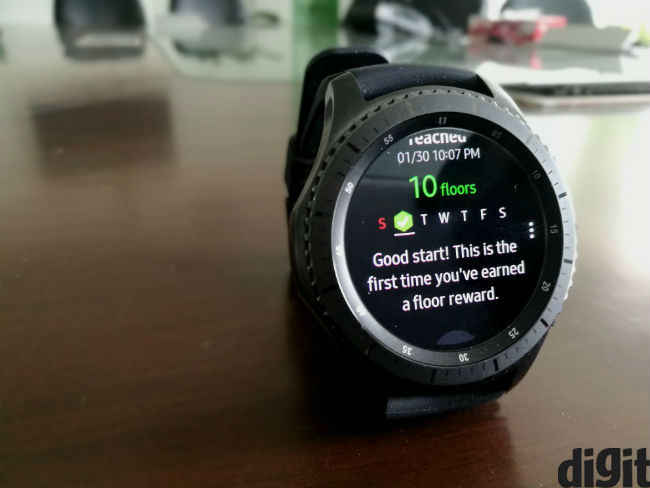 The speaker is loud enough for silent rooms. In fact, I often talked directly from the watch when receiving calls at night. It works for the most part, but you'll look silly speaking into a watch in public. The Gear S3 Frontier doesn't quite carry your voice very well if you're simply walking with your arms by your side, and speaking on a call.
As far as fitness tracking is concerned, much like the Gear Fit 2, the Frontier is also bent on encouraging you to continue on. It congratulates you whenever it can and urges you to move when you're stationary for too long. That, in the long run, does help. I found myself moving about more often than I generally would.
However, the automatic exercise tracking didn't quite kick in as it should. The watch never recognised full exercise circuits, doing push-ups, lunges, planks, squats and jumping jacks. We tried multiple times, but Samsung's S Health app didn't respond automatically as it's supposed to. It did track things better on the Gear Fit 2, though not perfectly there either.
Battery
Buying a smartwatch still doesn't make a lot of sense, but Samsung's Gear S3 Frontier is just about slowly getting there. The larger body comes with a 380 mAh battery and it's the longest lasting amongst smartwatches today, barring Pebble's watches. Given that the company is now defunct, the Gear S3 Frontier is really the best in terms of battery life.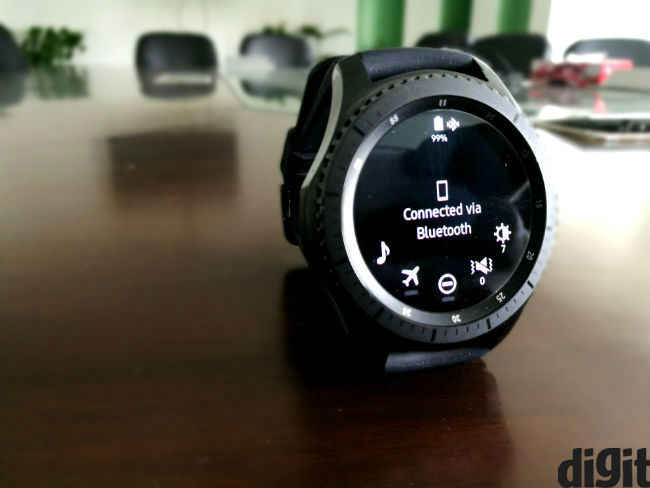 On regular usage, I got the watch to last three days easily. This, after it spent a day tracking 6000 plus steps, about 20 minutes of exercise, I even took some calls. With this, the watch, which was charged to 100% on a Tuesday evening, went out of charge on Friday, at 7pm. If you're not using the GPS and always-on display, it can even last as long as four days. That's about 4 times the battery life that the Apple Watch 2 can provide.
Bottomline
The Samsung Gear S3 Frontier is as good as smartwatches can get right now. It is fast, has a top-class display and impressive battery life. At long last, the Gear S3 Frontier and Classic are also compatible with iOS devices, which means iPhone users have the perfect alternative to the Apple Watch. The Frontier didn't skip a beat with the iPhone and it doesn't lose most of its functionalities, as Android Wear smartwatches do. If being the best smartwatch on the market matters, then Samsung's Gear S3 Frontier is definitely the one right now. It doesn't make smartwatches perfect, or useful, but it's getting there.