HIGHLIGHTS

Xiaomi's latest foray into the consumer appliance segment with its Smart Water Purifier is a bold move.

Will the device be able to cater to Indian consumer's needs?

We find out.
Bit by bit, Xiaomi has been expanding its range of products in India. The Chinese smartphone manufacturer recently announced a host of new devices in the country, one of which was the Mi Smart Water Purifier. Since water purifiers is an already crowded segment, it could either be a hit or a miss for the company. However, we tested the device to ascertain how it performs, what it is all about and whether you should consider it or not.
Build and design
Right off the bat, we noticed that the Mi Smart Air Purifier features a compact form factor that doesn't take up too much space. It has a sleek design with rounded corners that add to its aesthetics, and in case you have a modular kitchen set up, it won't mar its overall look or stick out like a sore thumb like most traditional water purifiers. Constructed from tough ABS plastic, the Mi Smart Water Purifier's build quality seems to be just about average. However, one need not be too worried about damaging the device as it is expected to be wall-mounted at all times and Xiaomi can send a technician to install the product on request.
An irksome element of the Mi Smart Water Purifier is the colour it comes in. It is available only in a White colour variant, which attracts dirt and smears quite easily. This is similar to the Mi Body Composition Scale that we reviewed. The dust and dirt can be removed by vigorously scrubbing the exterior with a damp cloth, but it is still inconvenient. The device's output water valve adds to the water purifier's aesthetics but it is also not designed well since flipping it too fast can cause minor water splashes. However, this is us nitpicking since most of these things are not any major issues.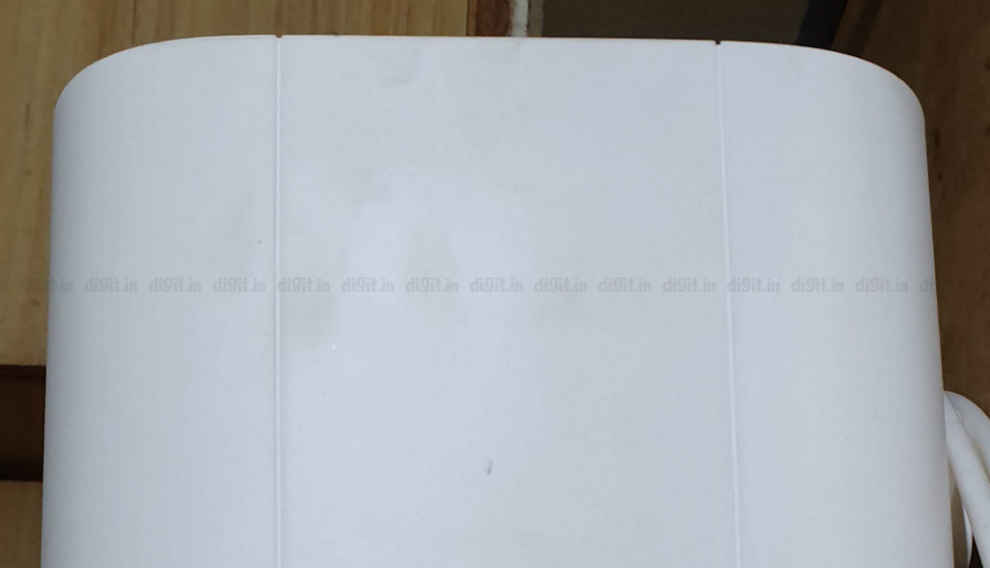 Xiaomi should've gone with a darker colour for its Mi Smart Water Purifier since smudges and spots are easily visible on the white coloured body
Filters and features
What sets the Mi Smart Water Purifier apart is the do-it-yourself approach for filter replacement. There are three filters on the device, which can be manually replaced upon depletion. There's a PPC (Polypropylene Cotton + Activated Carbon) filter, RO (Reverse Osmosis) filter and a PAC (Post Activated Carbon) filter. Filters on most water purifiers are equipped in a manner that prevents user replacement, which means one needs to call up the company to schedule a visit by the technician, which has its own set of issues. The Mi Water Smart Water Purifier side steps all such problems via filters that can be easily replaced by anyone.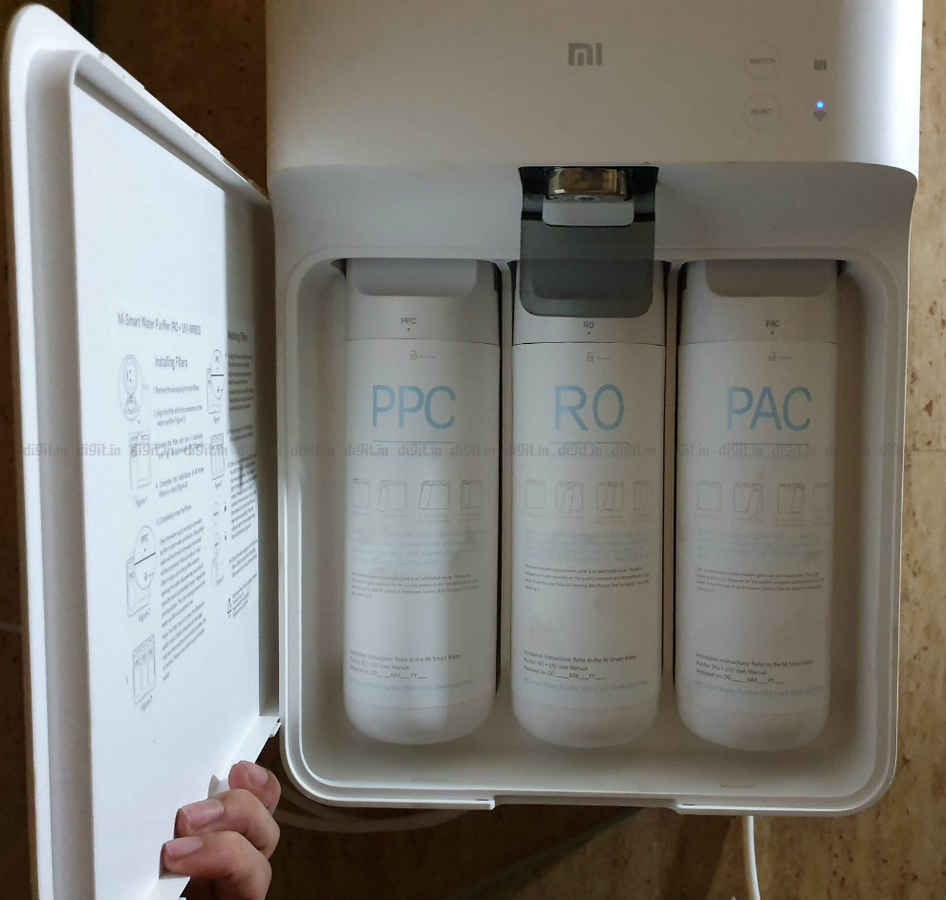 DIY for instaling and replacing filters is one of the most notable features on Xiaomi's water purifer.
Once the filter is installed with the water inlet and waste water outlet pipes in place, the water is first pulled through the PPC filter. This filter is supposed to perform stage 1 and 2 water treatment by removing large particles and absorbing odour, chlorine, organic matter and other harmful entities from the water. The third stage water filtration is handled by the RO or Reverse Osmosis filter, which is one of the most common methods for removing impurities. This method removes bacteria, heavy metals and other smaller particulate matter from the water.
Finally, the third PAC filter is used to remove leftover organic substances and odour from the water. The filter apparently imparts a better taste to the water being filtered and during our testing, we did notice a change in the water's taste. While these three filters handle four stages of water filtration, Xiaomi has also included a UV steriliser in the seven-liter storage water tank and it is touted to kill bacteria with 99.9 percent efficiency. The UV sterilisation takes place for 25 minutes, every four hours.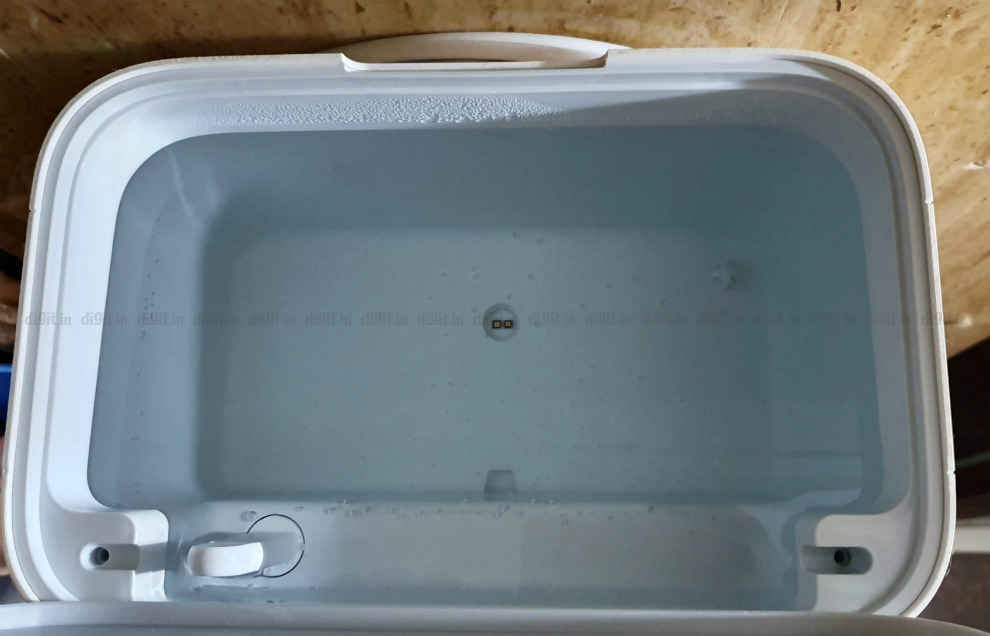 These two UV LEDs go off for 25 minutes, every four hours
Filtration capabilities
Xiaomi promises a lot with its Mi Smart Water Purifier and the company is clearly looking to enter more Indian homes with its wide range of devices. We tested the water purifier using a TDS meter, which checks for Total Dissolved Solids in the water. This helps us figure out amount of dissolved solids in the water and gives an overall idea of how well the device is working. As you can see in the image below, we took some sample TDS readings of the water being fed into the Mi Smart Water Purifier. The input TDS reading of the tap water supply is an astounding 830 parts per million (PPM). It should be noted that while TDS itself is not considered a primary water pollutant, it does indicate an aggregate of dissolved chemicals present in the water.
As for the filtered water, the TDS reading stood at 25 PPM. We took several such readings over the course of three weeks and almost always the TDS of input water was above 700 PPM and the TDS of filtered water was below 30 PPM. As per the World Health Organization, TDS less than 300 mg per litre is considered excellent, while between 300-600 mg/litre is good, 600-900 is fair, 900 – 1200 is poor and TDS exceeding 1200 mg/litre is unacceptable. Going by the constant readings we gathered, it is safe to say that the Mi Smart Water Purifier's filters work as advertised when it comes to removing dissolved contaminants from water.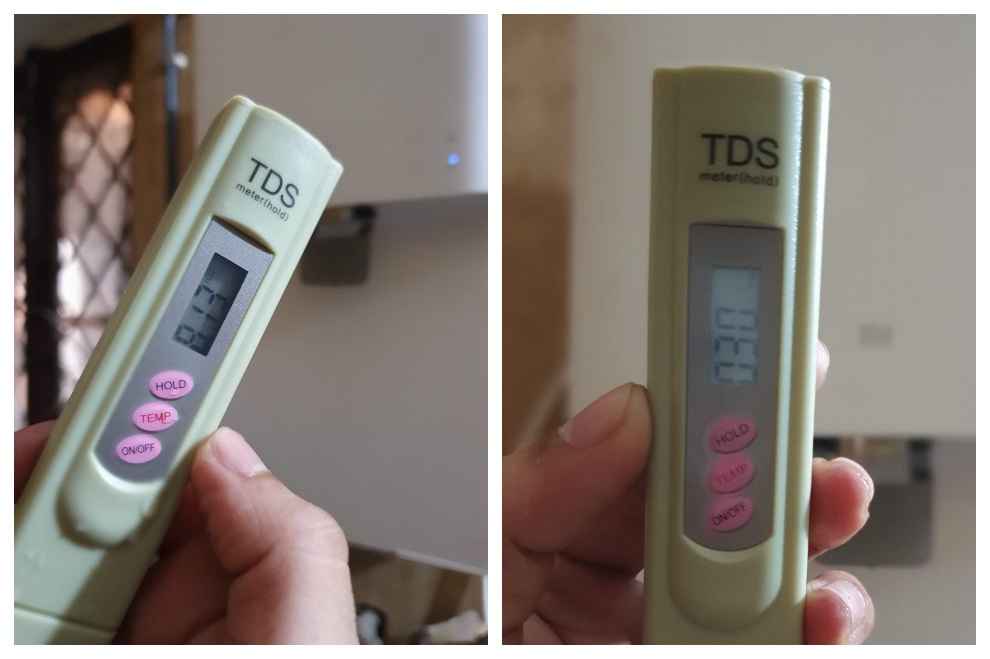 The TDS count we measured was quite close to what the Mi Home app connected to the water filter displayed
In terms of efficiency, the device is advertised to have a recovery rate of less than or equal to 33 percent when the water temperature is at 25 degrees and pressure is 0.2MPa. This means one can expect two litres of waste water being produced for every one litre of filtered water. Filter life or efficiency is also average since the PPC filter is touted to last for 10,000 litres of tap water, while the RO and PAC filters are said to produce 3600 litres of pure water before requiring a replacement.
In many parts of India, the water quality is abysmal and in such cases, one can opt to install a pre-filter. Xiaomi offers a Mi Pre Filter Housing for Rs 599 and a Mi Spun Filter for Rs 149, which is supposed to increase longevity of primary filters. One needs to ask the company to install pre-filter during or post-installation by reaching out to Xiaomi customer support team. Additionally, the PPC filter is priced at Rs 1,299, PAC filter costs Rs 899 and the RO filter is priced at Rs 1,799.
The issue with TDS
While we have tested the Mi Smart Water Purifier's capabilities based on Total Dissolved Solids or TDS count, it is a generic way of understanding water quality. As the term suggests, TDS represents total dissolved solids in water, which includes minerals and chemicals. However, there is no representation of chlorine, sulphate, nitrate, magnesium and other individual elements present in the water. Another problem is that TDS count doesn't reveal whether dissolved impurities or minerals were removed from water. Some of these chemicals and elements need to be tested for individually and we will soon add other tests to our review.
Smart features
Like most other Xiaomi devices, the Mi Smart Water Purifier is app-enabled and can be linked to the Xiaomi Home app. However, the app is more of an auxiliary tool for getting enhanced stats like TDS readings and remaining filter life. While the app is not strictly required to run the device, it is helpful in ascertaining how much water is being processed and filtered per day, the current input and output TDS readings and remaining filter life. It can be used to order replacement filters as well.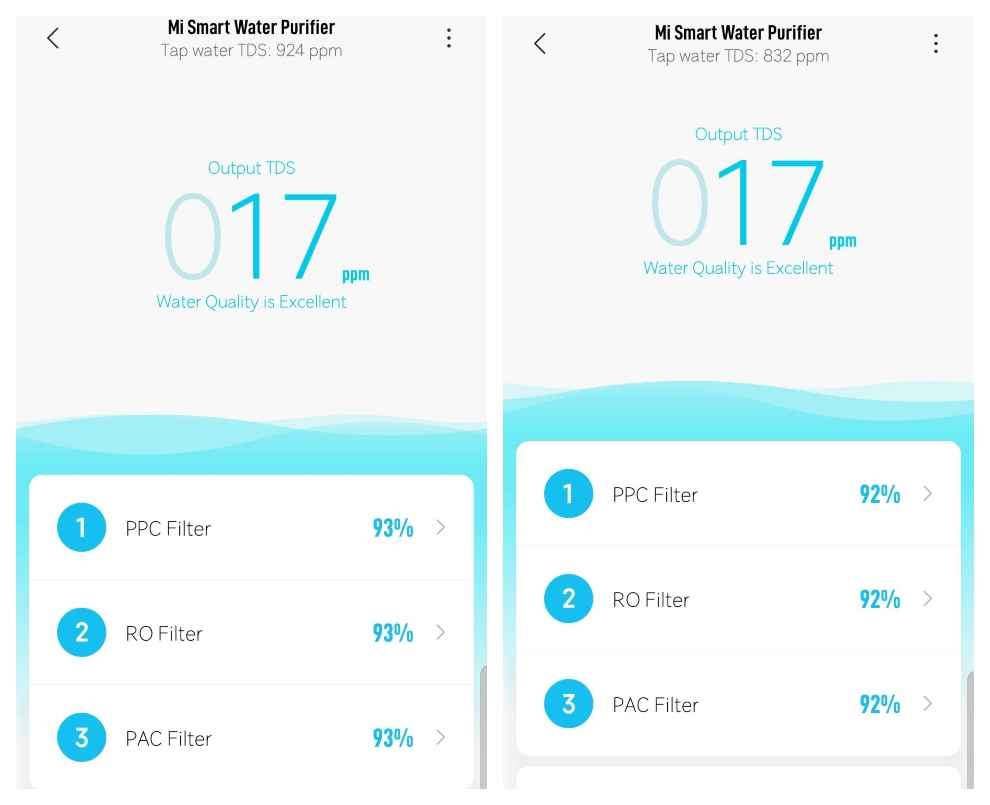 As seen from the image above, the TDS reading from the app taken a couple of weeks apart is quite similar, and it is close to the TDS reading we obtained from our TDS meter. The only feature missing from the app is the ability to turn the device on and off, but it is not really needed if the device is not being used for a long time, it's supposed to be drained and turned off.
Bottomline
The Mi Smart Water Purifier is priced at Rs 11,999 and comes packed with features. The most notable thing about the device is its DIY filter replacement approach, which, to an extent, eliminates the reliance on company "technicians." While rival companies offer devices priced similarly or even lower, we find that Xiaomi's Mi Smart Water Purifier is quite convenient with very few shortcomings like a smudge attracting white colour unit, slightly irksome tap
Throw app connectivity, live TDS readings, and remaining filter life notification via app into the mix and you get a water purifier that's worth your consideration.