The Dyson V15 Detect is the perfect example of engineering done right. A vacuum cleaner might be regarded as just a simple home appliance but one look at the Dyson V15 Detect and you just might assume it to be a phaser rifle right out of Star Trek. We'd like to imagine an Andorian Disruptor Rifle, might be the closest thing. Cosplay potential aside, the Dyson V15 Detect really is a vacuum cleaner like no other. It's expensive and photos might not give off the impression of how much technology is packed into the vacuum cleaner but this thing really is the best home vacuum cleaner that money can buy.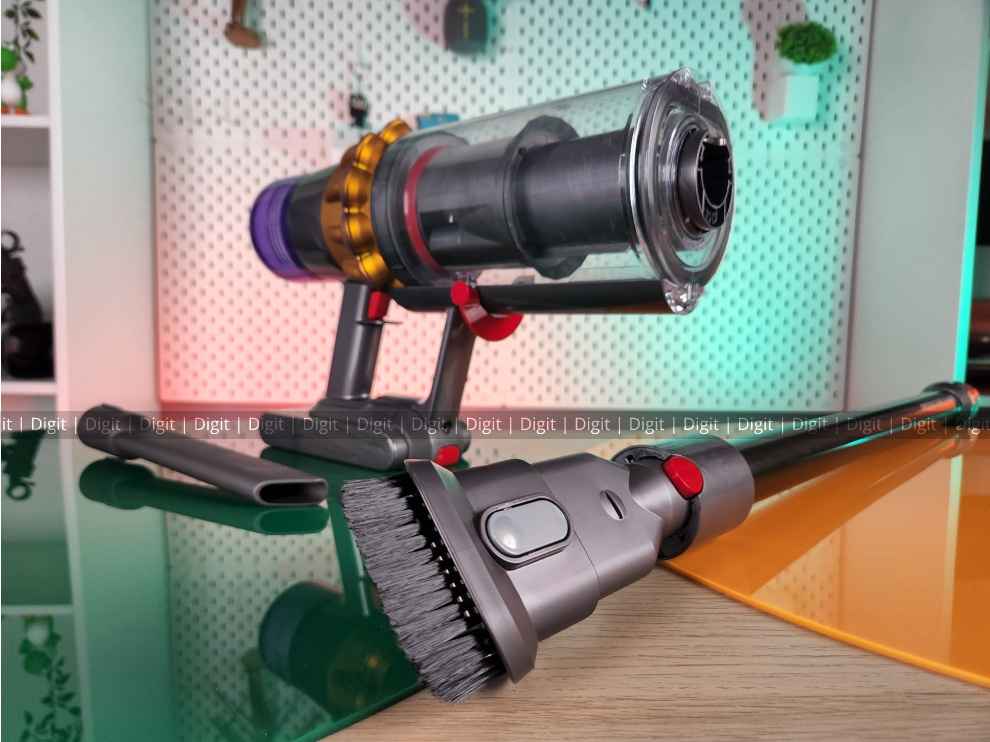 In the box
Typical vacuum cleaner packages come with a lot of components and they do take up a lot of space on their own. The Dyson V15 comes in a rather slim cardboard box that completely disguises the number of parts that it ships with. Of course, depending on the different applications, you might not end up using some of the accessories or you might need them all, but once assembled, the Dyson V15 Detect takes next to no space. You could even hide it in the corner of a closet, standing up. The typical Dyson V15 Detect comes with the following in the box: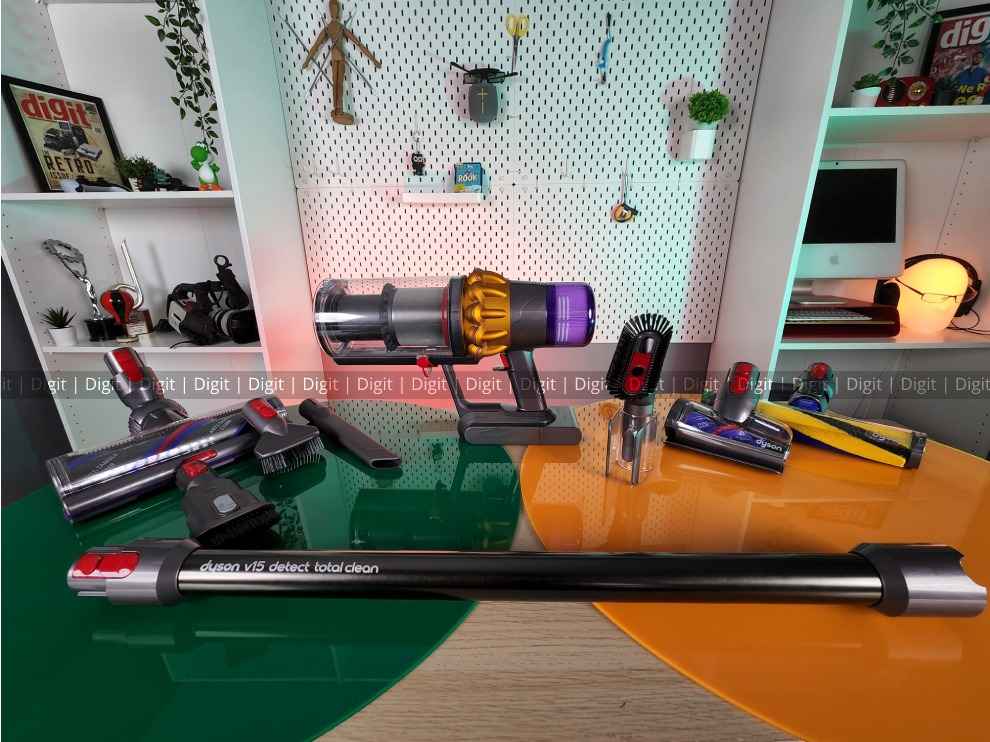 Dyson V15 Detect vacuum cleaner

Dyson V15 Detect body
HEPA filter
Laser Slim Fluffy vacuum head
Wand attachment
1x Rechargeable Battery
User Guide

Accessories, tools and brushes

High Torque motorised vacuum head
High Torque Brush vacuum brushroll
Soft bristle brush
Stiff bristle brush
Upholstery brush/Hard bristle brush combination tool
Conical turbo brush
Crevice tool
Wand clip

Docking station

Wall-mountable Docking station
Installation manual with mounting screws
Charging cord
Most vacuum cleaners in the same price range tend to ship with a similarly diverse accessory kit.
Designed to last
The Dyson V15 Detect has a mostly plastic body like most vacuum cleaners. This keeps it light-weight and easy to use on a daily basis. Also, the dirt chamber being clear plastic gives you constant visibility of how full the chamber is and makes it easier to empty it out before the contents become an obstruction for the vacuum cleaner. Less congestion also means that the motor doesn't have to go into overdrive to compensate. Admittedly, all of this depends on the user to clean the chamber regularly.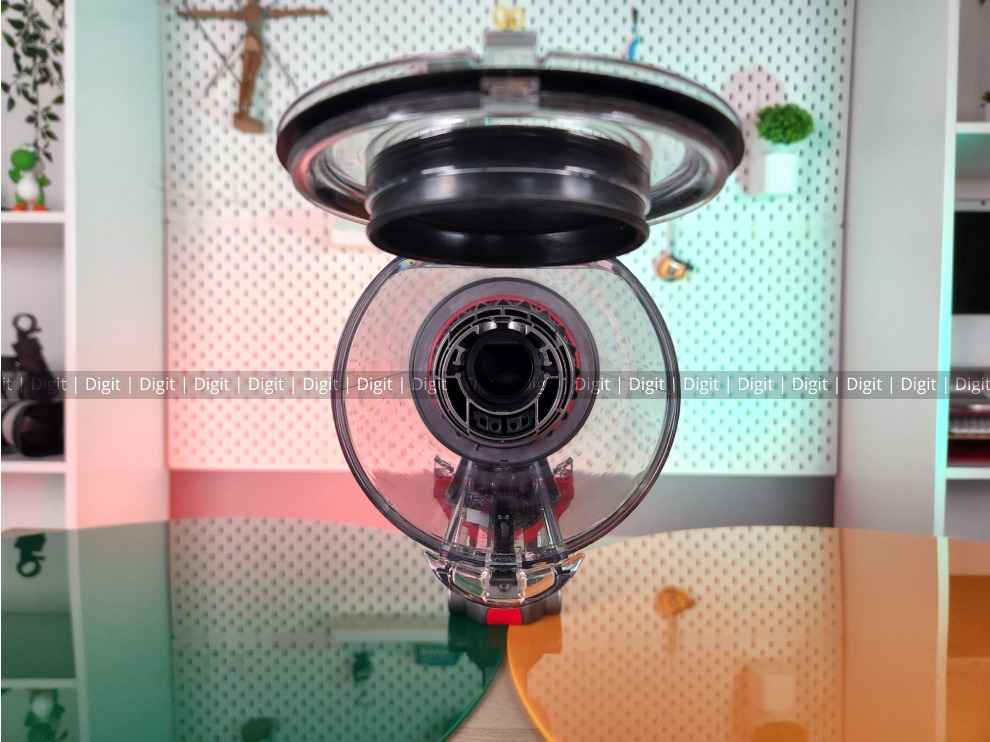 Plenty has been said about the filtration system that Dyson vacuum cleaners have. The V15 features a five-stage filtration system that promises to capture 99.99 per cent of dust particular right down to particles that are as small as 0.3 microns. There's a Dyson V15 Detect+ that claims to filter up to 0.1 microns. With such a strong filtration system, one might just use a Dyson vacuum cleaner as an air-filtration system in severely polluted cities. Of course, we're joking. What's really good about the V15 is that the HEPA filter can be used perpetually without need for replacement as long as you clean it properly and regularly. Even if you did have to replace one, the cost is about INR 890.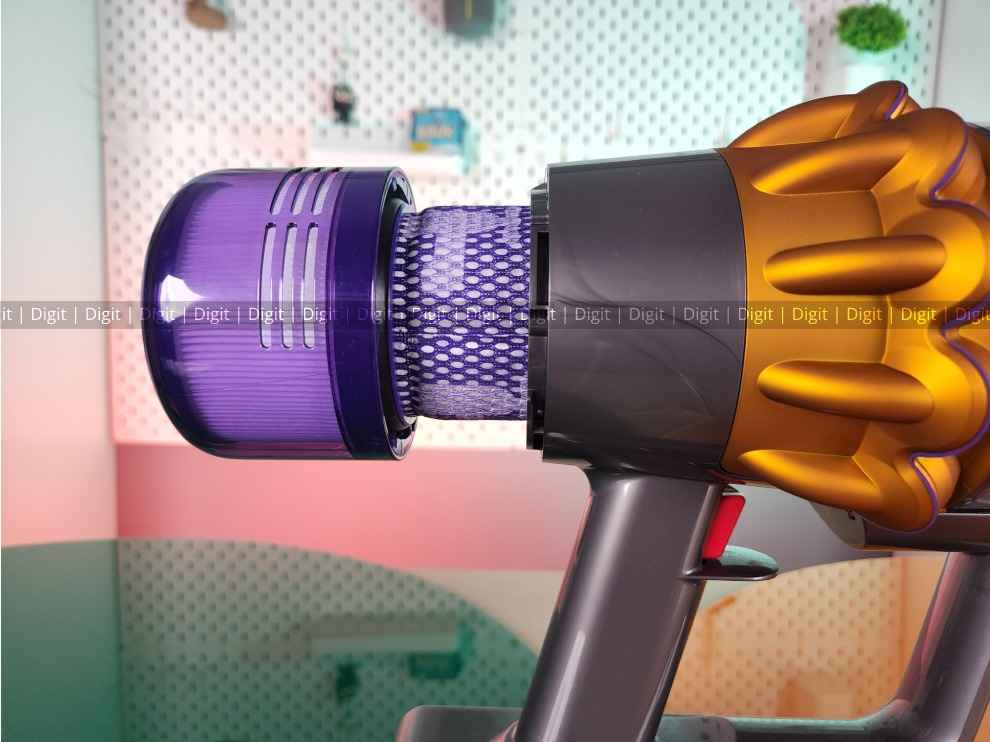 Speaking of the motor, the Dyson V15 Detect features Dyson's Hyperduymium motor which supposedly manages to generate 240 air watts of suction. That statement might seem like a dialogue straight out of Star Trek but what it means is the number of watts used by the vacuum cleaner to suck a unit of air through the opening. So more air watts translates to higher suction power. 240 air watts of suction makes the Dyson V15 leagues ahead of the V10 which clocked in at 151 air watts and the V11 which boasted of 185 air watts of suction.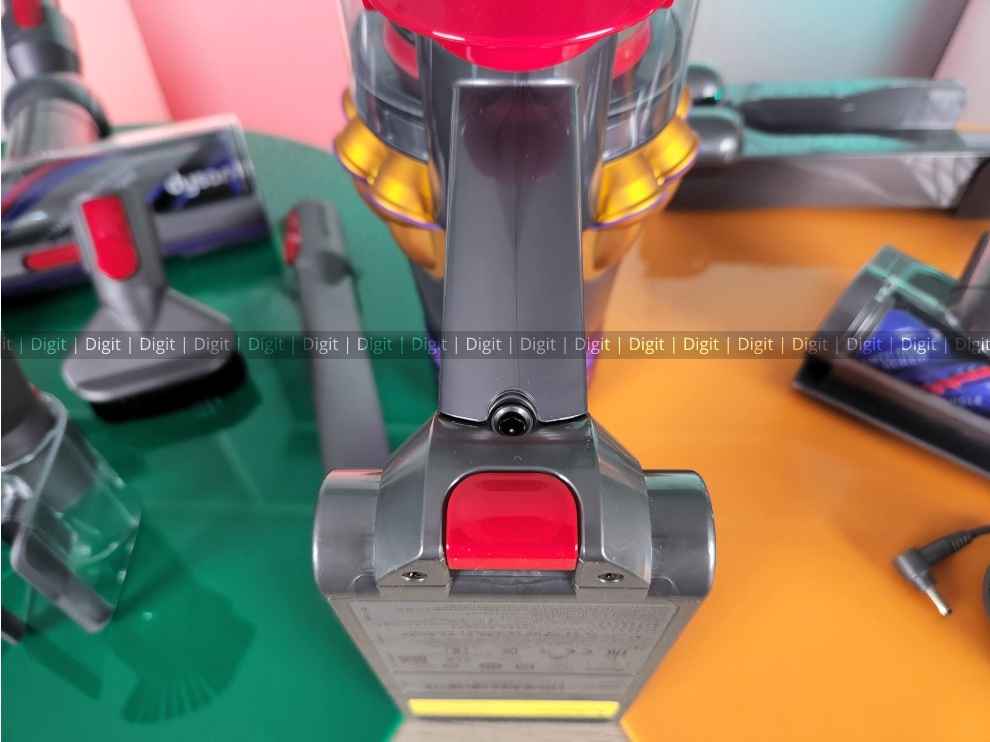 Then there's the battery. The interface is proprietary so you will need to buy a Dyson V15 Detect battery should you want more run time. However, that's only if your run time is a little over an hour. Out of the box, the battery lasts around 70-75 minutes when you use it in the 'Eco' mode which is sufficient for light dusting and casual weekly cleaning runs. However, if you are to switch to any of the high-performance modes and throw in the motorised head, then the run time drops severely. So if you require heavy suction then additional batteries become a must.
Ease of use
The rotating head really does a great job with helping you navigate around sharp corners while keeping the cleaning heads firmly flush with the surface. Typical pivoting heads require you to operate the vacuum cleaner by angling the wand along a particular gradient and deviating usually leads to poor cleaning since the cleaning head doesn't remain flush with the surface. Dyson's rotating head, thanks to its clean finish and limber joints, moves very naturally when you go about your vacuuming.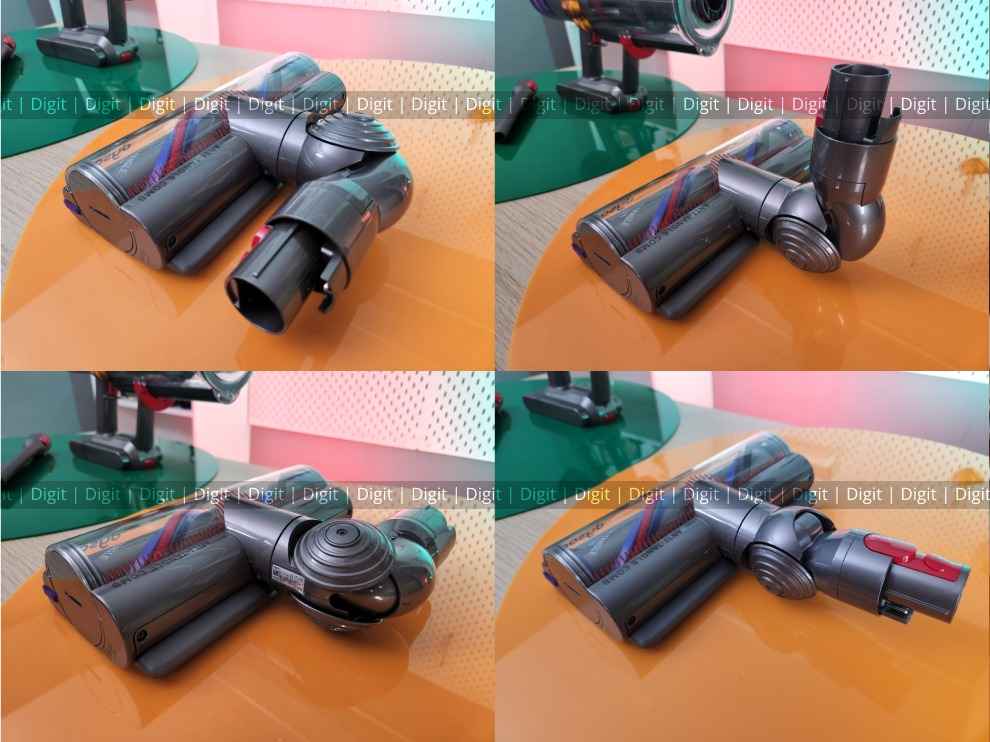 What's even better is that the Dyson V15 has a laser sight on the aptly named Laser Slim Flluffy head which illuminates particles on the floor if you have a particular flat and carpet-free floor. In a way, the vacuum cleaner helps direct you to the places that need the most cleaning and there's the obvious advantage of time and power savings.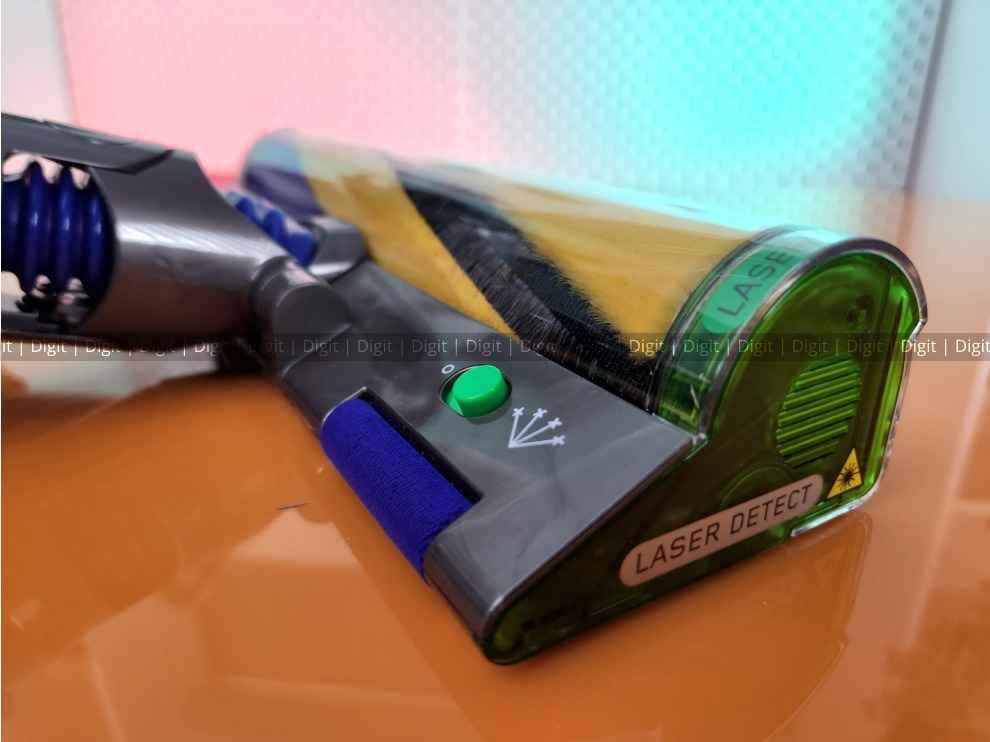 There are no electrical cords here since this is battery powered, so the typical scenario of 'minding the wire' never arises. Yes, that is often replaced with 'charging the batter' but we found the battery capacity to be enough for casual cleaning sessions.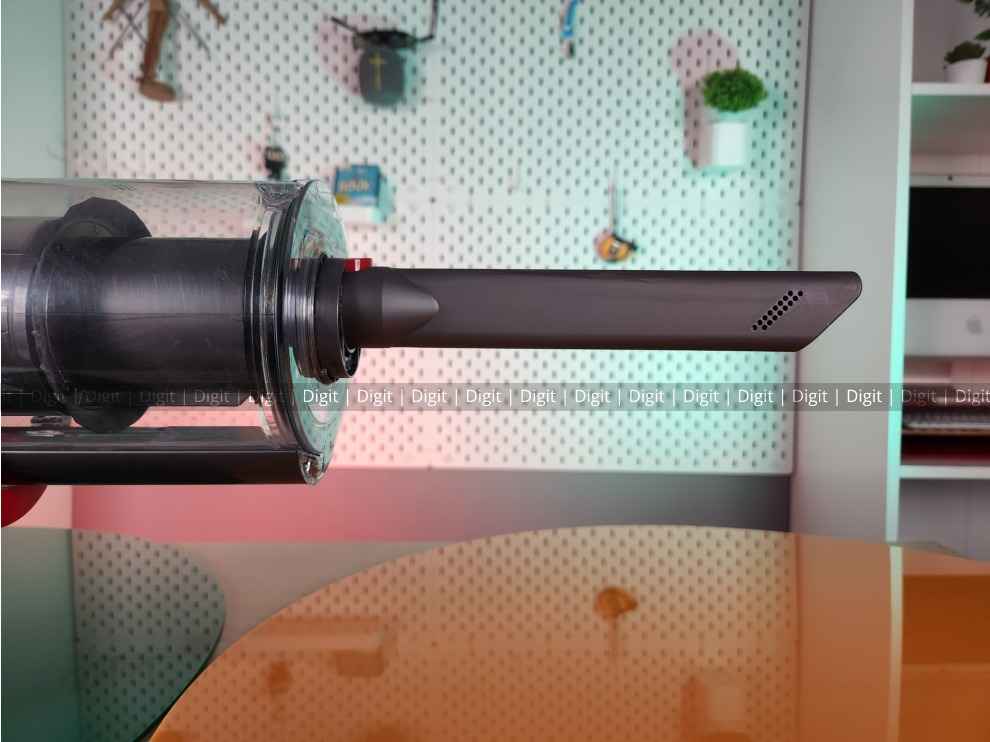 Swapping out the various components is very easy. The various tools and attachments snap fit in a very clean manner and detaching them is as simple as pressing down on a release tab or pulling at a lever. The low-force actuation helps with folks who have joint pain and might find handling tools a little cumbersome. Vacuum cleaners typically used to have friction fit attachments that required a ridiculous amount of force to attach and detach accessories or cleaning heads. That's clearly not the case with the Dyson V15 Detect. Although, we do feel that the main dirt chamber release mechanism could have been made a little easier to open and service.
Should you get it?
If you're an early adopter and would like to have fun while doing a little house cleaning then the Dyson V15 Detect is a really good vacuum cleaner unlike no other. It's built to last, the suction power is the highest from the Dyson family of vacuum cleaners and the provided accessories should more more than sufficient for most households. An additional battery pack would have been a worthwhile addition, especially considering the price of INR 62,900 for which the Dyson V15 Detect retails for, in India.