At the Intel Developer Forum 2015, Intel showcased a bunch of new technologies. What we are interested in here today is the upcoming lineup of 6th-gen Intel processors. The new processor lineup featuring Intel's Skylake architecture is expected to reach stores by end-September. Although Intel hasn't given any specific launch date for the lineup, IFA is just around the corner, so we might see a few announcements being made. It should be mentioned at this point that two 6th generation desktop processors — the Core i5-6600K and the Core i7-6700K are already out, announced at Gamescom earlier this month.
Going into the specifics, Intel has changed the entire setup of transistors inside the new processor lineup, but the manufacturing process remains the same. According to the company, maximum power consumption has been considerably lowered and maximum performance is higher than the previous generation of processors. Among many power saving features, the Skylake CPU uses Speed Shift technology, which lets the CPU change its power state depending on requirement. This means that a Skylake processor-powered laptop should offer better performance on batteries when compared to the Broadwell or Haswell architecture-based processors. Intel hasn't quantified its claims, so we are taking their word for it, for now.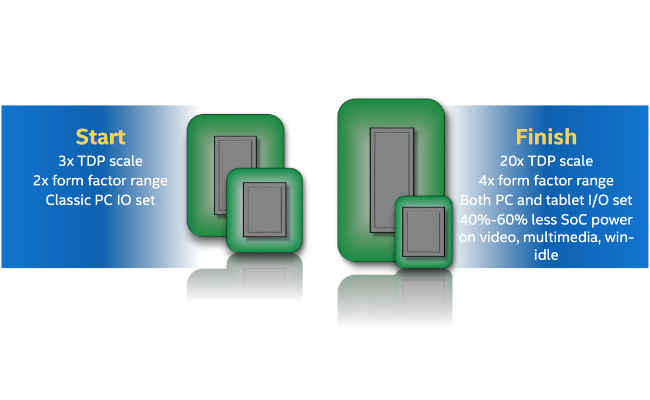 Tock-ing about the Micro-architecture
In 2007, Intel adopted the "Tick-Tock" model. It was put in place to represent the micro-architectural change after each die shrink or manufacturing process. So, Intel Broadwell was the "Tick" in the current cycle where the company did a die-shrink from 22nm Haswell micro-architecture to the 14nm Broadwell. And now the Skylake micro-architecture takes it even further, which represent the "Tock" in the current cycle.
To count down a few improvements — the new architecture will feature improved branch predictions with wider instruction supply and deeper buffers. The deeper buffers, accompanied with the improved EU (Execution Units), offer lower latency which means that more units can power down to optimise usage, thereby improving power efficiency.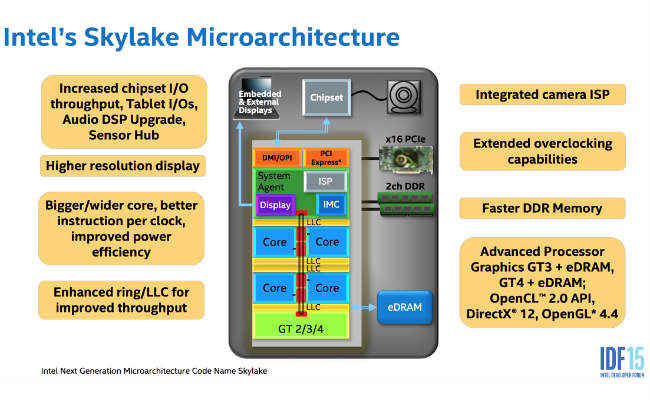 This new Skylake micro-architecture will be available in a wider range of devices. The current lineup spans from 4.5W processors for tablets and small devices to 91W desktop-class processors. Intel is possibly looking forward to grab its place in smaller devices, as the new micro-architecture includes a built-in ISP (Image Signal Processor) which can handle upto four 13MP cameras (two at a time), which also means that smaller devices can now make use of Intel's RealSense (depth sensing) technology.
PC makers and prospective new laptop buyers should know that the new architecture supports DDR4 standard, moving forward in addition to backward support for DDR3-based memory. The new lineup also brings faster eDRAM-based cache memory, translating to faster load times. Support for SATA III interface has improved, and support for new interfaces like SDXC 3.0 and eMMC 5.0 have reportedly been added in the upcoming U-series processors.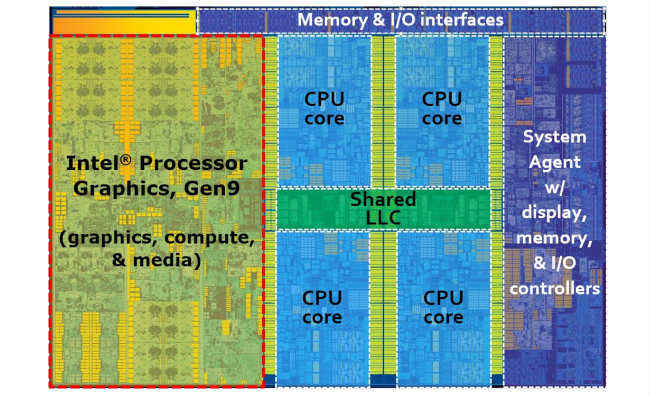 Talking about the series, the desktop class processors will come under the Skylake-S naming scheme. Skylake's H, Y and U series of processors will be intended for laptops and smaller devices with decreasing performance in the following order — H>Y>U. Gaming, or high performance laptops, will be playing the H-series. The Y-series will power the mid-segment, and the U-series of laptop processors will be used in a wide range of budget-friendly laptops.
Gen 9 Graphics: Gamers Rejoice
While processing capabilities are increased, graphical prowess in the new architecture has increased more significantly. The new graphics architecture, called the Gen 9, is more performance-oriented, and has embedded L4 cache of upto 128MB. It will feature support for DirectX 12, OpenCL 2.0 and OpenGL 4.4. According to Intel, the top-of-the-line Intel HD530 embedded GPU is able cross 1,100 GFLOPS (Floating Point Operations Per Second) of graphic processing output. This, in essence, is a very high level of gaming output, as it falls about 200 GFLOPS short of XBOX One's graphic processing capability.
To read further about Intel's Gen 9 graphic processing architecture, click here.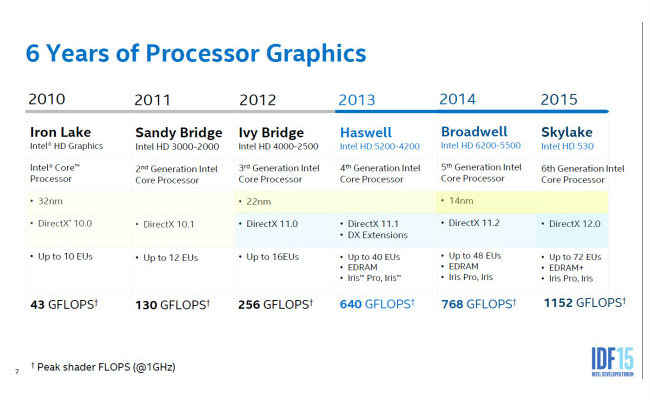 ...and some added security
The Intel Skylake architecture will also bring added security to your work, with the introduction of SGX (Software Guard eXtensions), which is intended to reduce malware and unauthorised access inside the system. This will not allow data access by any running processes, except the one which created it.