Intel Core i7-2600K and Core i5-2500K - Sandy Bridge processors reviewed
The most awaited processor line-up of this year is finally out.
Last time we saw so much hype around an Intel processor was when the six-core performance powerhouse Gulftown- Intel Core i7-980X was launched. Gulftown is still the fastest desktop processor on the planet, despite AMD coming out with its Thuban series of hex-core processors.
Sandy Bridge was announced in September 2010 at Intel Developer Forum in San Francisco and managed to vow most of us with its plethora of features including a graphics processor on the same die as the cores. Sandy Bridge being a new microarchitecture follows the 'tock' in Intel's 'tick-tock' cycle of shrinking process and new microarchitechture model.

Sandy Bridge is based on Intel's high speed 32-nm fabrication process and is the second generation of the Core i3/i5/i7 processors. Naming convention will be similar to the Core i3/i5/i7 series processors except that for Sandy Bridge based processors, the prefix 2 (indicating second generation) will be followed by the SKU. For instance, the two processors that we will see in the following pages are Intel Core i7-2600K and Intel Core i5- 2500K. Suffixes like K, S, T and M will be seen in some processor based on their purpose. For instance K indicates processor with unlocked cores, M indicates mobile processors for notebooks and so on.
This line of processors will need a completely new socket – LGA 1155. These processors are not backward compatible on the earlier LGA 1156 sockets even though the size of the socket is the same. However, you can still use the cooler on your LGA 1156 socket on the new motherboards. At present, there are two chipsets namely Intel P67 and Intel H67 on which majority of the motherboards are based. Let's have a look at the processors on offer. We will only be looking at desktop processors for now and talking about Core i7-2600K and Core i5-2500K processors in the test.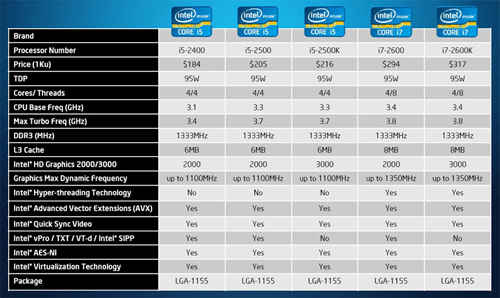 This line up contains processors meant for the enthusiasts, with the i7-2600K and i5-2500K coming with unlocked multipliers.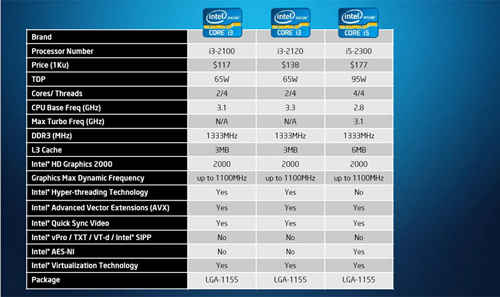 This is the lower end models. Note that Core i3 processors support hyper threading but not Turbo Boost.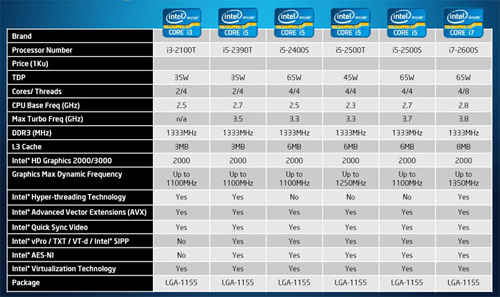 Finally we have the low power, entry level line of Sandy Bridge processors meant for the HTPC crowd and for users who want a comparatively lower power system.
We got two Sandy Bridge processors in our Test Centre namely Intel Core i7-2600K and Intel Core i5-2500K. So before we get to the benchmarks, I would like to give you a brief overview of the new features that are present in this new microarchitecture.
The New Microarchitecture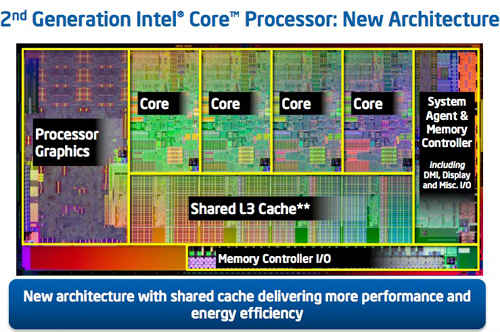 As seen in the diagram above, Sandy Bridge microarchitechture is all about integration. What was formerly seen on North Bridge chipsets in Intel motherboards, has all come on the processor die itself. Even the integrated graphics, which were found inside the Clarkdale processor but on a different die from the core die, have moved in alongside the Sandy Bridge processor cores. The modular arrangement comprises of five main sections namely the quad cores, processor graphics, System Agent (which is basically a North Bridge with a new name as it contains PCI Express, DDR, power controllers and the DMI interface) and the shared L3 cache also known as the Last Level Cache (LLC). Due to closer integration, the base clock frequency has come down from 133MHz to 100MHz, and this frequency clock is used for all the internal components.
All the Core i7 processors will feature both Hyper threading as well as Turbo Boost whereas Core i5 line will have only Turbo Boost and finally Core i3 processors will have only Hyper threading.
In short :
Core i7 – 4 Cores / 8 Threads with Turbo Boost – 4C/8T w TB
Core i5 – 4C / 4T w TB
Core i3 – 2C / 4T w/o TB
Lets have a quick look through some new features before jumping onto the benchmarks.
New Features
Integrated Graphics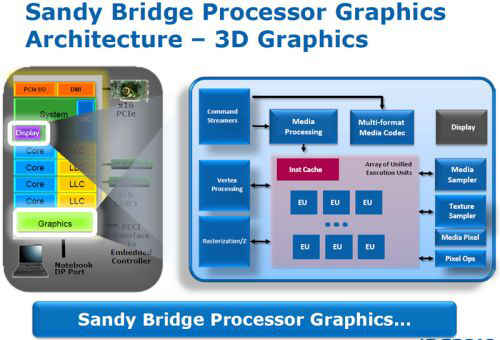 Sandy Bridge's crowning glory is the implementation of graphics on the same 32-nm die as the processor. The two processors we got ie. Core i7-2600K and Core i5-2500K had Intel HD 3000 integrated graphics (IG) whereas the other lower end models like Core i3-2100 has the Intel HD 2000.
When compared to the previous generation integrated graphics solutions, the number of execution units hasn't increased - 12 for HD 3000 and 6 for HD 2000. The new IG has support for DirectX 10.1, Open GL 3.0, and is capable of playing 3D stereoscopic Blu-Ray content as it has an HDMI v1.4a support which wasn't present in the earlier generation IG.
The IG on Sandy Bridge implements a technology similar to Turbo Boost, allowing the maximum GPU speed to hit 1350MHz, a whopping 450MHz jump from the maximum speed found on the previous generation IG solutions.
While HD 3000 is present on the K series processors with the unlocked core that we got, the graphics cannot be utilised at all on a P67 based motherboard. You will have to use an H67 based motherboard, which only allows graphics overclocking, to make use of the integrated graphics of the Sandy Bridge processor. We will touch upon this in detail in the 'Quick Sync Video' page.
Advanced Vector Extensions – AVX
AVX is a new extension set which is capable of handling 256-bit Floating Point executions which is twice the jump from today's 128-bit Floating Point Units. This bodes well for all your floating point intensive applications like 3D modelling, scientific simulation software, audio and video processing which involve heavy mathematical operations. But you can only make use of AVX if your software is compatible with it. Using Windows 7 Service Pack 1, you can enable it at the OS level.
Turbo Boost V2.0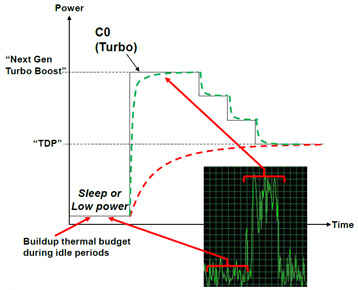 Intel's Turbo Boost dynamically raises the frequency of active cores beyond the stock speeds so long as the processor is operating within the thermal design power (TDP). In Sandy Bridge, this feature has been tweaked a bit to give more thermal headroom while boosting up the frequencies. What this essentially means is that the boost can operate beyond the TDP limitations for a short period of time till the processor heats up to the maximum limit, which is when the clock frequency drops such that the TDP limit is maintained. Although this is a nice feature, in real life testing it does not drastically improve the performance.
Another interesting aspect is that boosting of frequencies on the processor as well as graphic cores can be determined by the nature of the task. According to Intel in a 3D heavy task the power control unit may favour the graphics core more than CPU cores as that will tend to get the work done faster.
Limited Overclocking
In Sandy Bridge processors, you can only overclock by adjusting the multiplier ie. Overclockers should only look at K series processors. This may come as a rude shock to enthusiasts, who previously would also overclock a processor with a locked multiplier by playing with the Base Clock frequency (BCLK). Now thanks to the integration of all the controllers like USB, SATA, power controllers, graphics unit onto the same die as the cores, BCLK is set to 100 MHz for all blocks. So if you change the BCLK from 100MHz, it may mess up other controllers. Also H67 based motherboards will allow only graphics overclocking.
Ring Bus Architechture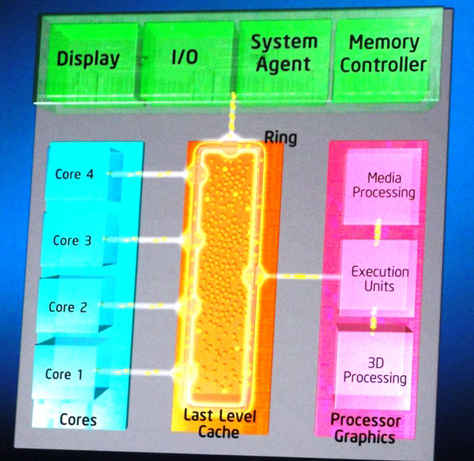 Intel has implemented a ring bus architechture which helps communicate between the processor cores, processor graphics, system agent and last level cache. The ring basically comprises of the 32-byte data ring, a request ring, an acknowledgment ring and a snoop ring. The ring is pipelined and runs at the same frequency and voltage as the other components on the die. This helps to speed up the communication between processor core, graphics and system agent. Also as the last level cache is common to all, as you increase the number of cores, the number of stops on the ring bus will scale up accordingly.
Quick Sync Video
How many hours have you spent in front of your system, waiting for that 1080p movie to be transcoded to be viewable on your mobile phone. Video transcoding which essentially encodes an already compressed file to another format has over the years seen a tremendous rise thanks to video sharing sites like YouTube. To that effect, Intel has introduced Quick Sync Video technology which performs transcoding at the hardware level unlike the software level transcoding that was seen in Clarkdale processors.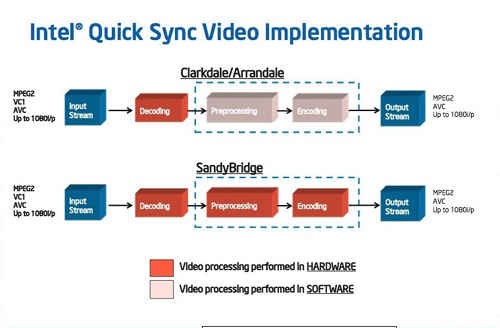 There is however a catch in the Quick Sync video department which we would like to bring out. Quick Sync will not work if your system is using a discrete GPU. So for instance you have a Core i7-2600K processor and a P67 chipset based motherboard which does not have any video-out ports, you will have to use a discrete GPU to connect your monitor (as is the case with most high end motherboards). As present day desktop motherboards do not allow switchable graphics (ie switching from your discrete GPU to integrated graphics), the superior Intel HD 3000 graphics integrated in the i7-2600K will not be used. On an H67 board however, which does have video out ports, you can exploit the integrated Intel HD 2000 graphics while transcoding or watching Blu-Ray 3D content provided your system is not connected to a discrete GPU.
This seems somewhat silly as the K series processors have HD3000 graphics which most probably you will not end up using on a P67 motherboard. And if you plan to use a K series processor on an H67 motherboard, then you cannot overclock the processor cores as you cannot change the multiplier (even though its unlocked) on the H67 based motherboard.
The only solution for those who want to try out the integrated graphics of Sandy Bridge processors right now, is to go for an H67 based motherboard or wait till Intel launches the Z68 chipsets which support switchable graphics in Q2.
Test Rig
For testing purposes, we used the processor scores we had from our previous tests and compared them with Sandy Bridge processor scores in certain tests. Since Sandy Bridge has a lot of new additions, we also ran quite a lot of additional benchmarks. In some tests you may find that all the processors are not compared across the board, as newer benchmarks are involved. We intend to follow these for future testing.
We used a slightly older but great performing graphic card Zotac GeForce GTX 285 as we had used it for other processors apart from Sandy Bridge. As far as possible we have tried to keep all the other components like memory, power supply, the same throughout.
We usually run processors without Turbo Boost to get its pure performance on stock speeds. The results with Turbo Boost activated have been mentioned so.
Processors : Intel Core i7-2600K; Intel Core i5-2500K; Intel Core i7-875K; AMD Phenom II X6 1090T; AMD Phenom II X6 1075T
Graphics Card : Zotac GeForce GTX 285
Operating System : Windows 7 32-bit
Memory : 2 x Corsair 2GB DDR3 RAM @1333MHz
Power Supply : Corsair HX2
Hard Drive : WD 300GB Velociraptor
Motherboard : Intel DP67BG Burrage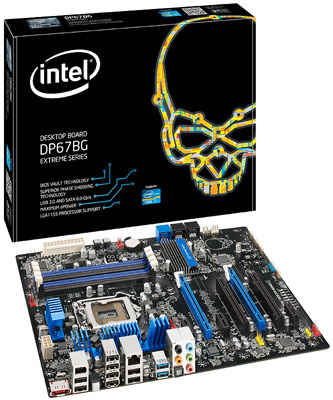 Intel sent us the DP67BG motherboard which houses the P67 chipset and has the new LGA 1155 socket. The layout is quite good and it has native support for SATA 3 but only two SATA 3 ports and four SATA 2 ports. It has enthusiast features like a double digit POST code readout, power and reset buttons and also has a glowing skull at the bottom right hand corner. As P67 does not have native USB 3.0 support, the board houses an NEC USB 3.0 controller, as is seen in most enthusiast boards. We will be covering the board in detail in the near future.
Benchmarks: 3D Rendering
Cinebench R10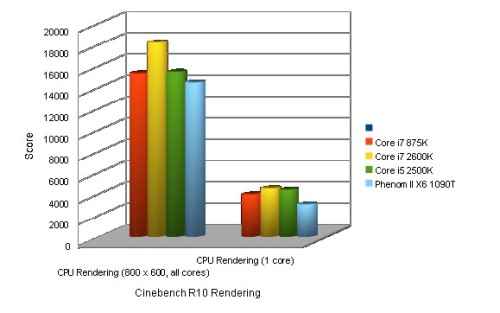 Cinebench R10 stresses the processor cores as it is rendering a scene. Intel's hyper threading does give it an edge over the Phenom II X6 1090T. The Core i7 2600K crossed the 18000 marks barrier, a considerable jump over the Core i7 875K. Core i5 2500K despite no hyperthreading still managed to beat Core i7 875K by a whisker. The six core Intel Core i7 980X with a respectable 21125 is still the leader thanks to its 6-cores and 12 threads.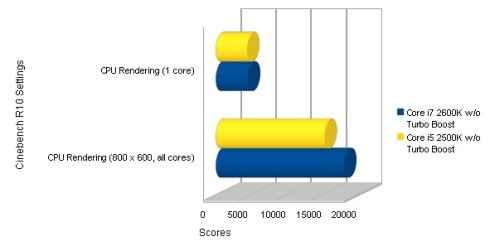 Maya 2008 Rendering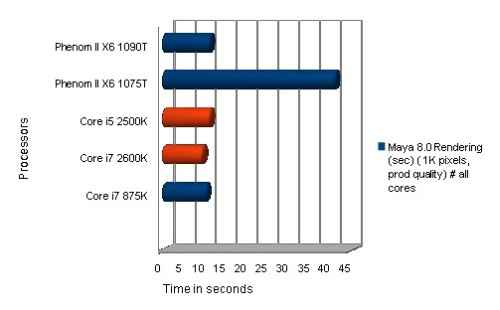 Maya 2008 benchmark involves rendering a 1024x1024 pixel scene with all cores activated. It converts a flat 2D image of a fruit basket into one having more depth and realism taking into account lighting, etc. It involves a lot of mathematical operations. As seen in the graph above, Both Core i7 2600K and Core i5 2500K aced this test. Core i7 875K edges out Core i5 2500K, but AMD processors were nowhere close to rendering the scene faster.
POV Ray v3.6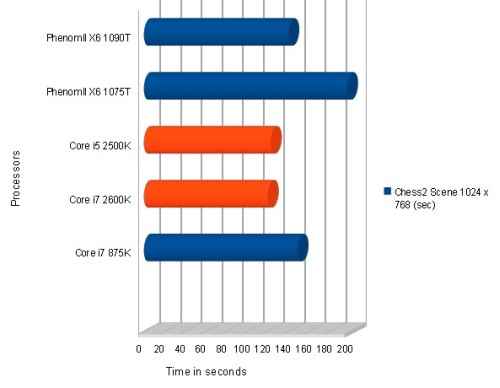 POV Ray v3.6 is another application which tests the rendering prowess of your processor. In this test we render a Chess board scene having a 1024 x 768 pixel resolution. As has been the trend in all the 3D rendering tests, Core i7-2600K beats all the other processors.
Benchmark : 3D Mark Vantage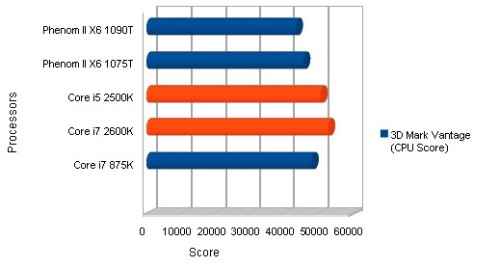 Here again the Sandy Bridge processors emerge as the winners with CPU scores touching 50000 marks. Outside of Sandy Bridge processors, there is a fierce competition between Core i7 875K and AMD Phenom II X6 1075T. Enabling Turbo Boost takes the score up a few more notches.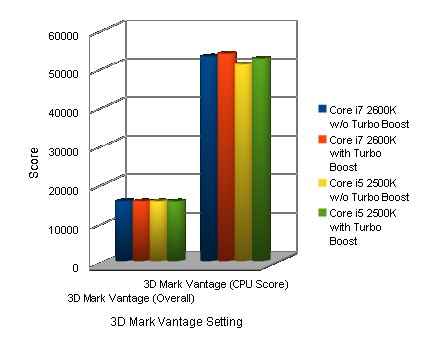 Benchmark : Games
Doom 3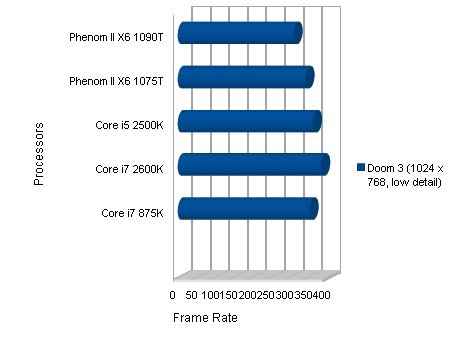 FarCry 2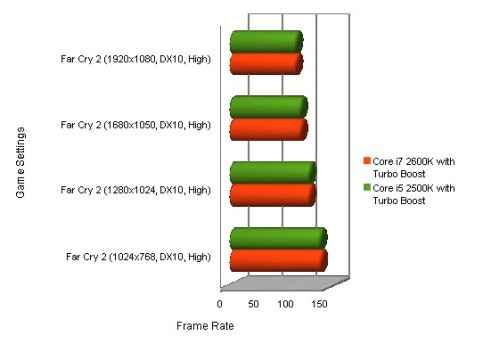 Crysis Warhead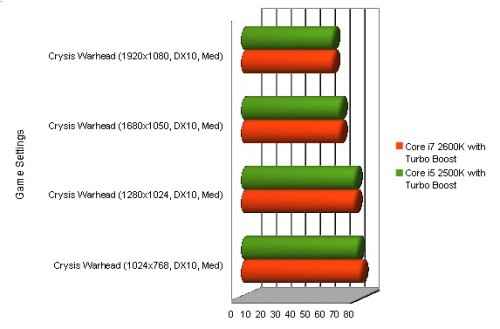 Gaming performance was up to the mark in all benchmarks. As we were using a P67 motherboard which does not have its own video out ports, we could not use the integrated graphics on the Sandy Bridge processors. In Doom 3 for the same setup and same graphic card, we got better scores on the Sandy Bridge processors. We plan to get around to testing the integrated graphics on the H67 motherboards soon.
Benchmarks : Video Transcoding Performance
HandBrake H.264 encoding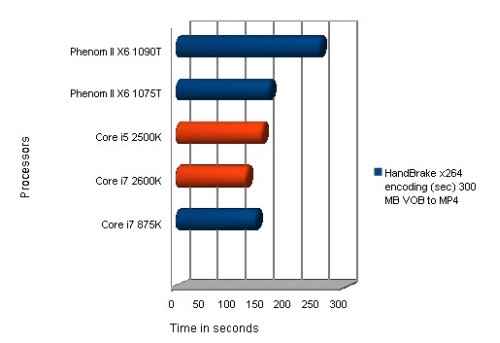 DivX 7 Converter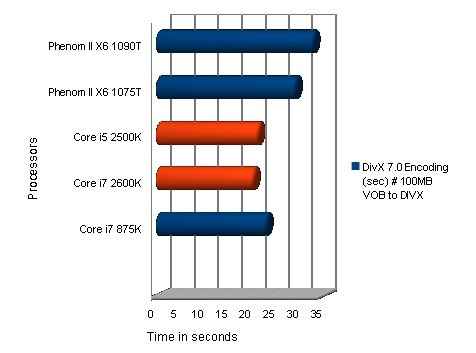 In HandBrake we converted a 300MB VOB file to MP4 using H.264 encoding whereas in DivX conversion we converted a 100MB VOB file to DIVX format. Time taken for both operations was noted down. As is pretty evident in the scores above, Sandy Bridge emerged as the undisputed winner as far as encoding videos goes. Core i7-2600K was faster than Core i7-875K in both the tests.
Final Verdict
Well, the scores have done their talking and Sandy Bridge lived upto the hype. The Core i7-2600K scored better than the previous generation Core i7-875K in most of the tests. It performed 10% better in 3D Mark Vantage, 20% better in Cinebench R10 and POV Ray and around 15% better in HandBrake encoding.
In Core i5-2500K the absence of hyperthreading was felt in some tests, but it still managed to beat the six- core AMD processors, which was quite good. The Sandy Bridge processors are definitely not a replacement for the six-core Core-i7 980X or other socket 1366 processors.
The Sandy Bridge processors are ideal for enthusiasts, who do not want to pay an arm and a leg for performance. Unlocked cores and a lower TDP enable you to easily overclock above 4.5 GHz on air cooling. Theorotically, the fully unlocked multipliers can be streched upto 57x ie. 5.7GHz operating speed, but this will require appropriate cooling. It is also being reported that some Chinese forums have put up screenshots of the K series processors going upto 65x multiplier ie 6.5GHz. For the purpose of this test, we did not indulge in overclocking. But looking at the possibilities, we will definitely give overclocking the Sandy Bridge processors a shot soon.
The only sore thumb that sticks out among all the goodness is the presence of higher end HD 3000 graphics on K series processors, which will never be used on P67 motherboards till it has the ability to support switchable graphics. They could have been much better utilized on the H67 boards which have video out ports. But then again, for someone using a P67 board, the integrated graphics will not matter much as the person will already have a higher end discrete graphics solution.
On the pricing front both the processors are appropriately priced for their performance. The Core i7-2600K is priced at Rs. 17,000 and Core i5-2500K is around Rs. 12,000. So for those who want to build a new mainstream rig Sandy Bridge processors are definitely recommended.