Putting together your dream PC is not an easy task, but getting a few basics right could put you in a good position for the rest of your build as well as for future upgrades.
A Power Supply Unit or PSU is typically one of the parts that are quite often overlooked when it should be considered one of the most important components of the build.
First and foremost, you'll want a PSU that's powerful enough to run everything. Quality is also important as you don't want to damage your expensive components. That's not all. There are also several other factors to consider.
Power Requirement:
Starting off you should first list down the components and use an online power supply calculator like this one. The GPU and the CPU are generally the most power-hungry components and will, therefore, be the two main factors to consider when picking the right PSU. What's important to note is that a PSU should always have some "breathing room".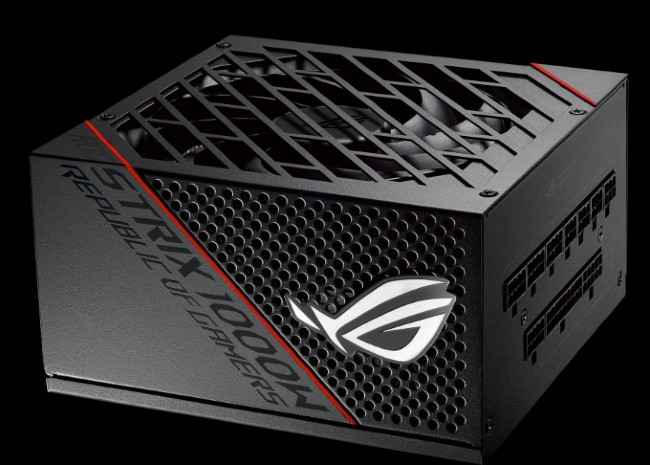 If you were to build a PC that consumes, say, 345 watts, then you might think that a 350-watt PSU would be a perfect fit, but that is just not the case. In reality, a PSU runs at maximum efficiency when the power draw is about 50% to 80% of its total output, and while exceeding the threshold close to 90% would result in poor power efficiency and also there would be no headroom for future expansions.
That said, we'd recommend the following: Once you've got the base wattage determined, aim for a PSU that can deliver about twice that wattage. That way, you'd be set with a PSU that will be quieter, safer, longer-lasting, and one that will also leave room for future expansion.
Efficiency:
Efficiency rating is the measure of how much DC power it sends to the PC and how much is lost primarily to heat. Efficiency is important because it affects how much you'll spend on keeping your PC juiced up.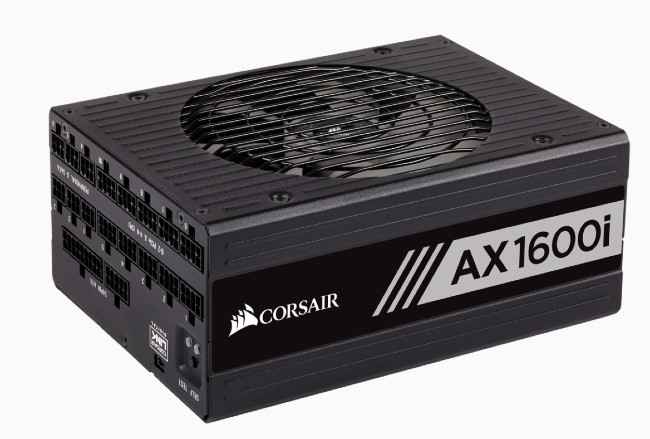 As an example, consider a PC that requires 300 watts of power. If you use a power supply with an 85% efficiency rating, your PC will pull about 353 watts of input power from your outlet. A power supply that's only 70% efficient, on the other hand, will pull 428 watts of power from the wall. Choosing the more efficient power supply will save some cash on your monthly electricity bill.
80 PLUS Rating System:
80 PLUS indicates how well a PSU converts power from your standard wall socket to the lower voltage required by internal components. In essence, it comes down to how much energy is wasted while it is being converted, which is how much heat the PSU produces.
The certification is only available for PSUs that waste 20% or less of their power, hence the 80 PLUS certification name. Most power supply units are stamped with a rating measured according to a sliding scale of familiar precious metals.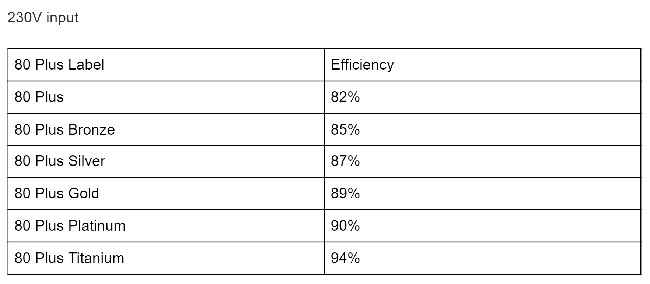 Rails aren't just for trains:
Power is provided to the components by rails, and while each voltage rail requires attention, the Power supply unit includes the three basic rails which are +3.3V, +5V, and +12V. Rails are just a fancy name for the Printed Circuit power lines on the circuit board.
Power supply units are available in both single and multi-rails, both have their own pros and cons. While both single and multi-rails PSUs have overcurrent protection, the difference is in the source of power.
In a single rail PSU the power is available from a single source and so are the protection circuits laid in a single manner. This can be convenient for setting up high performance PCs.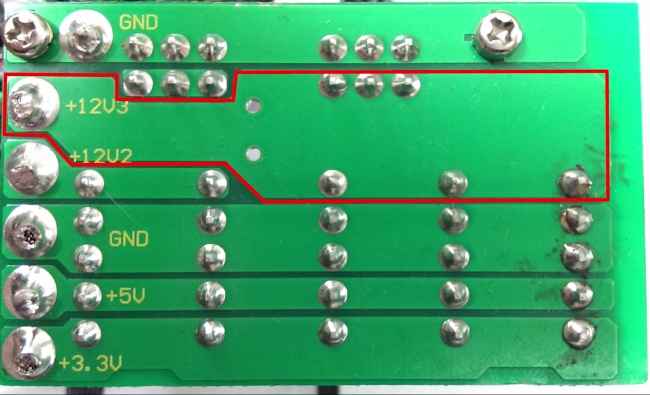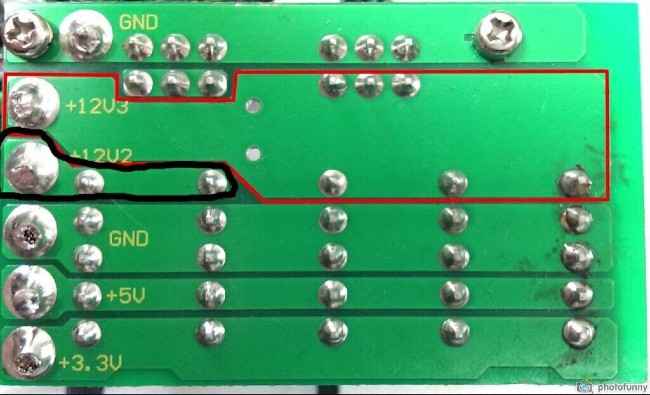 Multi-rail designs allocate the total available amperage across two or more "PCB." As shown above. The little challenge to be faced here is in balancing the load across multiple rails.
In a multi-rail PSU, the +12V power supply has a separate individual circuit for lines such as PCIe and your EPS CPU connector or the SATA connector has another circuit.
There's no effective difference in safety between single-rail and multi-rail PSUs.
Connectors:
When choosing a power supply unit, you'll want to ensure the model in question has all the necessary connectors.
Starting off with the big 24 pin connector main motherboard power cable. On modern power supplies, this will either be a straight 24 pin connector, or a 20+4 pin connector. Some motherboards only require a 20 pin motherboard power connection, in which case you would only plug in the 20 pins.
Coming to the 8 pin EPS connector for the CPU, this would be connected to the motherboard just beside the CPU labelled something similar to "CPU_PWR1", you should check your manual for details. This would generally be in a 4+4 manner.
Most modern GPUs these days require an external power source from the PSU, GPUs with power requirement up to 75W don't need an external power for example NVIDIA GTX 1050 do not require any external power source and can directly run from the power from the PCIe slot.
The GPUs that require power are in the form of 6 pin or 8 pin connectors, some power-hungry cards such as GTX Titan X may require both 6 pin and 8 pin connectors for stating a minimum PSU of 600W.
Cable length:
This is one of the most important aspects of building a Desktop. You can get all the parts and components right and perfect for your build, but managing the cables is one hell of a task. You should try to get the perfect length of cables and arrange it in such a way that your build looks cable free.
Convoluted cable management requires longer cables. Using a massive case such as the Corsair 1000D with a PSU that doesn't have long enough cables. You'll end up having to use extensions. So prefer using a modular power supply which would allow you to use third party long cables instead of using extensions.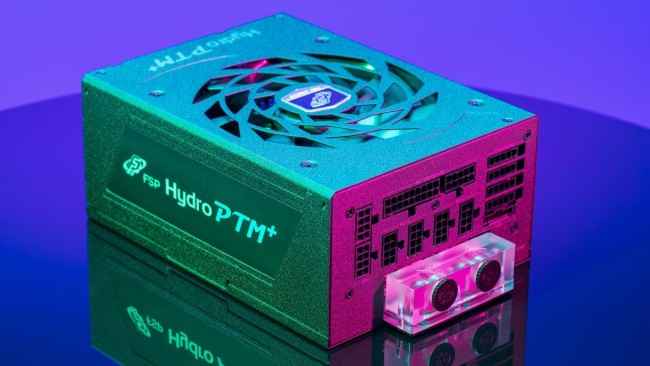 Modularity:
Modularity is much needed for PSUs these days, where the connector cables can be attached to and removed from the back of the unit depending on the power requirements of the PC's components.
The main advantage of a modular PSU is that it is very easy to decrease cable clutter, as the unused cables won't be taking up any space inside the case. This simplifies cable management and can also improve airflow, resulting in better cooling.
Conclusion:
The wattage is definitely the most important part, and the PSU needs to have the right connectors in order for it to be compatible with your PC, but that doesn't mean that you shouldn't think about the other non-essential stuff.
On a final note, always make sure to get your PSU from a reliable brand such as Corsair or Cooler Master and avoid obscure ones that don't inspire confidence.
You might be tempted to save a few bucks by getting a cheaper power supply, but it is best to play safe because a malfunction can destroy critical components of your system, so better safe than sorry.