Playing an essential part in fulfilling the vision of a wireless-connected office or home are a slew of ASUS networking devices, which we shall be taking a closer look at in a series of articles, starting with this one.
So without further ado, let's check out what ASUS has to offer for customers looking for wireless networking products:
1) ASUS RT-N66U
The ASUS RT-N66U is one of the most popular routers in ASUS's networking device portfolio. The router is designed with a nice patterned or textured surface at the top which won an Innovations International design award previously at CES. The RT-N66U is a Dual-Band Gigabit Router and has the Wireless - N900 specification. There are three easy to use antennas given in the box with the router which are easily attachable and detachable.
A plastic base or stand has also been included with the router to mount the router on it vertically and place it on the surface of your choice. This router comes with most of the usual bells and whistles and some more. It is compatible with the Wi-Fi 802.11 a/b/g/n certifications. Along with that, it also has two USB 2.0 ports, a parental control online safety feature and also a download master.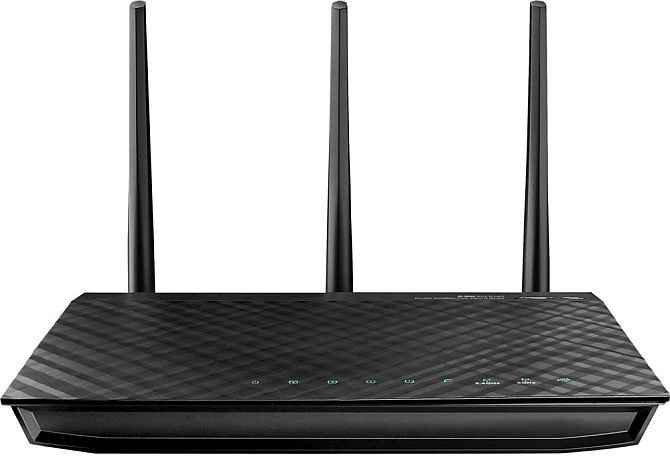 The ASUS RT-N66U is capable of operating on two frequencies concurrently via 802.11n -- 2.4GHz and 5GHz. It also comes with the best encryption standards as it has 64/128 bit WEP, WPA/WPA2-PSK, WPA/WPA2 Enterprise and WPS (Wi-Fi Protected Setup) support.
2) ASUS RT-AC66U
The ASUS RT-AC66U comes well packed inside a detailed box and is bubble wrapped for more protection during transit. Straight out-of-the-box, you'll notice that the RT-AC66U has a well textured finish on its top which makes it look cool.The router is very slim and has a sleek design element to it. There is also a metallic ASUS logo at the top which goes well with the overall design of the router. Its design is borrowed from the ASUS RT-N66U as it was a precursor to the RT-AC66U.
We get three detachable antennas with the router which can be attached or removed just by rotating them. ASUS has also included a removable stand in the box with the router which can be used to place the router horizontally or vertically. The horizontal placement will lay the router flat but the vertical placement allows you to reach the I/O ports on the routers easily and saves space on the platform on which you keep the router. Other contents like an RJ-45 cable, a driver and utility CD, a quick start guide and a warranty card are also included in the box.

The RT-AC66U being a Dual-band Gigabit router, will enable you to operate simultaneously on two different bands of network. This particular model from ASUS is one of the first few devices in the market which have a compatibility with 802.11ac wireless standard which allows you to operate on a frequency up to 5GHz or essentially up to a speed of 1.3Gbps. The RT-AC66U is replete with most of the current Encryption standards such as: WPA/WPA2-PSK, WPA/WPA2-Enterprise, WPS (Wi-Fi protected setup). This router also comes with a Parental control system along with a download master utility. Two USB 2.0 ports are also a nice addition to this router which increases its functionality. This is the router to get when you require the best of the current networking technologies be it for your home or office.
3) ASUS EA-N66
The EA-N66 sports an interesting design -- it has a snazzy triangular base with arcs rising from each of its vertices to culminate at a point up above, much like a hollow pyramid. The EA-N66 has a small physical footprint, easy enough to place in any part of the house or office -- in fact, since it looks better styled than most other products, it can also pass off as a souvenir in your living room.
The ASUS EA-N66 is sold as a wireless ethernet adapter. What that means is that this networking device and it can be deployed in three distinct modes -- as an Access Point, Wi-Fi Bridge, and Range Extender (or repeater). One device that does the job of three, that's what the ASUS EA-N66 essentially is.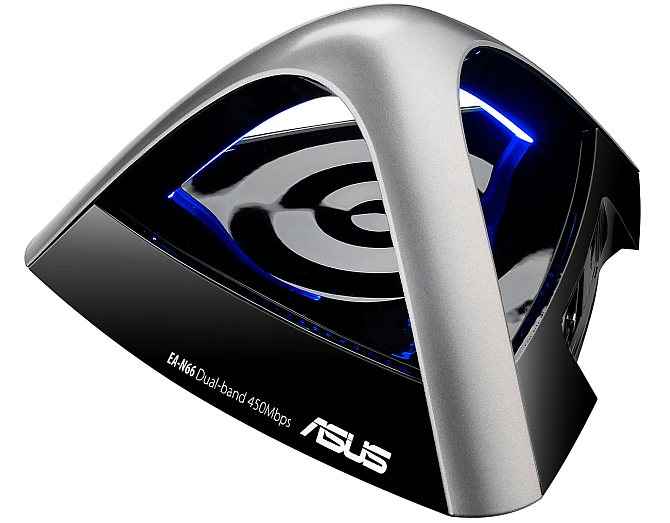 The EA-N66 comes with a patented orthogonal antenna, according to ASUS. The device operates in dual bands -- 2.4GHz and the uncluttered 5GHz frequency range -- allowing up to 450Mbps of data transfer rate. With respect to network standards, the ASUS EA-N66 complies with 802.11n and a/b/g, which should be supported by most laptops, smartphones, and tablets released in the last couple of years. In terms of data security, the ASUS EA-N66 offers standard 128-bit WEP/WPA/WPA2-PSK encryption. Looks like a multi-purpose Wi-Fi product worth having.
More details about all three routers introduced here in our next post. Stay tuned.