OnePlus 3 is a great smartphone, there is no doubt about it. When it comes to the battery life of the smartphone, the company has an interesting claim to make. In our review, we said that the device can last for one day on a full charge.
OnePlus claims, "Dash Charge sets a new benchmark for quick charging solutions. A quick 30-minute charge will replenish over 60% of your OnePlus 3's battery, allowing for 7+ hours of HD video playback." We tested video playback by looping a 2K resolution video at 50% screen brightness as part of putting OnePlus' claim to test. Here goes!
To begin with, OnePlus claims that 30 minutes of charging the phone can give 63% charge. The screenshot below shows that the smartphone had 6% battery at 10:15PM. We let the phone to charge with the wall socket and USB-C cable that comes in box, also known as the Dash charger, for 30 minutes. As you can see from the below screenshot, the phone reached a whopping 71% at 10:46PM. That's 65% of charge in 30 minutes. So yes, OnePlus' claim of charging the phone by 63% in 30 minutes is true.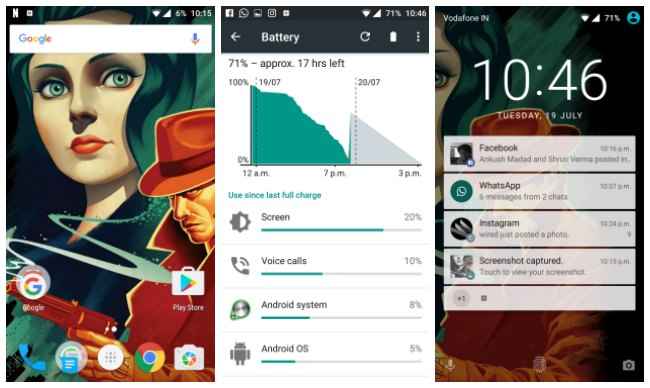 Now, coming to the claim that the phone can withstand seven hours of 2K video playback. Why OnePlus uses a 2560x1440-pixel video for this test baffles me as the display on the smartphone has Full HD resolution. Nonetheless, we acquired a video of the same resolution. OnePlus claimed that the display brightness should be at 50%. We, however, conducted the video playback test by keeping brightness at auto, plugging in headphones and keeping the audio at an acceptable level (around 60%). We played the video on loop using the VLC player for Android.
As you can see from the screenshot, at 11:32AM, the battery of the smartphone was at 61%. We began the continuous video playback test immediately after taking the screenshot. As you can see from the second screenshot, at 6:02PM the battery reached 5%. We got 6.5 hours of continuous 2K video playback on the smartphone. We would like to reiterate that the smartphone brightness was set to auto and was below 50% (as you can see in the screenshot below). So, the claimed seven-hour video playback might be a slightly tall claim as we got about 6.5 hours of continuous playback during this test.
In our test, we found that the OnePlus 3 can charge by up to 65% in 30 minutes. At 60% charge, the smartphone can last for 6.5 hours of continuous 2K video playback. The continuous video playback test was stopped when the phone reached 5% battery level. During this, the display brightness was set to auto and volume was 60% with headphones plugged in.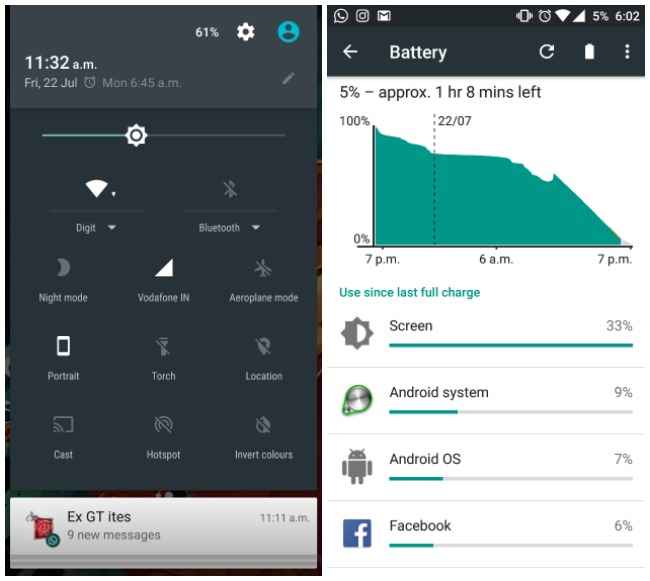 Real world usage
So, we have now put the 60% battery charge claim to test and you have seen the results. But, how does this translate to real world usage? I used the OnePlus 3 to my daily driver, and here is what I have discovered.
On day one of the test, the battery was at 60% at 6PM. At this time, I was wrapping up work, making a few phone calls and heading home.
6PM to 8:45PM: During this period, I browsed YouTube a bit, but didn't really watch any videos. Since nothing on YouTube caught my fancy, I decided to shift my attention to Netflix, browsed the library and found a movie that I'd like to watch. I didn't watch the movie on the phone but on my TV through my Apple TV. The battery level at 8:45PM was at 50%.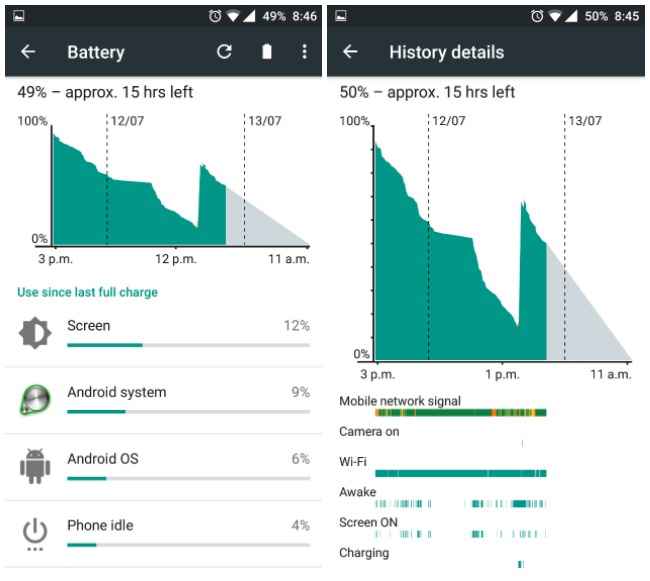 11:12PM: I'm getting ready for bed. All that happened from 9PM up till now was a few WhatsApp messages. The battery level is down to 45% now, and it is time to call it a night. The only thing that will happen while I sleep is WhatsApp's scheduled backup to Google Drive at 2AM. Nothing else is on the charts.
6:40AM: I wake up after one snooze of the alarm on the OnePlus 3, and the battery is at 40%. There are a few unread notifications. So, 5% of the battery was used while the phone was idle all night.
12:03PM: Have made two phone calls, very short - about 3 minutes each. I watched about 20 minutes of YouTube since I woke up along with some WhatsApp messages and checking my email before leaving for work. While driving, I kept switching on the display to see the time. At about 12PM, I started downloading a video from my email to upload to Instagram.
Its 12:25PM, and the phone is at 11% charge. Not bad, right?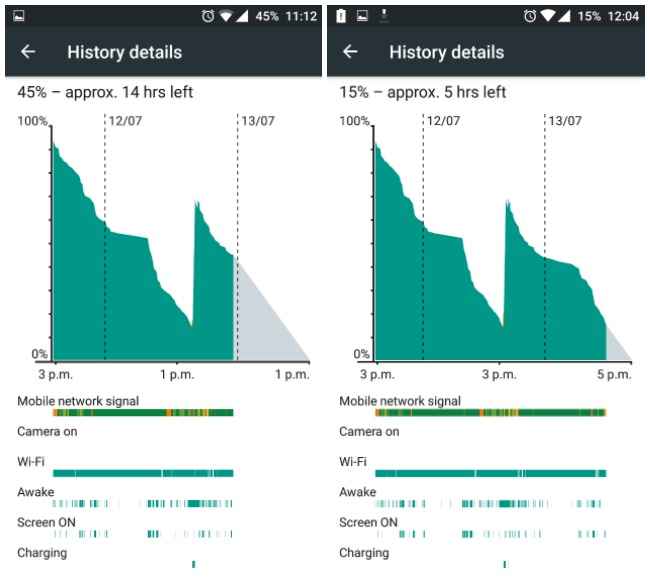 DAY 2 of the test: Trying to make the OnePlus 3 last from 9AM to 5PM
I started the day at 8:30AM, and the battery life of the smartphone is 65%. Between 8:30AM and 10AM, I streamed about 20-25 minutes of YouTube videos, some WhatsApp messages and about 30 minutes on Facebook. I left for work and as usual, when I was stuck in traffic, kept switching on my smartphone's display to see the time. At work, I made two phone calls, very few WhatsApp messages and about 5-6 emails. Its 2:15PM, and the battery has dropped to 42%.
3:35PM: The battery level now is 37%. Hardly any activity has occurred on the phone since I was working on my laptop or daydreaming at a meeting. At best, I sent 4-5 WhatsApp messages.
4:30PM: Battery is at 35%. Between 3:30PM and 4:30PM, I made two short phone calls and about 5-7 minutes of Facebook, along with WhatsApp messages.
I hardly did anything for the rest of the evening (my habit of switching on the display to see the time persists). At night, I saw about 15 minutes of YouTube and the battery was down to 2%. Its 11:46PM. Time to call it a night.
From the above analysis, it is quite clear that if you are a light user, the phone has the ability to get you through the day with 60% charge. I don't game on my smartphone, the brightness is constantly at about 40% and set to auto. I don't stream music on my phone either (I still love my iPod for music). I have set the display to auto lock in 15 seconds. I am a conservative user when it comes to my smartphone - YouTube, Facebook and WhatsApp are my most used apps on the OnePlus 3.
Having said that, if like my colleague Prasid, you are a heavy user of a smartphone, then it is difficult for this device to last for one day with 60% charge. Just to give you an idea, he keeps screen brightness at 100%, plays a lot of Injustice: Gods Among Us and has taken a fancy to Pokemon Go as well.
Bottomline
At the end of the day, we'd like to say that yes, the OnePlus 3 can charge more than 60% in 30 minutes, and can even last for more than six hours of local video playback at 50% brightness and audio at about 60% with headphones plugged in. But, when it comes to real world usage, it entirely depends on how much you use your smartphone. If you are a heavy user, a power bank is as important to you as Oxygen. But, if your usage is like me, then yes, the smartphone can get you through the average day's work.