OnePlus created quite a splash with the launch of the OnePlus 7 Pro, bringing to the world a phone that was absolutely kitted out with the best features possible. One of the key highlights is the display, which besides offering QHD+ resolution, besides the HDR10+ certification, also offers a 90Hz refresh rate. Besides "gaming-centric" smartphones like the Razer Phone 2 and the ROG Phone, there are no smartphones of note that offer such high refresh rates. This is one way that OnePlus continues its heritage of "speed" and being a gamer's smartphone. However, is the feature just hype or does it actually server any real purpose? We fired up our numerous tests to find out.
Understanding Refresh Rates
A display's refresh rate denotes the number of times it can refresh the image on the panel, in a second. For those who are familiar with a little bit of physics, this is essentially the frequency at which the display refreshes the image displayed on it, hence, it is denoted in Hertz, or Hz.
When you watch a video or play a game, what is being displayed on your screen is a multitude of frames per second. For gaming, depending on the hardware and software capabilities, the game could play at 30, 60, 90 or even 120fps. Now, if your game can generate 90fps content, but your display is just 60 fps, then the game will play at 60fps only. However, if you have a 90fps display, then the game will have to be optimized to be able to generate that many frames per second. Usually, in order to make the most of a particular refresh rate or the fps capabilities of a game, the two numbers should match at the very least.
Having a display with a higher refresh rate is always more desirable as optimisations on the OS and game could result in improved frame rates, but if the panel is capped at let's say 30 or 60fps, then the optimisations are lost on your device.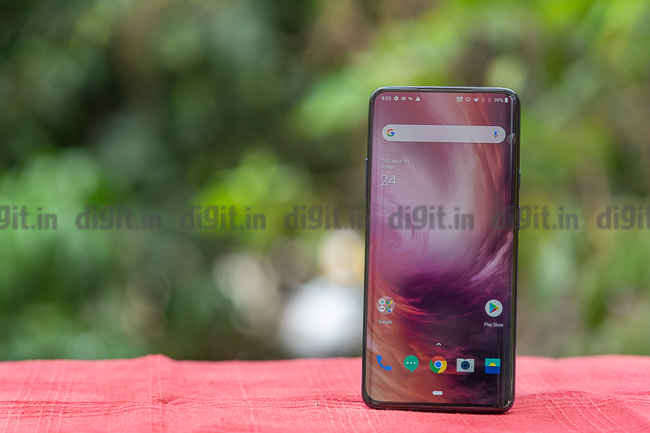 Verifying the OnePlus 7 Pro's 90Hz refresh rate
First things first, its important for us to verify that the device can do what the manufacturer says it can. One of the standard tests for verifying a display's refresh rate is the UFO Test on which, the OnePlus 7 Pro's display clocks the advertised 90Hz. The UFO test showed that the OnePlus 7Pro was able to replay the test at 90fps, without any glitches. We found the display is able to maintain the 90Hz refresh rate for both horizontal and vertical directions. This bodes well for the phone for sure.
Gaming at 90FPS
In order to test the OnePlus 7 Pro's high frame rate capabilities, we got our hands on a variety of games that had been unlocked at their highest frame rates, in order to run at the Razer Phone's 120Hz capable display. This includes games like Arena of Valor, Injustice 2, Mortal Kombat X, Vain Glory and even Plants vs. Zombies 2. We even threw in other games that aren't particularly optimized for high frame rate gameplay like PubG Mobile, Call of Duty Mobile, Asphalt 9 and a number more. We used Gamebench to record the median frame rates for each of the games after a 15-minute session. They are laid out in the table below.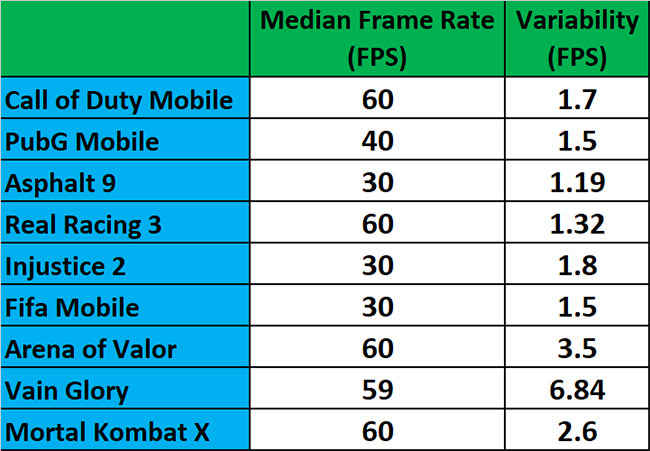 We note that all games top out at 60fps, despite us taking special care to try and make sure that each game was being played at its highest possible setting. Even then, none of the games exceeded the 60fps mark. We also measured the Moving Picture Response Time on the phone's display to be close to 10.2ms, a rather high number that can still cause motion blur while gaming.
Watching Videos on the OnePlus 7 Pro's 90Hz Display
We also tried to watch videos from popular services like Netflix and YouTube and found that besides the HDR+ content, nothing really stood out in terms of frame rates. That's because most videos playback at 24, 30 or 60fps and when such content is played on a display with a higher refresh rate, there is no visible attributes. So it doesn't really have any impact on video playback either.
Does the 90Hz display even make a difference?
Well, if not in gaming and not while watching videos, where does the 90Hz display make a difference? For now, its impact is best observed in the user interface alone. While using the phone, animations and transitions appear incredibly smooth, so much so that other smartphones don't feel as good to navigate. The whole user experience is a whole new level of "fluid," something that OnePlus alludes to in the name of the display itself. Other than that, the high refresh rate is not evident anywhere else. Yet.
Is there even a Point to the OnePlus 7 Pro's 90Hz Display?
This is a hard question to answer definitively, but we can offer some educated guesses. For starters, we are pretty convinced that game developers will be bringing support for the high refresh rate display of the OnePlus 7 Pro soon. However, this might also require some work from OnePlus's end, as achieving high frame rate gameplay isn't all about brute force.
The GPU on the SoC is rendering frames at a particular speed and the display is also refreshing at a particular speed. Sometimes, these two speeds don't sync up, causing tearing and display lag. In order to circumvent this issue, Nvidia came up with GSync, AMD created Freesync and Razer came out with UltraMotion for its Razer phone. It is possible that OnePlus may need to come up with a similar solution in order to help games achieve 90fps on the OnePlus 7 Pro.
Even though the OnePlus 7 Pro isn't running any game at 90fps right now, it is definitely a future-ready feature, and one that we definitely feel will be gaining traction as gaming continues to blow up. For now, however, all you get is a more fluid interface.
Also Read: OnePlus 7 Pro Performance Review and Comparison

Editor's note: We are still continuing to test games on the OnePlus 7 Pro and will update this post with our findings.