Update: At the India launch event for the Galaxy S9, S9+,Samsung made a series of country-specific announcements that make the Galaxy S9 and S9+ seem like attractive flagship buys. The smartphones not only offer carrier aggregation with two major telecom operators in India - Jio and Airtel, but also come with various cashback and other finance offers. The best part is that the 2018 Galaxy S flagships launched lower than the iPhone 8,8 Plus and X launch prices, showing Samsung's commitment towards fighting competition from Apple's flagships. Read on for our first impressions of the Galaxy S9 and S9+ smartphones.
Samsung's Galaxy S9 and S9+ launched amidst much fanfare and a gathering of at least 10,000 attendees from all over the world. One mammoth hall of Barcelona's Fira Montjuic was packed to the hilt for Galaxy Unpacked 2018, with the almost deafening sound of camera shutters and vloggers crooning in unison. For an instance, one could almost forget that one already knew all there is to know about the new Samsung Galaxy S series flagships. Yes, leaks were on point and there was nothing announced at the global launch event that we already didn't know about. Nevertheless, seeing and feeling the Galaxy S9 and S9+ in person was a whole different experience. Until now, we had just heard of and read about the two flagships and their attractive camera features, but at Unpacked 2018, we got to play around with the Galaxy S9 and S9+. These are our very first thoughts on the two smartphones.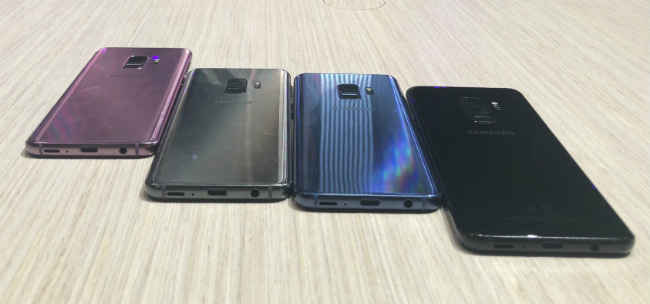 To kick things off with specs, the Galaxy S9 and S9+ will both house either the Qualcomm Snapdragon 845 or Samsung's own Exynos 9810 SoC. The S9 features 4GB of RAM with three storage options 64GB, 128GB and 256GB, while the S9+ differs with 6GM RAM and is available in the same storage options as the S9. The best part is that both the storage on both the S9 and S9+ can be expanded to a whopping 400GB using a microSD card. Both devices run Android Oreo out of the box. The S9 features a single SIM slot while the S9+ can house two SIM cards through a hybrid slot. In terms of Battery capacity, the S9 and S9+ get their juice from 3,000 mAh and 3,500 mAh batteries, respectively. The flagship duo also supports fast wireless charging through Samsung's redesigned wireless charging stand. For connectivity, the devices house - Wi-Fi 802.11 a/b/g/n/ac (2.4/5GHz), VHT80 MU-MIMO, 1024QAM, Bluetooth v 5.0 (LE up to 2Mbps), ANT+, USB type-C, NFC, Location (GPS, Galileo, Glonass, BeiDou). Naturally, the Galaxy S9 and S9+ are capable of supporting Gigabit LTE speeds, Samsung claims these are the fastest download speeds on any smartphone.
Now that we've gotten the technicals out of the way, let's talk about the displays. The S9 and S9+ retain the infinity displays found on their predecessors. The S9 features a 5.8-inch Quad HD+ Super AMOLED display with an 18.5:9 aspect ratio. The S9+ gets all that in a 6.2-inch display size. The display looks gorgeous and Samsung has truly perfected its sharpness and colour temperature. It's not too warm or too cool, it just looks right. Colours are rendered beautifully and the touch response is ultra smooth. True flagship quality feels, to say the least.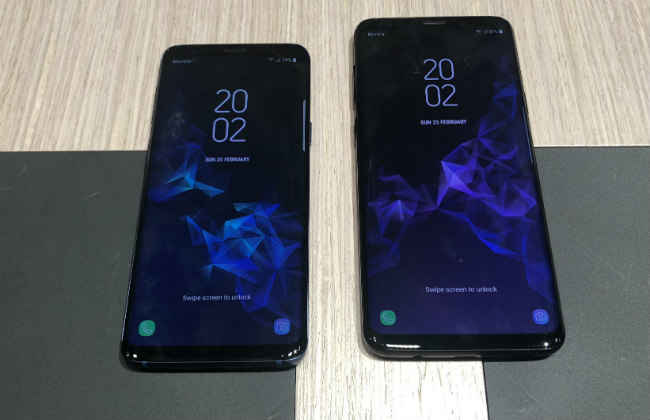 We didn't really get to check out the S9 and S9+'s stereo AKG tuned speakers, but a demo during the event proved one thing - they are loud. The phones promise a surround sound feel with Dolby Atmos and the effect should work on the speakers or on any attached headphone/earphone. Yes, the phones do retain the sacred 3.5mm headphone jack and that's a big advantage these Samsung flagships will have compared to those that lose/lost the audio jack.
There are various methods of unlocking and authenticating identity on the S9 and S9+ including pattern lock, PIN, password, iris scanner, fingerprint scanner, face recognition, as well as multimodal biometric authentication with iris scanning and face recognition.
Not impressed yet? Well, if the feature-packed nature of the S9, S9+ fails to impress you, the camera will definitely change your mind. For the first time ever, a smartphone has received the ability to manually switch between two aperture sizes - f1.5 and f2.4. Why this is impressive is because until now, only DSLRs possessed the ability to adjust aperture because of the multiple moving parts that are required to be fit in for the feature.
Samsung has managed to provide a variable aperture in a slim & light smartphone body and this is the case for both the S9 and S9+, which can now boast of enhanced low-light photography and better bokeh shots thanks to the wider f1.5 aperture, while the narrower f2.4 aperture will assist in capturing landscapes and portraits. Aperture can be adjusted manually through the Pro mode or left to the discretion of the phones in auto mode. In contrast, the Note 8 housed f1.7 aperture, while the competing iPhone X carries an f1.8 aperture.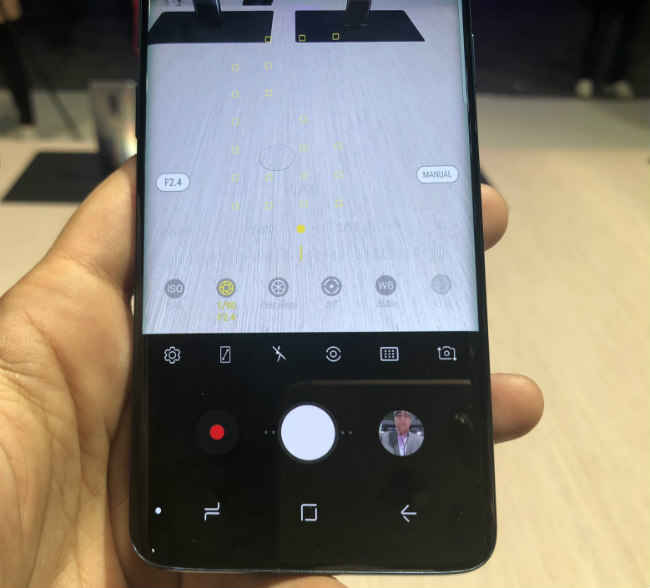 Image showing aperture change in settings
The S9 features a Selective Focus mode on its 12MP single rear camera, while the S9+ features a Live Focus mode on its dual 12MP primary camera (One wide angle, one telephoto).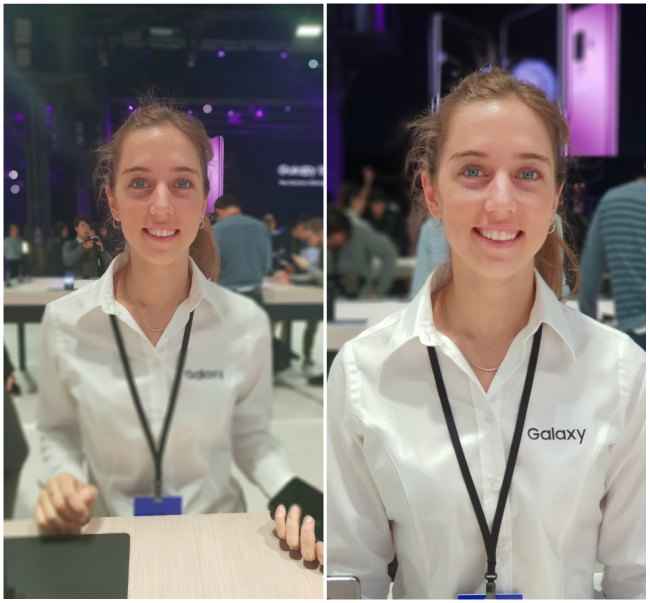 Selective Focus mode on Galaxy S9 (left) and Live Focus mode on Galaxy S9 Plus (right)
You can see the difference in background blur generated by the S9 and S9+ while clicking portraits. You can also check out the very clear and bright low-light shot from the Galaxy S9+ below. Samsung says it has redefined low light photography with the Galaxy S9 family of devices. While the demo at the event looked impressive, we would hold our final verdict for our review but you can read the in-depth breakdown of how the camera on the smartphones here.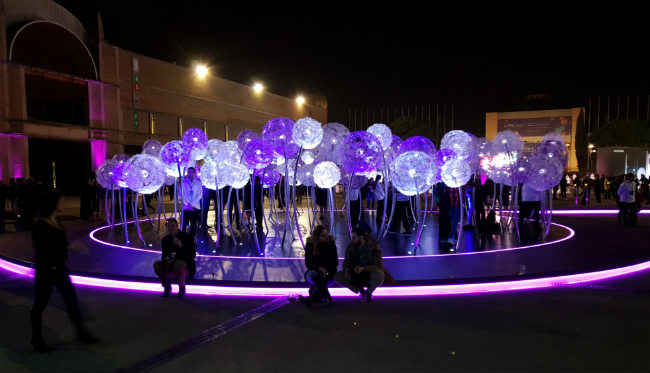 Low light image captured in f/1.5 aperture lens from Galaxy S9+
The camera app is fast and it's easy to switch between various modes, including Slow-mo. Oh yes, the S9 and S9+ have taken a hint from the Xperia flagships to include 960fps slow-motion capture, which looked mighty impressive during the on-stage live demo. Swiping right to left on the camera app lets one switch between pro mode, auto, selfie, slow-mo, live focus/selective focus and more. There are multiple nifty filters present within the camera app as well.
Another cool feature, albeit copied from Apple, is the AR Emoji feature. The S9 and S9+ feature an 8MP front-facing camera with f1.7 aperture. Both are capable of converting your face into a talking emoji, which can be shared across any smartphone and can also be accompanied by a voice recording. When we checked them out on the showfloor, they worked just fine and options to customise them are a welcome move by Samsung. AR Emojis might not be new since Apple was the first mover with Animojis, but Samsung definitely has its own spin on the concept and I personally like their's better.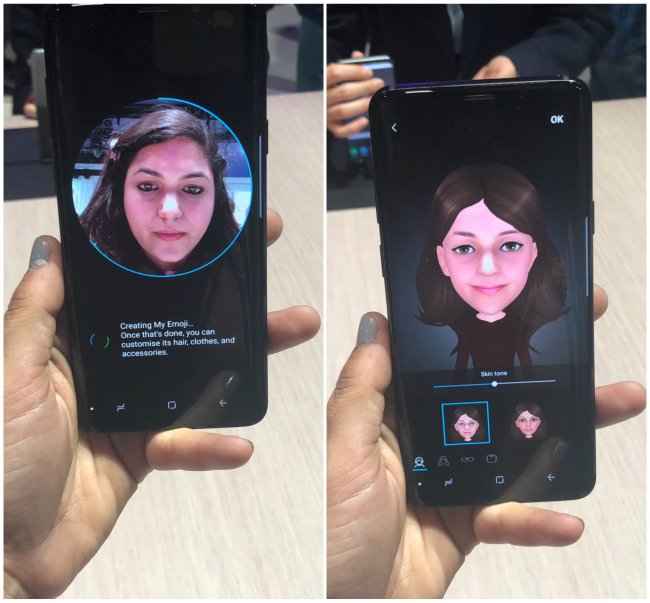 The S9 and S9+'s AR prowess has also been extended to Bixby which can now translate text from one language to the other. For instance, if a menu is in Spanish and you want to translate it into English, all you have to do is fire up Bixby, point the camera to the text and Voila! A translation will appear. Bixby can also generate shopping links online by recognising objects through the camera of the smartphones. However, these nifty tricks will be limited to US, Canada, and China for the time being.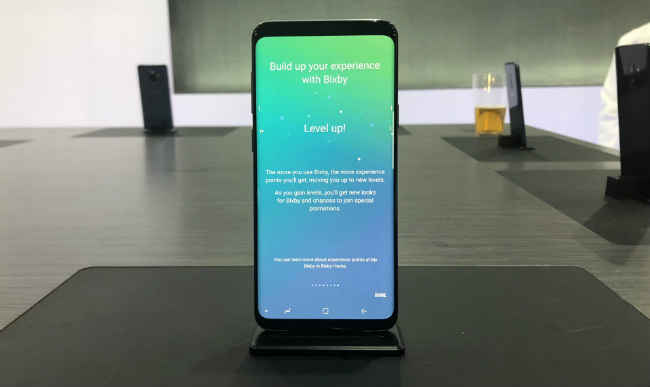 Some new UI features also seemed to be helpful, including one where notifications can be interacted with by swiping down to create a separate window on top of another already open window, thereby making multitasking easier.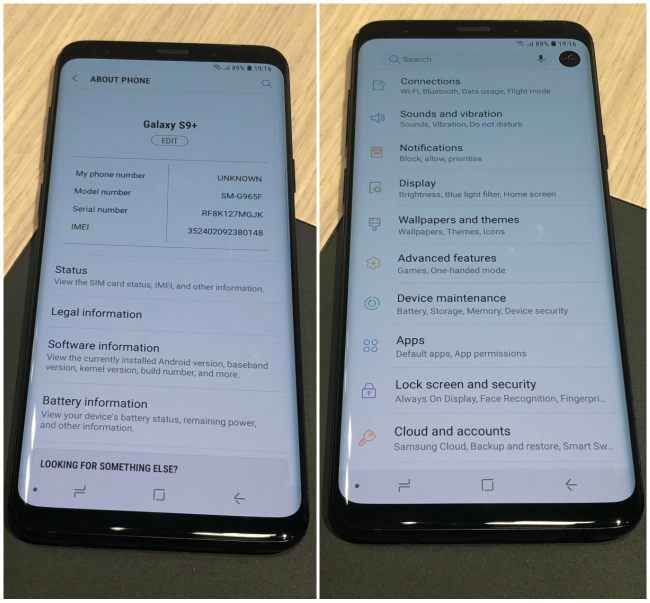 All in all, the S9 and S9+ seem like a worthy upgrade over the S8 and S8+, especially when it comes to the camera. How they fare against competition and how well they actually perform in real life will be things we will test in our thorough review.