The Narzo series is Realme's dedicated segment for those who seek performance and a premium experience at affordable prices. The REALME NARZO 10A(₹ 10970 at amazon) comes with the same promise; of good gaming performance and a premium experience, at a price point that is sub-10K. We've had the phone for a few days and we've been testing it to see whether the phone lives up to its promises. This article only looks at the performance aspect of the phone, while the other areas like camera performance will be discussed in the full review coming a little later. We also have a comparison of the Narzo 10 versus the Redmii Note 9 Pro that you can check out.
REALME NARZO 10A Specifications
The REALME NARZO 10A is powered by the MediaTek Helio P65 chipset, which incorporates two Cortex-A75 cores operating up to 2GHz and six Cortex-A55 cores that can run at a peak clock speed of 1.7GHz. The phone comes with 3GB of RAM and 32GB of eMMC 5.1 storage, not the fastest in the business, but the standard for this price point. Let's see how all this comes together and what kind of performance it delivers
REALME NARZO 10A Gaming Performance
The Narzo series is supposed to offer good gaming performance at incredibly low prices, so our first order of business was to test those claims. We used PUBG Mobile, CoD Mobile, Forza Street, Asphalt 9 and Subway Surfer as our test games, of which, we recorded detailed metrics for the shooters and Forza Street.
PUBG Mobile ran at 30 fps with a stability of 98 per cent and while these numbers may appear satisfactory enough, there is more to consider. During a battle royale match (during which these metrics were recorded) we also noted significant jank occurring frequently. Janks were prominent every time there was fast motion on the screen, like zooming in through a scope or quickly turning your vehicle to avoid enemy fire. While playable, it was not the best experience. The game was running on HD at Max-Frame rates setting.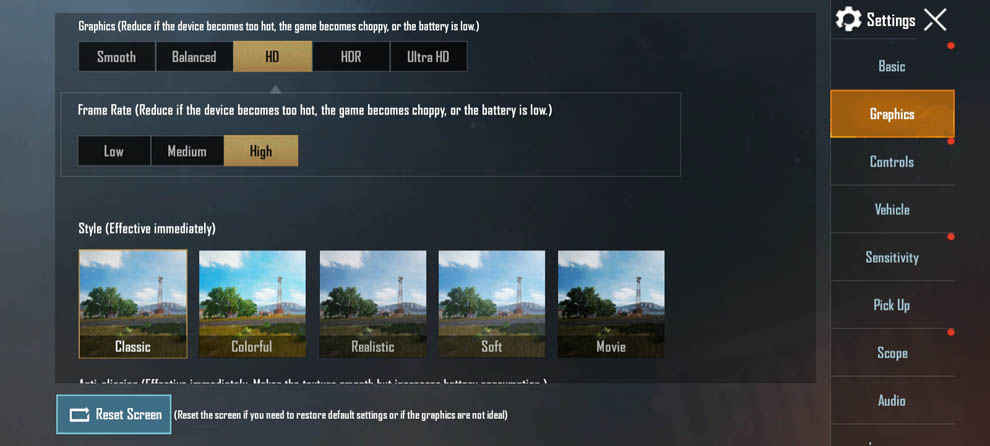 Forza Street is the newest addition to our gaming suite and again, the game ran at a meagre 30fps, but the gaming experience was very choppy, bordering on "not enjoyable." This could potentially be due to the fact that Forza Street is relatively new for smartphones and that there may be significant optimizations that still need to be made on the game. Asphalt 9, on the other hand, ran fairly well, maintaining its 30fps frame rate and not having much stutter through the races.
Call of Duty Mobile fared slightly better, which is to be expected since its multi-player matches have smaller maps and hence smaller draw distances. The game could only run on low graphics settings and ran at 58fps with 92 per cent stability. The gaming experience was periodically smooth, being adversely impacted by janks once again. At various points in the game, the number of jank jumps to 23-25, while the game is running at 58fps, causing notably choppy performance.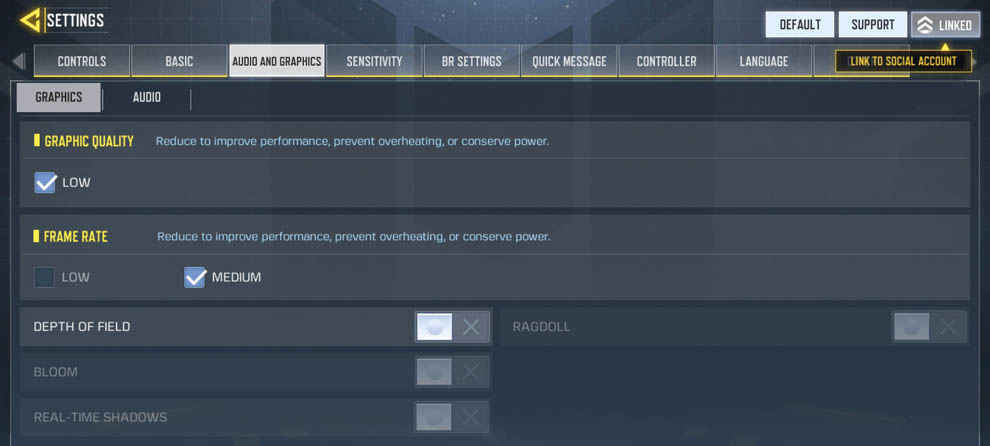 One consistent observation across all games and gaming experience was that load times are longer than usual. Now, this could be a subjective observation based on the fact that we use a lot of phones on a regular basis, most of them being higher-end devices.
REALME NARZO 10A Benchmark Performance
The Narzo 10A using MediaTek SoC already makes us sceptical of the benchmark numbers, given the recent revelation of MediaTek chipsets cheating on benchmark numbers. We ran the usual suite of tests but also profiled the CPU while running 3DMark and Geekbench 5. While running Geekbench, all cores of the CPU were running at their highest clock speeds irrespective of the workload the SoC was being hit with. However, with 3DMark, the core states varied, indicating that the SoC may not be artificially boosting performance for higher 3DMark numbers. The benchmark numbers for the Narzo 10A are in the table below.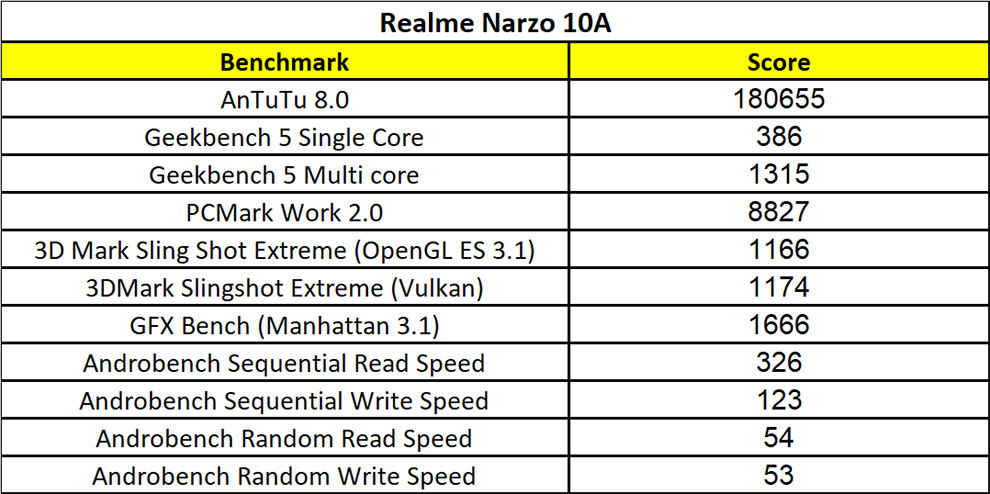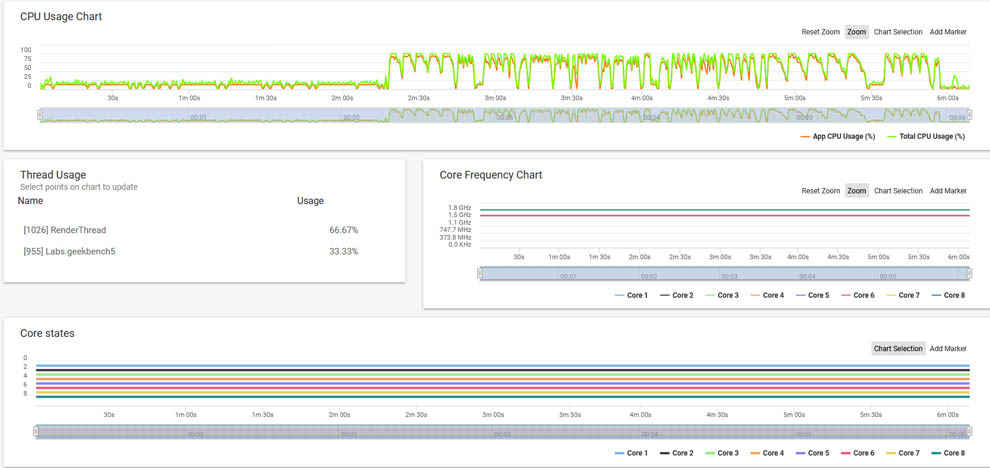 REALME NARZO 10A Daily Usage Performance
The Narzo 10A as a daily driver is a fairly reliable phone, as long as you're not trying to be Speedy Gonzales with it. The phone will not be able to keep up with rapid app switching, especially if it is between a heavy photo editing app and Google Chrome, which already has North of a dozen tabs open. Stutters are most obvious during app switching, but other than that, most of the user interface and experience is smooth. Little things like letters showing up on screen while you're typing them, or the notification shade coming down in one smooth gesture are redeeming qualities of the Narzo 10A. Given the phone only comes with 3GB of RAM and eMMC 5.1 storage, expecting lightning-fast responses would be unfair from a phone that's priced this low.
Narzo 10A Thermal Performance
During our entire testing process, we made sure to use the Narzo 10A in a non-air-conditioned environment. This was essential to get a good sense of the phone's heat dissipation capabilities under normal conditions. During our gaming runs, the phone does heat up, but not enough to make holding it uncomfortable. The plastic back does a decent job of dissipating the heat while the phone was under load. Interestingly, our benchmark runs left the phone running cooler than we expected. Typically, the GFXBench tests tend to cause significant heating of most phones, but in the case of the Narzo 10A, it was only moderately warm. This is one aspect of the phone that we can safely say was impressive for us.
Conclusion
The Narzo 10A as a phone for playing light games is just fine. More demanding titles like PUBG Mobile and CoD Mobile must run at low settings so as to be playable. That's more of a user experience thing and while the phone does deliver on adequate frame rates, the experience is just not butter smooth. Benchmark numbers, unfortunately, in the case of a MediaTek chipset are not 100 percent reliable.