Like it or hate it, you follow it. Whenever Apple launches a new phone, people talk about it and that's something you can't take away from the company. With that in mind, here are some of the best reactions that this year's iPhone 6 announcement got.
With love, from competitors…
Competitors like Samsung, Sony, HTC and others took to trolling Apple on its new devices. Samsung started the trolling, putting up a paid promotion for the Galaxy Note 4 on the day of the iPhone 6 announcement. This resulted in #GalaxyNote4 trending right above #AppleLive all through the event. Of course, Samsung has been trolling Apple for a long time, even with the Galaxy S5.
Sony wasn't far behind either, tweeting, "Better than bigger," just when Apple announced the new device. To put it in context, Apple is using the catchphrase 'bigger than bigger' for its new device(s).
Also, HTC joined the party, tweeting,
HA!! "@HTC_UK: Happy To Congratulate #Apple on joining the world of big screens! pic.twitter.com/5SR75YIMrL"

— Cash (@DaveJamaar) September 9, 2014
And,
Bigger screen. Better performance. Elegant design. Welcome to the party #iPhone6. pic.twitter.com/v45ZXebhbs

— HTC (@htc) September 9, 2014
People speak..
Fans and haters had all kinds of reactions on Twitter, while many were negative, there were also positive reactions.
Some commented on the pricing of the iPhone 6,
*Sells a kidney* *Sells the car* *Sells the home* *Buys an #iPhone6* *iPhone 7 is launched* #HorrorStory

— DeSi giRL (@Funkudi) September 10, 2014
While others had already decided that they want it,
True love is when she whispers into your ears: "I'll buy it for you." #iPhone6

— α? υ???ø?? ï??ïα? (@i_theindian) September 10, 2014
Then there was talk about how Apple is simply catching up to Android,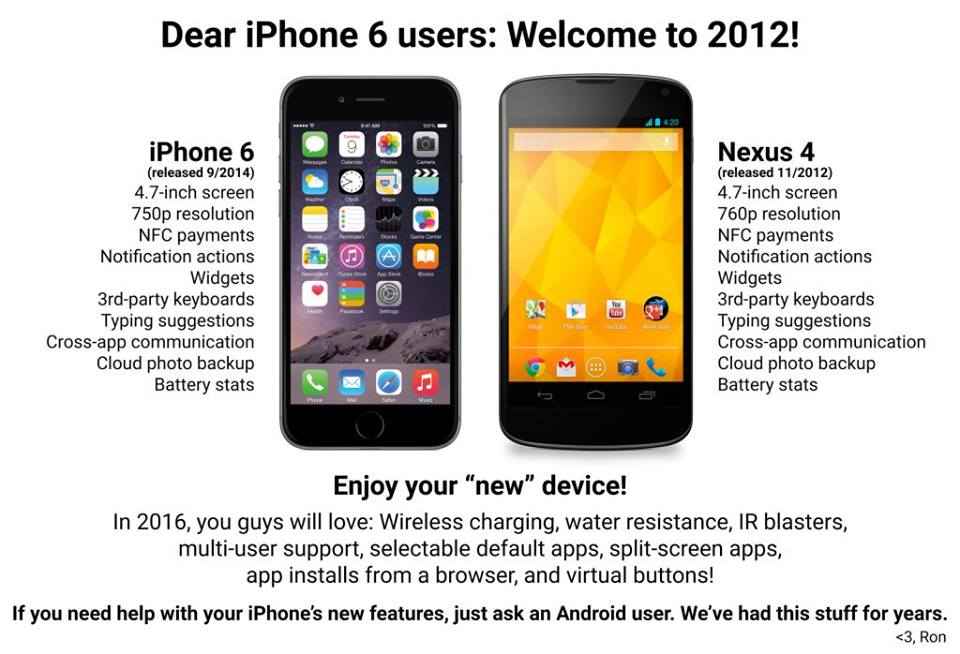 Some already had their ideas for the big lines iPhones amass,
Who wants to come join me to kick footballs at people in the #iphone6 queue today?

— Jody Smith (@ToastMaster) September 10, 2014
I'm a Manchester United fan and this one did hurt a bit,
Perfect for the Manure fanbase right now. #iPhone6 pic.twitter.com/t40zNYTsX5

— The Arsenal Horse (@thearsenalhorse) September 10, 2014
Some perhaps wanted more innovation from Apple,
The #iphone6 might be Apple's best ever, but it still can't project a hologram that says, "Help me Obi-Wan Kenobi. You're my only hope."

— Jedi Order PR (@JediOrderPR) September 10, 2014