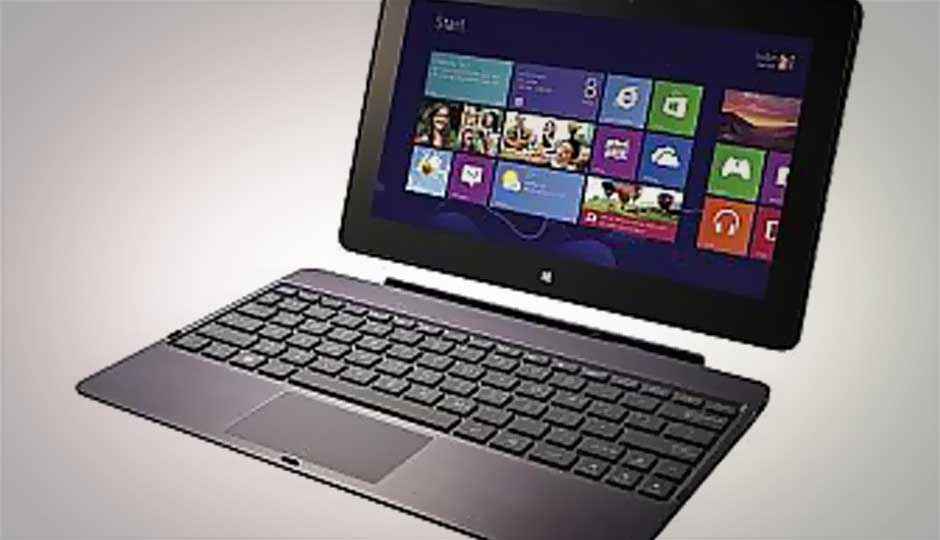 HIGHLIGHTS
With the Windows 8 hardware ecosystem growing so rapidly, it can be a little difficult to pick the right hybrid, so we break down the popular ones out there and look at what they're good at and what they just can't do.
Now that Windows 8 has been in the market for a while, so much so that the company has even readied a major update to the OS, the hardware manufacturers have had quite a bit of time to develop and nurture their hardware to suite the operating system. At the moment, there are an immensely large number of Windows 8 laptops, notebooks, ultrabook and tablets in the market, but the advent of Windows 8 also created a new series of machines, the hybrids.
A hybrid is essentially a machine that has the form-factor of a tablet, but also can be converted into an ultrabook/netbook by the means of an attachable keyboard. They also tend to run off of good hardware such as an Intel Core i3 or i5 processor, though that is a rare occurrence in most hybrids. Today, we are going to look at a few hybrids that have stood out and examine just how good (or bad) they are and whether they are a good match for your needs.
HP Envy X2 – Rs. 59,990
The HP Envy X2 is powered by an Intel Atom dual-core 1.8 GHz processor and runs the full desktop version of Windows, Windows 8 PRO and it manages that thanks to the 2GB of LPDDR2 RAM it houses on the inside. It is extremely slim and light, despite the large 11.6 inch screen (1366×768 resolution) that can output a maximum brightness of 400 nits. It has a 64GB SSD for adequate storage and speed, but if you need more, then you can always pop in a microSD card into the provided slot.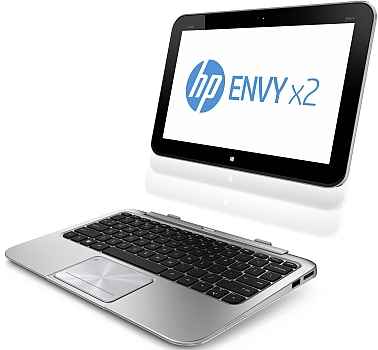 What's Hot: The HP Envy X2 has an incredibly slim profile and even with the additional keyboard dock on, it hardly tips the weighing scales in an unfavourable fashion.
What's Not: Sadly, the Envy X2 with its Atom processor and just 2GB of RAM is only good for basic document work and web browsing. If you're looking for a portable workstation, this isn't it.
Best Suited For: The kind of user who is always on the move and needs something very compact and light.
HP ElitePad 900 – Rs. 43,500
Almost identical to the HP Envy X2 in every way, except that the tablet-part of the HP ElitePad 900 itself is slightly thinner and it weighs a little less. Its innards are identical to the ones on the Envy X2. The key difference between the ElitePad 900 and the Envy X2 happens to be the target audience. While the Envy X2 is marketed for the casual audience, the ElitePad 900 is a business tablet. What this means is that the ElitePad 900 has a host of accessories that convert the tablet into a full-fledged power horse on the go. It has a battery pack jacket for extended life, a keyboard, a desktop dock which further increases connectivity etc.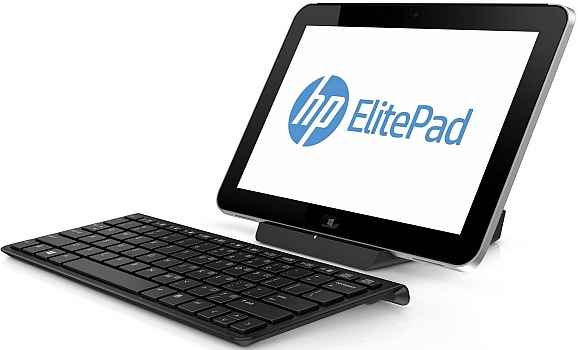 What's Hot: The tablet is incredibly light and slim and the additional accessories definitely make it very versatile.
What's Not: The price of the tablet does not get you any accessory. Everything must be purchased separately, including the battery that is supposed to go in the battery jacket. HP is REALLY out to make money with this one.
Best Suited For: The business man who doesn't mind over-spending for the convenience of a portable work-station.
Dell Latitude 10 – Rs. 44,500
The Windows 10 Pro tablet from one of the most popular PC manufacturers of our times, so obviously we have high hopes. The Dell Latitude 10 also runs off the same Intel Atom processor as the Envy X2, but it includes a faster 2GB of RAM (800 MHz vs. 533 MHz). It too has a 64 GB SSD for fast operation and a slew of connectivity options, and a standard 10.1 inch IPS panel with a resolution of 1366×768. What's really nice about the Latitude 10 is its svelte black looks and the rubber finish on the back that make it excellent to hold.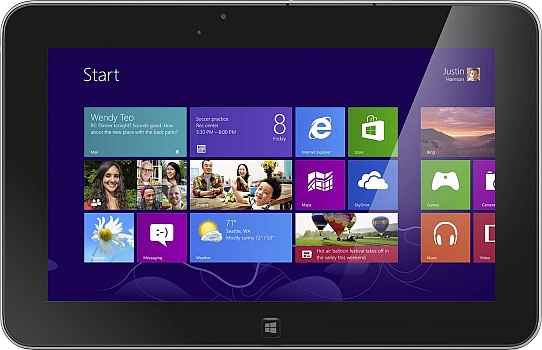 What's Hot: Excellent finish, the included stylus is a bonus.
What's Not: The glossy screen can be a little difficult to work with in bright daylight.
Best Suited For: Anyone looking for a well built, good quality tablet, but does not want an iPad.
Asus VivoTab – Rs. 61,999
Asus pretty much nailed the perfect Tablet-keyboard-hybrid concept with the Transformer Prime, save for the issue of the tablet and keyboard weighing a different amount, causing the pair to feel slightly misbalanced. Often, the tablet ends up being heavier than the keyboard, but in the case of the VivoTab, that doesn't seem to be too overtly the case. The Tab draws power from a 1.3 GHz Nvidia Tegra 3 processor and the 2GB of RAM. Being an RT tablet, the good thing is that the VivoTab RT ships with a copy of MS Office, so there's no need to get an extra subscription.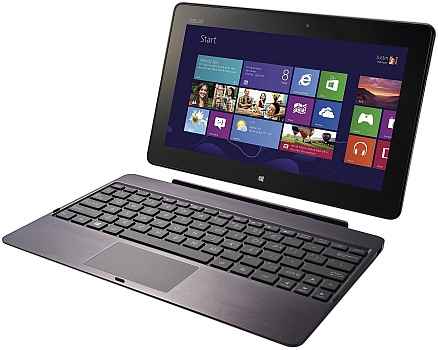 What's Hot: Tablet comes with keyboard, free copy of Office as part of the RT package is a great plus.
What's Not: The battery life tops out at 6 hours, which is low for a 2-battery device
Best Suited For: Anyone wanting to play with the RT version of Windows, anyone looking for a GREAT screen on a tablet, anyone who does a lot of typing on the go.
Samsung Ativ PC Pro – Rs. 75,490
Want a machine that's a full-fledged laptop, but at the same time not? By that we mean you get all the perks and the form factor, along with the benefits of the tablet. That's what the Samsung Ativ PC Pro is. At the heart of this tablet is an Intel Core i5 processor, chugging away at 1.7GHz while 4GB of DDR3 RAM make sure you can run pretty much any software an average user would want to. It has a large 11.6 inch full HD screen, but being an FHD LED panel, it lacks the pop and colour accuracy of an IPS panel that most other tablets have now started using.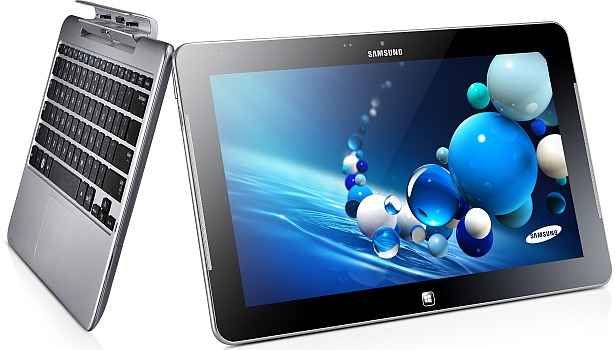 What's Hot: With an i5 processor and 4 gigs of RAM, you can even run Photoshop off this puppy. Power and portability in one package is what you get.
What's Not: Unfortunately, the screen is average at best, not just in colour, but also in touch responsiveness.
Best Suited For: Those wanting a tablet PC (hybrid) for the casual multimedia related tasks.
Microsoft Surface
The reference design for all Windows tablet PCs, the Surface is available in both Pro and RT flavours from the Microsoft store. They come with the best hardware of all current hybrids such as an Intel Core i5 processor, 4GB RAM, full HD IPS panel display etc. It doesn't skimp on connectivity either and in fact, also offers to expand storage with the help of a 64GB card.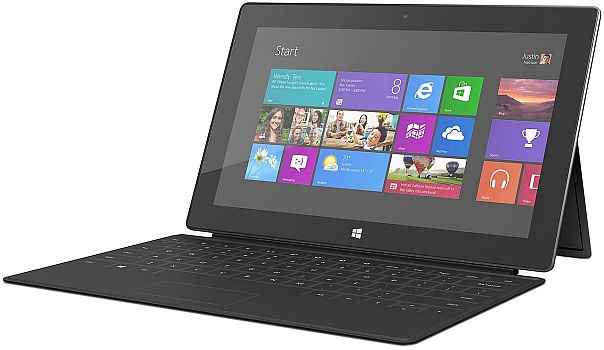 What's Hot: Incredibly sturdy and chic design, the benchmark for Windows 8 hybrids
What's Not: Not available in India, but you can ask your shady cousin to get you one from the US
Best Suited For: Anyone and everyone who wants a Windows 8 hybrid.
Afterthoughts:
The Windows 8 platform has really been developing well thanks to the various hardware manufacturers who've committed to creating innovative devices to run the OS. There are several options out there, with at least something being perfect for every kind of user. Of course expecting gaming-grade performance out of these machines is completely unrealistic, given that they are tablets at the end of the day.
On the other hand, we're now starting to see Intel's new Haswell chips make it into mainstream machines across manufacturers. The new chips consume far less power and account for how Apple was able to slim down the Macbook Pro considerably, seeing how it heats up less and takes up lesser space. We wouldn't be surprised if six months from now, we start seeing Windows 8 Tablet PCs shipping with the newer Intel processors, meaning, they could be even slimmer than they are today. If you absolutely cannot wait, then the above list should give you a good selection to pick from.