As a tech journalist, it is very hard to fanaticise over a particular brand, a company, or a technology platform. On one hand, objectivity is key to our profession, but on the other, when it comes to technology, it's tough not to judge. That is exactly why, a long time before I made a career out of my love for technology, I became an Apple fan. Like most other Apple loyalists, I have owned/used almost everything the company made after the iPod. I studied their timeline of products, their elaborate history of evolution, and of course, I admired (no matter what anyone would say about him) the ingenious Steve Jobs. Yes, I was an Apple fan, but now, I am slowly losing faith in the Cupertino tech giant, especially after everything that was announced at this year's Worldwide Developers Conference. To add to Apple's (and my) woes, WWDC 2016 was streaming live at the same time as E3, the world's biggest gaming event of the year, and unfortunately, WWDC was a yawn fest in comparison.
The keynote kicked off by Apple CEO, Tim Cook, setting the agenda for what was to follow - a spate of 'not so amazing' announcements across the company's various operating systems. To start with, watchOS3 was hyped up as a game changer, and it was actually said that "you will have an all new watch" after the proposed update. Yes, app loading will be 7 times faster on the Apple Watch, the new Scribble keyboard will let you reply to messages directly from the watch, the SoS feature will allow users to call emergency services and navigating the tiny square is now easier. But, in all honesty, I still don't feel I will have an "all new watch" thanks to these minor UI, navigation tweaks. I was happy with the pre-determined suggestions for replying to messages. How many of us will actually sit down and draw out single characters on the watch screen, in hopes of the watch recognising them to form a word, and then a message. What's also important to note here is that using the Scribble feature would actually require you to stop, scribble and then resume whatever you were doing, taking away from the core functionality of using the watch on the go. I was happy with voice replies and would have liked to see that getting smarter, with the integration of bots for predictive responses, like the one introduced in the QuickType Keyboard for iOS.

What irked me the most was a sort of insensitive and obviously not well researched claim made the company about wheelchair users. "Many wheelchair users already have an Apple Watch," said, Jay Blahnik, Director of Fitness and Health technologies for Apple. I for one would love to see some data supporting this claim Apple. I don't know about wheelchair users in the US, but I can assure you that the percentage of wheelchair users sporting the Apple Watch in India is below 1%. I imagine the scenario is similar if you look at wheelchair users across the world. Secondly, changing 'Time to Stand' to 'Time to Roll', for wheelchair users definitely does not deserve a drum roll, especially given the unreliability to fitness data from the watch in general.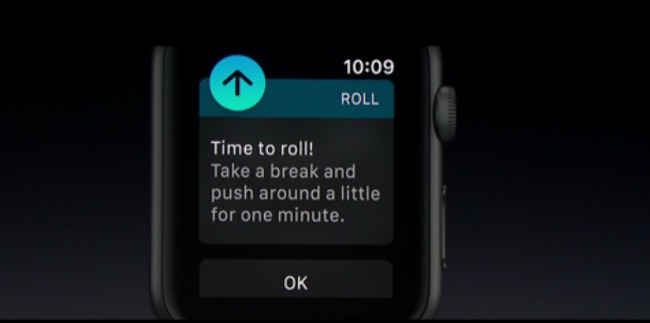 ---
Try this, wear an Apple Watch and move your hand around while you sit comfortably. Now check your step count. You will notice that your step count has gone up considerably, without you even moving an inch. One day, I was literally lying in bed having an animated conversation, and the watch informed me that I achieved my day's goal of walking!
---
But enough about the watchOS3. Let's move on to some other announcements on iOS and Siri. Siri is getting smarter, is now open to developers and is all set to make its debut on the newly names macOS. So, you will soon be able to call an Uber or reply to a WhatsApp message using Siri, but that's so Google in 2015! What's sad is that Apple is making all these upgrades as a follow up to what companies like Google, Facebook have already done. Viv, the new personal assistant created by Siri Co-Founder, Dag Kittlaus, can easily beat Siri at complicated queries even now.
Predictive type on the QuickType keyboard is also a leaf taken from the Google Assistant and GBoard for iOS. Yes, allowing third-party apps to post GIFs, stickers and emojis on iMessage is a good business decision for Apple, but hardly a revolutionary upgrade for the iOS user.
Even when it comes to Maps, Apple patted its shoulder for the ability to zoom out and see traffic conditions ahead on a route. Really Apple! What about improving and growing the reach of Maps first? There's nothing Apple has done with maps that Google has not already mastered. I want my Apple Maps to function before I start ordering Ubers through it and pay for them using Apple Pay. Infact, don't even get me started on the slow, phased rollout of the Apple Pay service. Apple has made it quite clear that it wants to find firm ground in India (thanks to Tim Cook's repeated India visits), but clearly we aren't good enough for Apple Pay, which our other Asian neighbours can now enjoy. What's even more ironic is that Apple actually has a Maps development center in India, and I can't navigate from my house to my office using the same.
All in all, I now have to admit something with a heavy heart. Apple has proved this time, a statement I have been defending for the past 5 years - "Apple is no longer leading innovation, it's just following it."