Supercomputers are using their high computational speeds and efficiency to help many sectors in our country, such as scientific research, weather forecasting, missile simulation, understanding the creation of the universe, creating life-saving pharmaceutical drugs and much more. Now, what really makes a Supercomputer "super" is a concept called parallel computing.
Let's take an example of painting a rainbow on a wall: serial processing is like a single man painting one colour at a time, and the time taken will depend on the speed at which the person draws each colour. Now, in a parallel processing system, with, say, seven people available to paint the rainbow, each person paints one colour, and the time taken is much less. Basically, parallel processing involves the breaking up of tasks into smaller tasks that can be processed in parallel. The end result is obtained by combining outputs from each processor.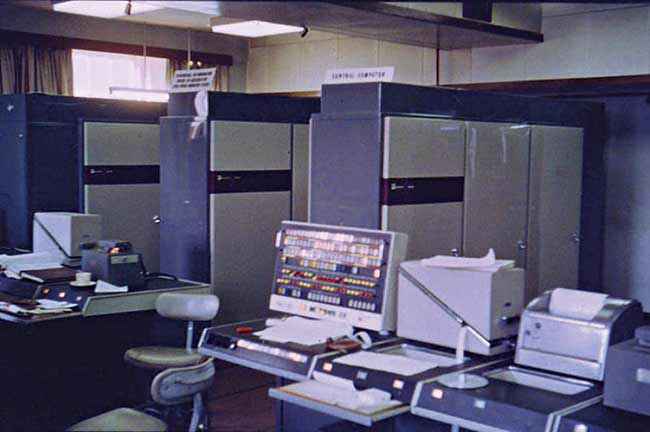 An old supercomputer from the 1960s
What a Supercomputer does?
Any gamer knows that adding a faster CPU, GPU and RAM means a better gaming experience, but there are limits to how well a single processor can handle loads. A supercomputer consists of an array of processors and GPUs stacked together to perform high computational tasks. These stacked processors are capable of very fast parallel processing. However, parallel computing does have some drawbacks, as combining outputs from thousands of processor requires sophisticated protocols that can arrange these thousands of outputs in the correct order. Some Supercomputers are not located in a single room, and are actually a collection of smaller supercomputers that are spread across large geographical distances. Weather forecasting needs such a setup.
A supercomputer can be built by stacking computer processors in a giant box and interconnecting them to work on a complex task through parallel processing. Such an arrangement is called a Cluster supercomputer. Here, each individual computer in the cluster is called a node. Another type is Grid supercomputers, where the processors are stacked in pretty much the same way as they are for a Cluster setup, but in this case can be located across the globe and connected via WANs or the internet.
Supercomputers in India
India is home to some of the top supercomputers in the world. We use supercomputers to conduct various scientific research, make meteorological predictions, for aerodynamic modelling, bioinformatics, and also simulating nuclear missile tests. Unlike regular computers, where you measure performance in GHz, supercomputers are measured based on how many FLOPS (floating point operations per second) they are capable of. Think of a Flop as a way to calculate a number to a decimal place.
Top 5 supercomputers in India
India has 11 of the top 500 supercomputer in the world. Here are the top 5 of those mammoth supercomputers that serve our nation.
SahasraT (Cray XC40)
SahasraT supercomputer is located at Supercomputer Education and Research Centre (SERC) facility at Indian Institute of Science in Bangalore. SERC is India's state-of-the-art research facility for high-performance computing in the field of science and engineering. This system bagged 96th position in the Top500 list of top 500 supercomputers in the world.


India's fastest supercomputer
Specs:
SahasraT (CRAY XC40) is the product of Cray Inc. an American supercomputer manufacturer. Cray XC40 is a product from OEM Cray. This Supercomputer consist of Intel Haswell Xeon E5-2680v3 processors, NVIDIA K40 GPU accelerators and Intel Xeon Phi 5120D coprocessors and whopping storage of 2.1 PB (1015 bytes). There are around 1500 processors and coprocessors and 44 GPUs to handle complex tasks in the system. The System implements Cray Aries interconnect routing using DragonFly topology. Cray's Linux environment is used as the OS for the system. SahasraT has been rated to 901.54 TFLOPS, which the highest rating amongst all supercomputers in India.
SaharasT provides service to our nation in the fields of aerospace engineering, meteorology predictions and astrological simulations. Also SaharasT is used for molecular and material research and mapping entire climate condition of the particular region via simulation. Overlapping of supernovae was simulated by the SahasraT system.
Your PC vs. India's fastest supercomputer
Let's see how your PC, laptop or phone matches up to India's fastest supercomputer. Here, we tell you how many of a device you'd need to equal the SahasraT (specs of the SahasraT in brackets). THe devices we've chosen are the Nexus 6P, Asus G751J-DB7 (G-Sync) laptop, and an assembled ultra high-end gaming rig:

Core Count (33,024 cores)

4128 x Nexus 6P
8256 x ASUS G-Sync laptop
8256 x Ultra High-end Gaming RIG

RAM (5600 GB)

1866 x Nexus 6P
233 x ASUS G-Sync laptop
350 x Ultra High-end Gaming RIG

Storage (2.1 PB)

31,250 x Nexus 6P
1773 x ASUS G-Sync laptop
1593 x Ultra High-end Gaming RIG

Graphics Memory

132 x ASUS G-Sync laptop
88 x Ultra High-end Gaming RIG
Aaditya (IBM/Lenovo System)
Indian Institute of Tropical Meteorology Pune, is the India's finest meteorological department which uses IBM X system supercomputer for research and development. System is called as Aaditya which is manufactured by IBM. This system is ranked at 116th position in Top500 list.


The Aaditya supercomputer in Pune
Specs:
This system has Intel Xeon Haswell E5-2670 2.6 GHZ processors and total RAM storage of 15TB. There are 2384 compute nodes in the system. The System is rated with a speed of 719.2 TFLOPS. Red Hat Enterprise Linux is used as the operating system environment. Nodes are connected through infiniband interconnect technology.
This supercomputer helps the institute to operate and provide accurate data regarding the Nation's weather conditions, simulating weather models of the country, predicting rainfall cycles for the monsoon, and air quality forecasting. Most of our country's weather forecasting is done by this system. Farmers rely on the information provided by this system on rainfall predictions and climate changes.
TIFR Colour Boson
This supercomputer is located at Tata Institute of Fundamental Research facility. This machine is also a Cray product, model name is Cray XC-30. This supercomputer is deployed at Hyderabad and the system is ranked at 145th position.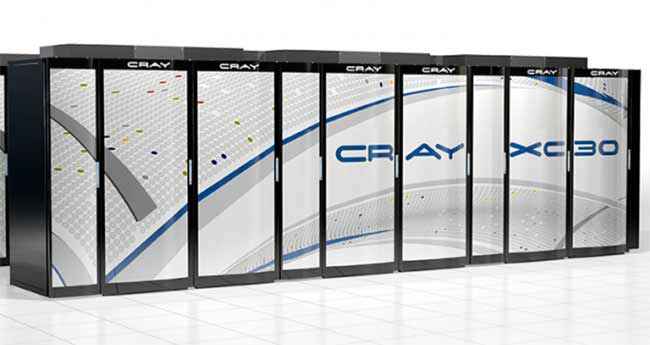 The TIFR ColourBoson
Specs:
ColourBoson consists of 4760 nodes of Intel Xeon E5-2680 processors and NVIDIA Tesla K20x GPU. Total storage of the system is 1.1 PB. Nodes are interconnected by Cray's Aries interconnect routing technology with DragonFly topology. Linux environment is used as the OS for the system. The System can achieve a speed of 558.7 TFLOPS.
This system is used under Indian Lattice Gauge Theory Initiative program by the scientists of Tata Institute of Fundamental Research. Research and development on theoretical physics and quantum chromodynamics is carried on by the system. The theory of study of elementary particles such as quarks and gluons is called as Quantum Chromo-Dynamics (QCD). The System is used for research of quark-boson a phase of matter that holds the mystery of the creation of our universe.
Presence of mind
IBM's Watson supercomputer was built to develop natural responses to answering questions based on the quiz from the show Jeopardy. To tackle the questions Watson had all of the text in encyclopedia websites such as Wikipedia stored into the memory, keywords from question were joint and correlated with the content stored on the computer. Apart from winning popular TV quiz shows, Watson's cognitive capabilities proved beneficial in many fields.
Super Chef Watson
Watson analysed thousands of recipes and created a statistical map of various combination of ingredients, chemical compositions of the ingredients and figuring out new recipes from this data. Watson created 65 new recipes of its own which are available in the book called Cognitive Cooking with Chef Watson.
IIT Delhi HPC
IIT Delhi has one of the fastest supercomputer in their campus. This system is a GPU centric high-performance system and is one of the fewest in the world. NVIDIA experts worked with IIT Delhi team to built this system that is based on GPU Tesla Platform. IITD's system is ranked at 166th position in the top 500 list.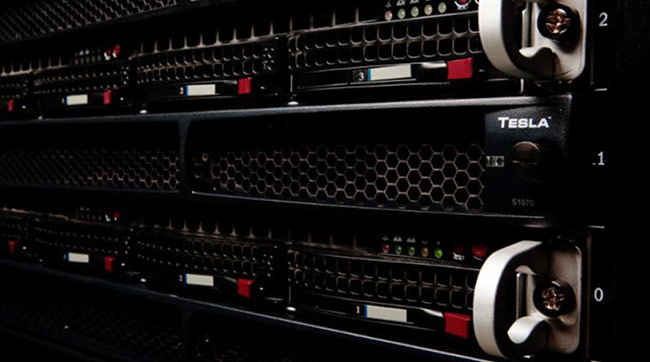 IIT Delhi's supercomputer is the fourth fastest in India
Specs:
System specification ae HP ProLiant XL230a server & HP ProLiant XL250a Gen9 server with NVIDIA K40M GPU cards. Total storage of the system is 1.5 PB. For network connections Infiniband interconnect technology is used. There are in total 322 NVIDIA Tesla K40M GPU cards in the system. System performance is rated at 524.4 TFLOPS. CUDA and OpenACC are preferred programming platforms for the system.
This supercomputer is under the use of researchers in fields of biology, nano systems, atmospheric science and bioinformatics. System provides services across the IIT campus for study and research in the field of Data Analytics , Deep Learning, Computational Physics, Chemistry, Computational Fluid Dynamics and Material Science.
Param Yuva 2
Param Yuva 2 is the supercomputer located at Center for Development of Advanced Computing (C-DAC) in Pune. The System is developed by Intel as OEM and system integrator is NetWeb technologies. Param Yuva 2 is ranked 251st in the world.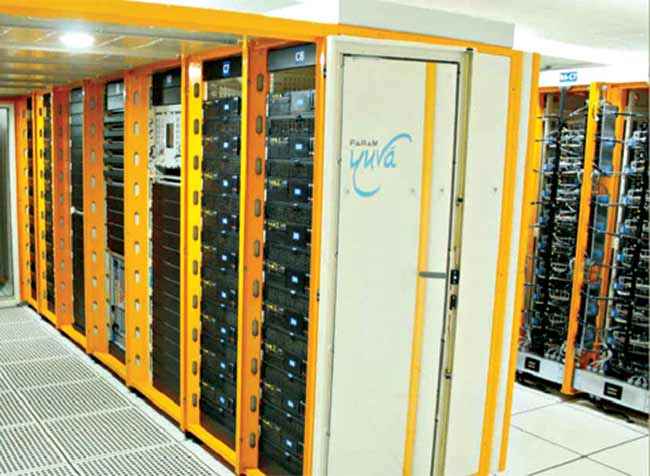 CDACs Param Yuva-2
Specs:
Param Yuva 2 has 221 Intel Xeon E5-2670 nodes that also consist of Intel Xeon Phi 5110P, with Linux 64-bit (CentOS 6.2) and a total storage of 200TB. The System is rated at 388.44 TFLOPS. There are in all 3536 CPU cores and 26520 coprocessor cores. The system is interconnected with Mellanox FDR Infiniband primary interconnect for interconnection of nodes.
Param Yuva 2 provides service in fields of bioinformatics, space, weather forecasting, seismic data analysis, aerospace engineering, scientific research and pharmaceutical development. The system can also be interconnected with Indian Institute of Technology and National Institute of Technology via National Knowledge Network, which is a multi-gigabit backbone network for high speed data transfer between some educational institutions in India.
Homemade Supercomputer
Though many supercomputing systems in the nation have been bought from abroad, from manufacturers such as Cray Inc. from America, the Param series of supercomputers are designed and assembled in India by Center of Development for Advance Computing, Pune. When the US denied the import of supercomputers to the country, CDAC was set up in 1988. C-DAC was able to build India's first indigenously built supercomputer Param 8000 in 1991.
The Param Yuva 2, CDAC's latest machine, was made in under 3 months, at the cost of a mere 16 crore rupees. To connect all Param series of supercomputers across the country, PARAMnet is used, which offers 2.5 GB/s bandwidth in full-duplex mode.
What does the future hold?
India shows promise in the field of supercomputing. We're not really where we should be in terms of the global scale. We have only 11 supercomputers featured in the top 500, and only 1 in the top 100. It's obvious that we need to do better and we will. The government of India is working towards this and has initiated the National Supercomputing Mission. Under the mission, the Government of India empowers an ambitious target of installing more than 70 high-performance computing facilities in the country. These computers will be connected by the National Knowledge Network.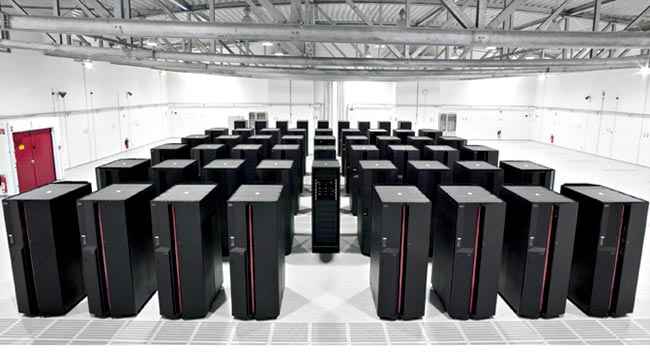 This new project will not only boost Scientific Research and Development, but also improve the quality of higher education in Science & Technology. We certainly hope this dream is realised. India certainly needs to get to the forefront of supercomputing, because as a growing economy and one that hopes to bring more equality and uplift people out of poverty, we desperately need improved data crunching. We need to be able to predict the weather more accurately, have early warning for natural disasters, discover new life-saving pharmaceutical drugs, design rockets, and much more...
This article was first published in the February 2016 issue of Digit magazine. To read Digit's articles in print first, subscribe here.