A cashless economy is the desired state in many countries around the world. While there are opposing school of thoughts, both endorsing and retaliating against the construct of a cashless society in somewhat equal measure, one cannot deny the revolutionary capabilities UPI has granted the citizens of India. Moving money from one bank to another, something people need to do on a regular basis, has never been easier. According to multiple reports, including ones from the National Payments Corporation of India, the numbers suggest that Indians are embracing digital transactions like never before. While a major amount of credit for this development can be bestowed upon demonetisation, invoked by Prime Minister, Narendra Modi way back in November 2016, UPI has certainly made the transition to digital payments, especially amongst the masses, much easier.
How it came into existence
In March 2011, an RBI document revealed that the number of non-cash transactions per individual stood that a mere six per annum, at that time. According to the document, only a minuscule fraction of the (then) approximately 10 million retailers in India excepted card payments. Nearly 145 million households were also completely excluded from banking, let alone online banking. The vast disparity in the numbers of people who used digital payments versus those who didn't was worrisome, especially because of financial nuisances such as black money and corruption. The government had set up the National Payments Corporation of India (NPCI) in April 2009 with the core objective of consolidating as well as integrating various systems with different service levels, into a country-wide, uniform process for all retail payment systems.
In light of the document revealed by the RBI and other contributing factors, the NCPI was tasked with implementing UPI to simplify digital transactions and provide a single interface which could be utilised across all systems. The system, regulated by the RBI, has transcended to become one of the most popular, if not the most popular, methods of transacting money digitally in India. Mr Sharad Sanghi, MD and CEO of Netmagic, an IT service and technology in India, called UPI one of the first and most successful deep tech innovations in India.
Benefits of UPI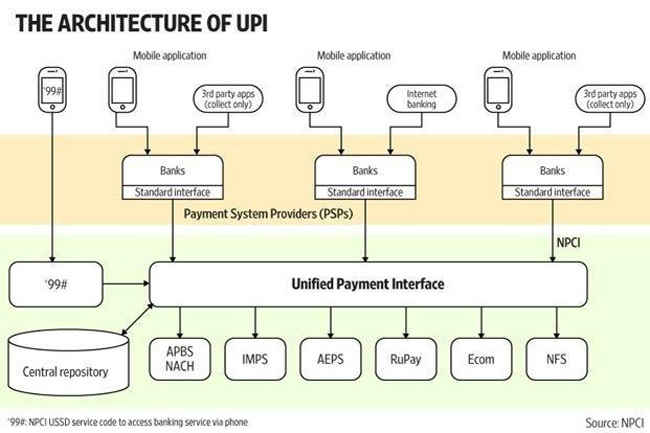 Architecture of UPI
One of the primary goals of UPI, especially in a country like India, is making banking services more accessible to a wider audience, while significantly reducing many of the pain points that are involved in online banking. With UPI, sending and receiving money solely relies on a unique identifier known as UPI ID or a virtual address. Traditional services like NEFT or RTGS, which are used to transact money online, require a host of details about the receiver's bank account before you can start transferring or receiving funds. Setting up a payee account (someone you want to send money to) can be a tedious process, since you not only have to enter all the bank account details of the receiver but would also have to wait for a certain time period (different for different banks) for the banks to authenticate the payee, known as the 'cooldown period'. UPI is also available 24 hours of the day, 7 days of the week, so you can transact money digitally at any time of the day. Basically, if you have a bank account, debit card and phone number, you can have a UPI ID. Same goes with the person you want to send money to. Gone are the days of typing in the bank account number, IMPS code, and many such details to complete digital transactions. UPI can do this with a few clicks.
UPI leverages the growing presence of mobile phones, especially considering the fact that India is now the second-largest consumer of smartphones in the world. It uses the devices as virtual addresses instead of actual physical cards (debit or credit), therefore reducing cost and acquiring and issuing infrastructure as well. UPI is often described with an array of adjectives which are all mostly true, some being - cheap, secure, reliable, mobile-first, open-source, interoperable (between two different banks), instantaneous and more. They certainly have an edge over pre-paid wallets such as PayTm, ICICI Pockets and more, many of which have a limit to the number of transactions or can't do any transactions at all, without completing KYC (Know Your Customer), another time-consuming process. UPI-enabled platforms, on the other hand, can transfer up to a lakh rupees per day or up to 10 UPI transactions per day (these figures can be slightly different based on your bank and UPI app).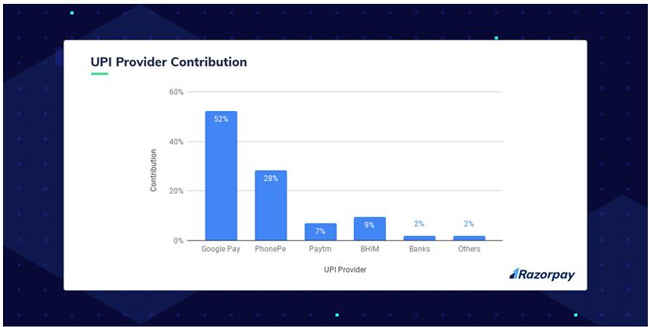 Google Pay takes the prize with a 52% share
Additionally, UPI is a real-time payment system, which is basically IMPS (Immediate Payment Service) on steroids. It is designed to enable peer-to-peer inter-bank transactions within a couple of clicks and of course, entering your UPI PIN. Apps such as GPay, BHIM and PhonePe now allow users to pay bills and recharge their prepaid numbers. Additionally, you can also pay for movie tickets on apps such as Book My Show and pay for your late-night (or any time of the day) Swiggy or Zomato food orders by using UPI.
Unprecedented growth
One of the biggest contributors to UPI's growth is the scratchcard system implemented by Google Pay (Tez). Peer-to-peer back and forth transactions in hope to win a cashback amount are aplenty. We ourselves are witness to winnings of Rs 968 when a transaction of about Rs 300 was made on GPay. Whatever the cause may be, the UPI initiative has indeed proved successful in majorly transforming India into a less cash-reliant economy. It is becoming one of the fastest modes to bring about digital finance inclusion in India owing to its mobile-first design and approach. UPI has actually managed to steal away market share from net banking instead of just being a mobile wallet killer. What started out as a P2P payment mode in 2017, has now evolved to traverse into becoming a preferred merchant payment platform (P2M).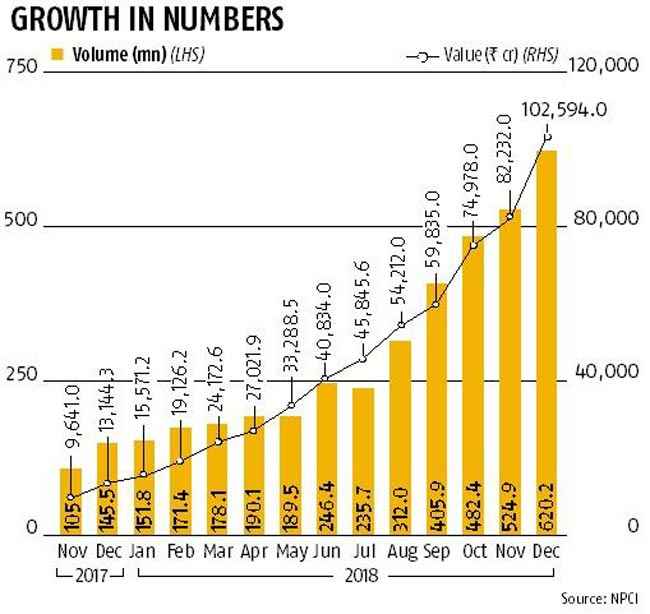 UPI's value grew by 700% in 2018
UPI 2.0 brought in the feature of overdraft facility and essentially bridged the gap between merchants and customers, which, in the end, made UPI a more holistic digital payment solution. Apart from overdraft facility, UPI 2.0 also brought in features such as One Time Mandate, Invoice in the Inbox, Signed Intent and QR. Banks and Fintechs now have a huge canvas to collaborate and deliver value to their customers through UPI 2.0. UPI has emerged as a major payment option for Indians with transactions worth Rs 8.70 lakh crore in 2018-2019, which is a recorded 695 per cent growth over the UPI transactions in 2017-2018 (Rs 1.09 lakh crore). Experts predict the volume of digital mobile payments to increase tenfold by 2020 and believe that 50 per cent of internet users in India will begin to use digital payments by 2020 as well. India is still in the nascent stage of this digitisation process in the financial sector, however, the scale-up over the past few years is impressive nonetheless.