The Online Desktop Experience: Autodesk Project Dragonfly
This is first is a series of article which explore the blurring lines between desktop and web applications.

The boundary between desktop and internet applications is constantly being challenged. Web technologies have become so powerful that nearly anything we could do with our desktop applications a few years ago, we can now do on-line.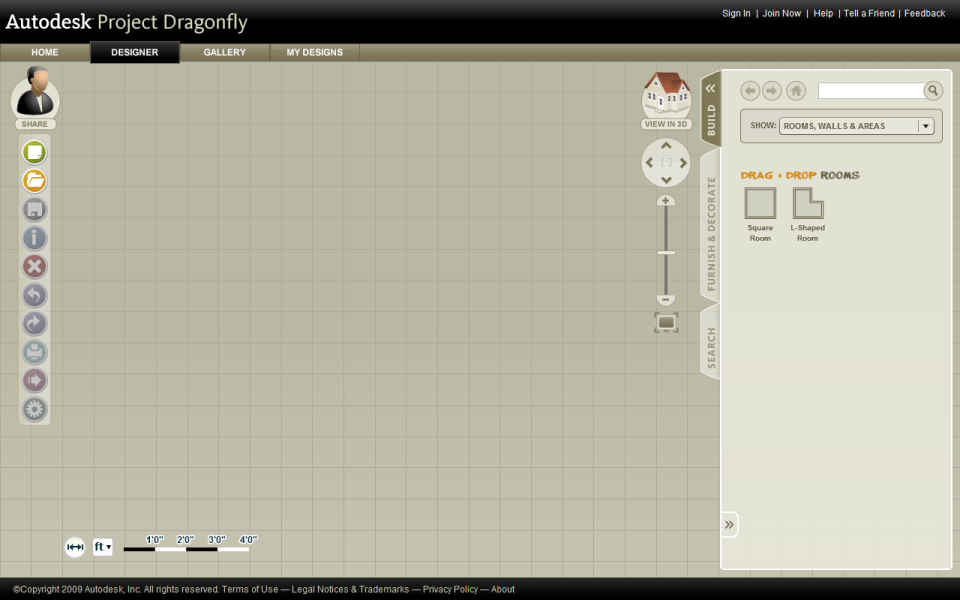 Autodesk Project Dragonfly is a powerful tool for creating architectural layouts online, straight from your browser, needing nothing more than the Adobe Flash Player plugin. It truly showcases what is possible using just the browser, and is a powerful demonstration of the capabilities of Flash.
The Dragonfly tool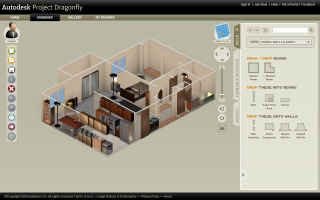 Project Dragonfly is essentially a tool which allows you to create a 3D layout of a house. It comes equipped with some powerful features for creating a room's floorplan, allowing you to put in walls, partitions, and place furniture. While it is certainly not at parity with Autodesk's Desktop offering Revit, it is an easy and free way to lay out your home designs.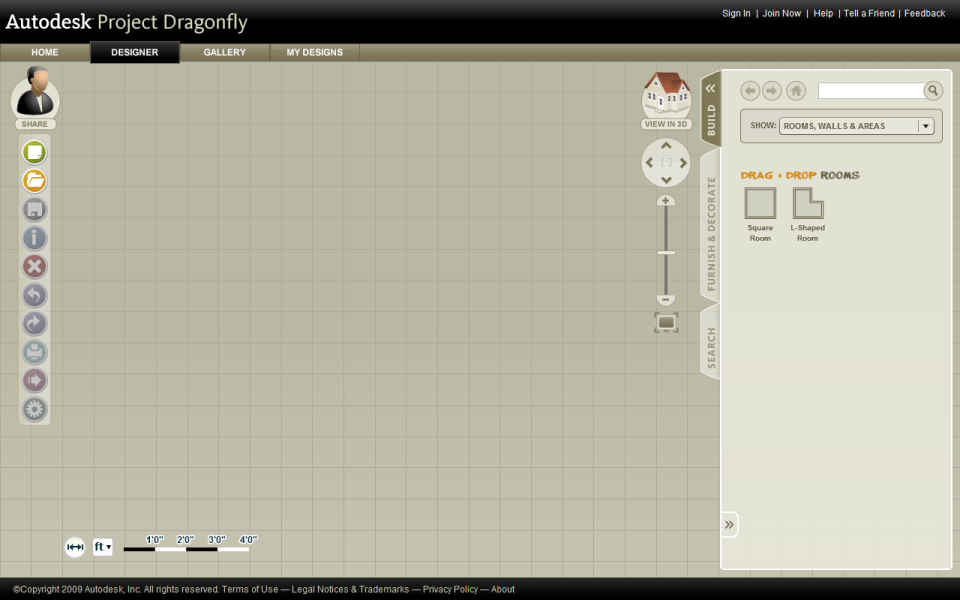 When you log on to the page, Project Dragonfly greets you with a grid surrounded by widgets with information and tools to work with. You have widgets showing information about the scale of your design, a tabbed panel containing objects that you can drop onto the grid, and tools to zoom, pan, or rotate your design. You can view the design in either 3D or 2D views which smoothly transition from one state to another. You also have the option to run Dragonfly in full-screen mode; however with Flash Player's security restrictions, this means that keyboard input will be disabled in this mode.
Working with Dragonfly is fairly easy; for most things it's a simple drag-and-drop process. You can start off by dropping a rectangular or L-shaped floor layout onto the grid. You can also customize the layout to your needs, by adding square, or angled extensions. You can grab and drag walls to increase the size of the room, or move the points of intersection of the walls to have angled walls. The level of customization is impressive considering the online nature of this tool.
Dragonfly also supports printing or exporting your design for offline usage, and supports exporting the same in JPEG, and 3D formats such as Autodesk's own DWG format or the RVT format used by Autodesk Revit.
| | |
| --- | --- |
| | |
| Exporting from Dragonfly | Printing a design in Dragonfly |
Autodesk Dragonfly's library
Dragonfly has a large library of objects that you can add to your rooms. For your basic design you can add doors and windows, which snap on to the walls in whatever orientation and other "Architectural Features" such as fireplaces and stairs, all of which offer a great amount of customization. Object placements follow "rules", which ensure that objects don't intersect, and that objects such as fireplaces are always placed along a wall. For any wacky design you might have in mind, these rules can optionally be turned off.
The object library is well catagorized and diverse
The library catagorized by room
A library of doors
Under the "Furnish and Decorate" tab you find an even greater number of items neatly categorized. The first category is of "Resizable Items" which contains sofas, beds, dressers etc., which can all be resized to fit to your requirements. In all other categories the objects are fixed-sized, however a little more detailed than the pale discolored items found in the "Resizable Items" section.
These items can be categorized according to product categories, or according to which rooms they are appropriate for. Nearly any item you could possibly want is already available.
The Dragonfly community
Nothing would be Web 2.0 if it didn't have social features. Being an online tool Dragonfly can leverage the community to its advantage, by allowing you to share your designs with others. All your designs are stored on their servers, so sharing is a simple matter. In fact when you click on the new file button, you have the option to start from scratch, from a sample design, or from a design shared by someone else.
You can otherwise view the gallery of user-created content by clicking on the "Gallery" tab at the top of the interface. Here you can view the thousands of designs shared by the many users of Dragonfly. While rating designs is not possible, you can view the listing sorted by views, and how many times it has been used, to get an idea about the popularity. Although we hope that a rating system finds its way soon to Dragonfly.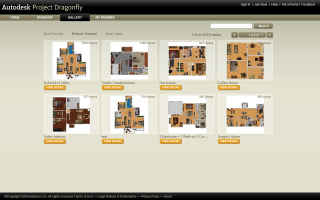 A gallery of designs shared by other Dragonfly users
The tech behind Dragonfly
One of the amazing things about Dragonfly is its performance despite being a Flash application. What is even more amazing is that it is built for Flash 9, which mean that it doesn't even utilize the native 3D features that Flash 10 brings!
Dragonfly is built on the Flex platform and uses a customized version of the free and open-source realtime 3D engine for Flash called Away3D. To achieve the kind of performance we see with Dragonfly, the developers offload a large amount of the processing from the client to their server. They use a cluster of Amazon EC2 Cloud Computing servers for processing and use Amazon's Cloudfront CDN (Content Delivery Network).
Autodesk Project Dragonfly is an amazing example of what internet technologies can accomplish today. By utlizing multiple technologies such as Cloud computing, Flex, Flash, and online social concepts what you get is a high-performance, online tool, for 3D design.