Samsung levelled up the game for laptops by ushering in its innovative Galaxy Book3 series. The lineup includes four cutting-edge laptops - Galaxy Book3 Ultra, Book3 Pro 360, Book3 Pro and Book3 360 - that cater to different user needs and can be easily carried wherever you go.
These laptops are engineered for users who require smooth interconnectivity between multiple devices, and premium hardware to maximize their productivity and inspire their creativity. They are powered by the latest 13th Gen Intel Core processors, offer sharp 3K resolution Dynamic AMOLED displays, and seamlessly integrate with Samsung's ecosystem of devices.
Galaxy Book3 Ultra leads the pack and offers ultra-high-performance for creators, the versatile Galaxy Book3 Pro 360 features a 2-in-1 convertible form factor with a bundled S Pen, the Galaxy Book3 Pro maximizes power in a thin and light form factor, and the Galaxy Book3 360 is a portable 2-in-1 option that will appeal to both casual and professional users, and also comes with an S-Pen in the box.
Let's dive into what makes the Galaxy Book3 laptops a cut above the rest!
Unleash exceptional power with the Galaxy Book3 series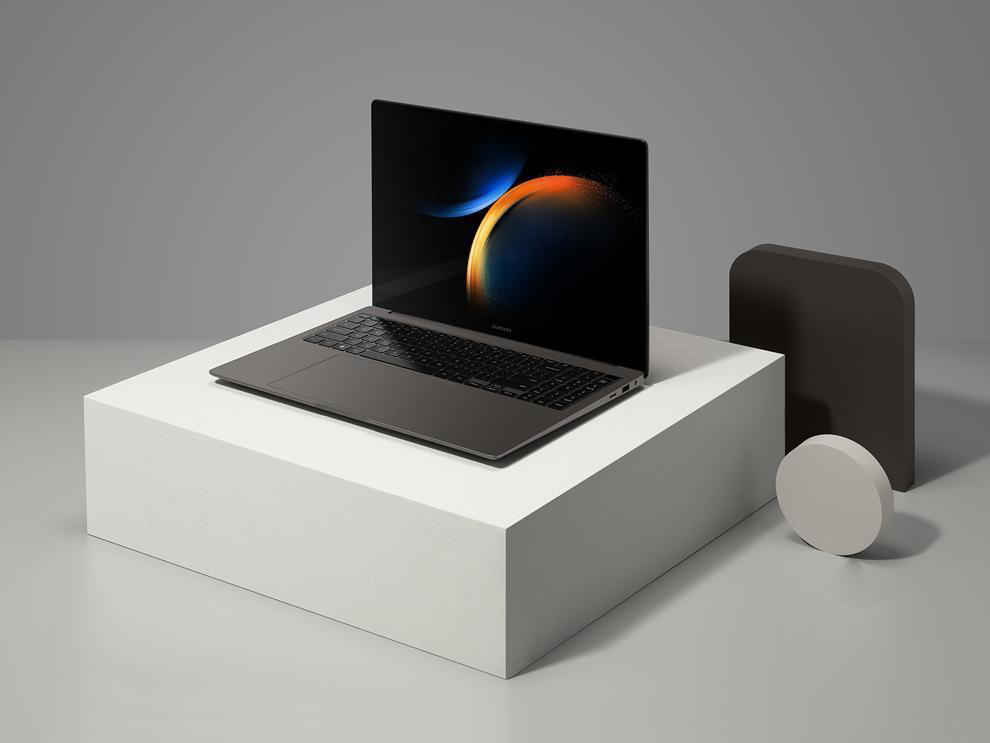 The Galaxy Book3 series laptops are the epitome of raw power, being among the first 13th Gen Intel Evo-certified laptops in India.
The Galaxy Book3 Ultra is the top variant with ultra-fast 13th Gen Intel Core i9 45W H-series processor and with NVIDIA GeForce RTX 4070 graphics. The sheer brute force this configuration offers should be able to make short work of the most demanding of creative and gaming workloads.
The Galaxy Book3 Pro 360, Galaxy Book3 Pro, and Galaxy Book3 360 are powered by 13th Gen Intel Core i5 and Core i7 processors and thus offer remarkable power in their class. The capable processors are further assisted by at least 16GB of fast LPDDR5 RAM and LPDDR4x for Galaxy Book3 360, and at least 512GB of fast PCIe SSD storage.
The laptops support up to 65W super fast charging. The Galaxy Book3 Ultra can charge to 55% in just 30 minutes. There are several high-bandwidth ports and Wi-Fi 6E connectivity to ensure that you can easily connect to all your accessories and peripherals.
So, no matter what your use case may be, With the Galaxy Book3 series laptops, you will be able to tackle any task with ease and have the peace of mind to focus on what's important.
Game-changing displays!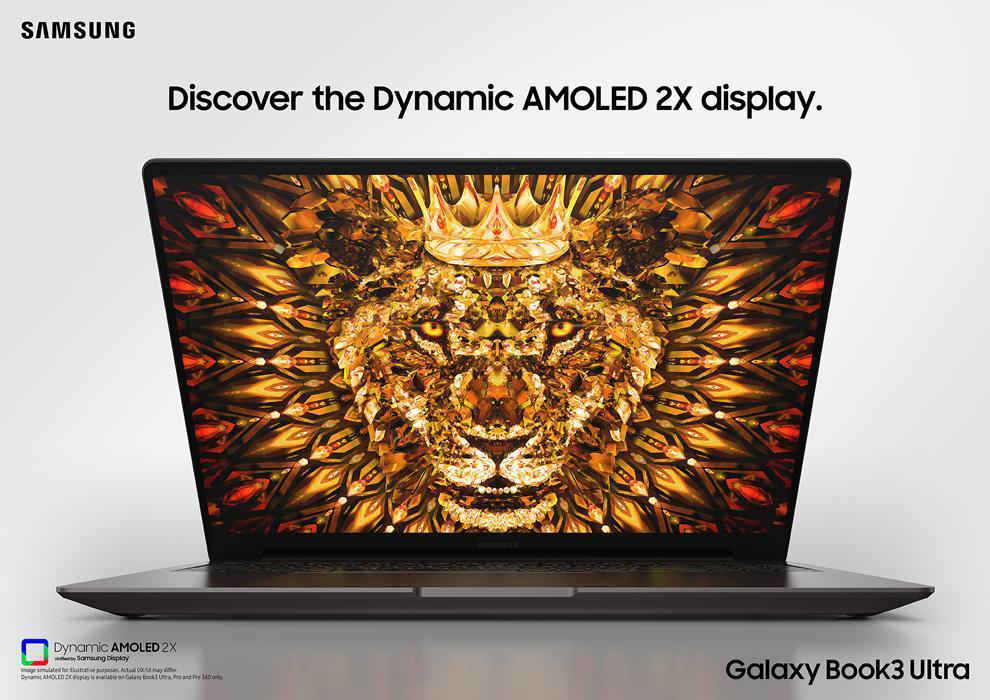 Samsung can be credited with several industry-leading display innovations and it is now bringing its A-game to disrupt the laptop segment. The Galaxy Book3 Ultra, Book3 Pro 360, and Book3 Pro are powered by Samsung's Dynamic AMOLED 2X Displays which are used in Samsung's premium Galaxy smartphones. The Galaxy Book3 360 sports a super AMOLED display. The displays offer 3K (2880x1800) resolution for stunning clarity and support an adaptive 120Hz refresh rate for a smooth and slick viewing experience.
The displays on the Galaxy Book3 series are certified for smooth motion and exceptional HDR performance, with VESA ClearMR and DisplayHDR TRUE BLACK 500 certifications respectively. The SGS Eye Care Display certification also ensures a reduction in blue light for extended use, so you can tackle demanding tasks, enjoy stunning content, and play games at their full potential without sacrificing eye comfort.
You can opt for either a 14-inch or 16-inch display featuring a 16:10 aspect ratio with the Galaxy Book3 Pro and 16-inch for Galaxy Book3 Pro 360 & Ultra. The base Galaxy Book3 360 is available in 13-inch and 15-inch sizes.
So, get ready for a viewing experience that'll leave you slack-jawed! With the perfect size for every need, the Galaxy Book3 laptops have you well covered.
Experience Unmatched Ecosystem Benefits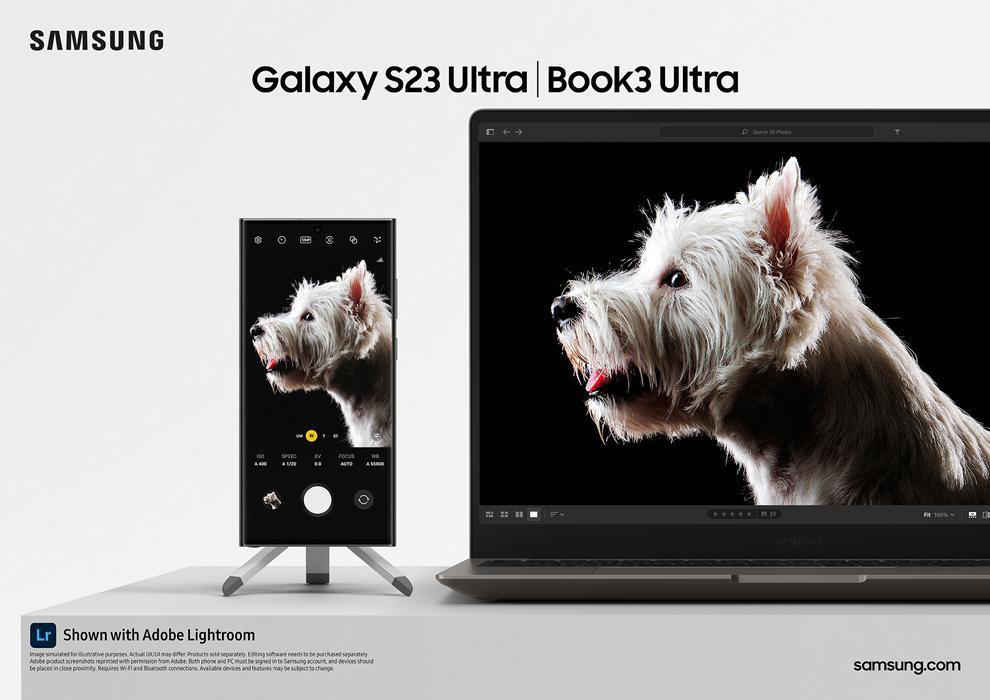 The Galaxy Book3 series promises a connected experience that's like second nature. With Phone Link, you'll enjoy effortless phone-to-PC connectivity across operating systems. Phone link lets you pick up right where you left off on your phone, be it recent websites or apps, and Instant Hotspot connects you to your phone's wireless hotspots with just one click.
Samsung Multi Control lets you control your PC, Galaxy Tab, and now Galaxy smartphone with the Galaxy Book3's keyboard and trackpad. Copy, paste, drag and drop between devices with ease across multiple devices including your phone, laptop and tablet! And with Second Screen, your Galaxy Tab becomes a second monitor with just one click!
Oh, and photography lovers rejoice! Expert RAW mode on your Galaxy smartphone, combined with the Galaxy Book3 series, lets you take high-quality photos, transfer them automatically, and edit them like a pro with professional-level photo editing tools on your laptop.
Using the Single Sign On feature, you can seamlessly switch to the Galaxy Book3 series laptops using the same Samsung account. The Galaxy Book Smart Switch can further assist you with carrying all your important data from your last Windows laptop. You can use Samsung Pass to auto-fill your password just like on the phone. Use Quick Share to easily transfer files between your Galaxy devices.
Get the power you need, the style you crave!
Apart from powerful performance hardware, these laptops include an impactful quad-speaker system, studio-quality dual microphones, AI noise cancelling for clear audio streaming, and other collaboration tools like auto framing, eye contact correction and smooth backgrounds that will make you the star of any virtual meeting.
Wrapped in a sleek, lightweight aluminium casing, these laptops have got the hardware to get the job done. But Samsung didn't stop there, they're also committed to eco-friendliness with the Galaxy Book3 series! With parts made from recycled plastics, they're doing their part to protect the planet for generations to come.
In India, the Galaxy Book3 series starts from ₹109,990. You can pre-book the Galaxy Book3 360, Galaxy Book3 Pro and Galaxy Book3 Pro now and get Galaxy Buds2 at just ₹1999. If you Pre-book the Galaxy Book3 Ultra now, you can get a UHD Monitor worth ₹50,099 for just ₹1999!
Additionally, you can also avail of ₹8000 cashback from leading banks and up to 12 months of no-cost EMI from Samsung.com for all Galaxy Book3 series models.
[Brand Story]