During a particularly smoggy afternoon in New Delhi, we caught up Mahesh Lingareddy, the CEO of Smartron, a young Indian technology startup with an aim to become a global force to be reckoned with. It's weapon? A robust IoT platform named TronX and a range of diverse hardware products. So far, in its three years of existence, Smartron has come out with three products -- t.Book, a Windows-based convertible, t.Phone, a high-end Android smartphone and the Srt. Phone, a limited edition mid-range Android device celebrating the contribution of Sachin Tendulkar, who also happens to be an investor and the brand ambassador of the company. There are more products in the pipeline, of course, with the first batch scheduled to roll out early 2018.
It's still early days for the company but Smartron has invested heavily to make the platform. It now has its own neural language processing, its own voice engine, and its own learning and answering engine. It isn't relying on Amazon or other AI services. The Hyderabad-based startup has built its own set of capabilities.
What is Smartron's story to tell?
We have a few objectives. Build India's first global brand. Today there is not a single Indian brand that is globally recognisable in technology. We are known to be trafficking humans. Legalised human trafficking. We sell our people as service.
Second, is to build a technology platform. Let us be known to be a innovation driven, R&D driven, technology driven company. We may succeed in some products, we may not succeed in some. That's fine. But that requires guts because 9 out of 10 projects will fail. 95 out of 100 projects failed at Google and look where it is now.
Third is, how do I build our own ecosystem? Because unfortunately, we don't have our own product ecosystem in the country. So how I drag along a bunch of other companies along with me.
The TronX platform sounds quite futuristic. Is the Indian market ready for it?
For technology products, consumer is never ready. The market is never ready. You need to bring it to them in a way that they see the value. You need to show what is the benefit to the consumer. What can they do with it? You need to focus on the overall experience with the platform. I think that is where the opportunity is. I think customer is never ready. Was the customer ready for PC? The iPod?
What abilities does TronX have? Is it much different from Google and Apple's ecosystem?
We have an interesting platform based approach in Smart Homes. Today, I have to buy five different devices. I get five different apps. I get five different hubs. TronX is the experience in general. The IoT and AI layer is all our own. At the device level, it could be an Android, Windows, or a Linux device. TronX is running as an agent on top of it, allowing you to connect all different devices together. Today I am able to see the entire content of my t.Phone on my t.Book and I can literally copy something on my phone and paste it on my t.Book. On Windows today, I have to copy the line from Word and then email it to myself to paste it in WhatsApp on my phone. If I am connected to the Wi-Fi on one of my device, when I bring another T device, it automatically connects me to the network.
Let's say I'm at home. I'm watching TV and late to go to office. I need to book an Ola. So I tell the TronX home to book me an Ola. The cab comes and when I jump in, the experience will come to the phone -- the directions, how long it will take, etc. TronX knows I'm now not at home. So, the contextual understanding is there. It cumulatively gives you that rich experience and you need to experience it to value it.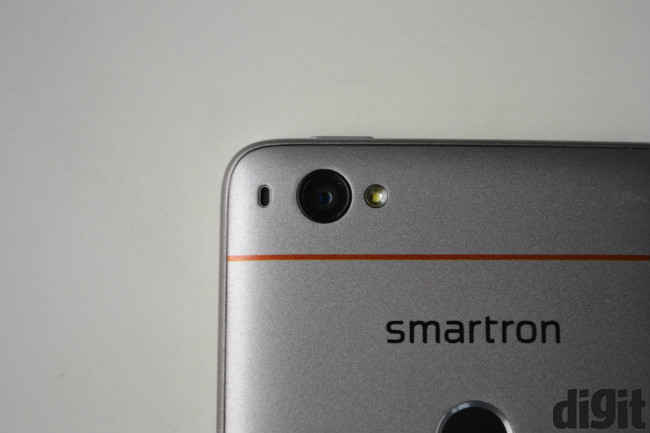 The Smartron Srt. Phone, a limited edition mid-range Android smartphone celebrating the Master Blaster's contribution to Indian cricket
The picture I'm getting of TronX is something that is more powerful than Google Assistant, Alexa or Siri. It's making me impatient to see it in action. When are we going to experience the TronX platform?
You can already see bits of it now. But in January, you will see mobile devices and the Windows devices. T-phones and T-books. We will launch TronX 2.0 that has now started to work on T-books and T-phones. Over the year, we will introduce smart home devices that will be connected to the TronX platform and over time some very interesting experiences right from entertainment, to shopping, health, financial payments and lots of other collaborations will happen. At home, we can learn a lot more. For instance, when you are sleeping, just based on your breathing, TronX can know what health symptoms you may have.
The Flipkart Billion Capture+ that is powered by TronX will also receive a FOTA update at the end of the month that will install the TronX launcher and you will some interesting things there.
Is TronX only for consumers? Can the enterprise sector also implement the platform?
We have collaborated with students in California where we are trying to use the t.Bands with TronX where they are doing research on how to leverage both observable and unobservable states of a student to make the learning experience very personalised. Today if you look at the way classrooms operate, there is one path to learning and it assumes everyone is on the same page, with the same IQ, the same emotional state and that's why, you have two people at the top, 20 people at the bottom and the rest is in the middle. Here, I think TronX can have a tremendous impact on education. My ability to understand mathematics may not be as good as my understanding of Biology. The TronX system can now give you more practice questions or it will try to explain things in a simpler way.
Does that mean TronX will make teachers obsolete?
It will replace the art. At least, the way I look at the whole "humans vs machines" debate, I think intelligence and machines will improve 80-85 percent of our lives. 80 percent of our life is predictable. You wake up around the same time, browse those three-four websites, browse those same channels, eat in those 5-6 restaurants. That predictable part, the system can do a really good job at optimising and providing a better experience. Now, where the theory of machines taking over humans fall apart, is that 10-15 percent of unpredictability, the emotional quotient that machines cannot handle. That is always going to be the wild card and they will never be able to overtake humans completely, forever. That emotional, unpredictable nature that we have which makes us respond differently.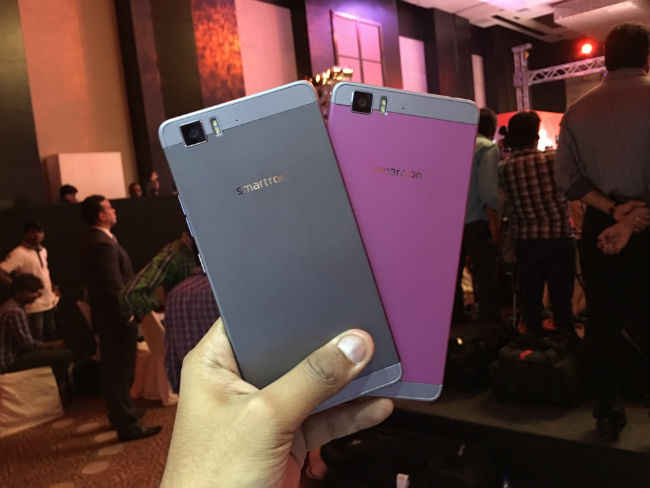 The Smartron t.Phone, a high-end Android flagship launched in 2016
Speaking of AI, Google, Apple and Amazon are all leveraging their own collection of data to do artificial intelligence. Is Smartron also doing something similar?
We have to build our own data sets to create predictability. Currently, we rely on a lot of public data. So right now, as we train the system, we are leveraging all the existing data because we ourselves don't have enough data. But as we grow and collect our own data, we will apply that to each individual. We are crawling the entire web differently than what Google does. We are trying to crawl by social popularity for instance, in contrast to the number of clicks on the link. Today if you look at how Google ranks its search results, it's based on the number of clicks a link has received. But no one really wants the link that more people are clicking. An article should be ranked based on how many likes and tweets it got on Facebook and Twitter, not the number of clicks it received.
But there could be a downside to that. It could be a fake story and a lot of people had ended up sharing it…
So what? If people are reading it, we're not talking about the authenticity of the article. It is popular. Doesn't matter if it's fake or not. So if people are consuming and sharing fake news, that is real news. You can't call it fake news. Our goal is not to say it is authentic or not. Today, Google's indexing doesn't also know everything. It could give a link to a porn site because that's popular. It is not trying to tell you the most authentic link. It is telling you that is the most popular link. It could be fake also. But all I'm saying is you can think of indexing on social popularity as opposed to indexing by clicks. Our recommendation engine will run on social media. Our news feed on the minus one screen, will look really interesting. We have pushed the news feed to some chosen 1000 or so beta users of the Srt. phones, and we are getting a really good feedback.
What is the differentiating factor for Smartron?
The TronX platform as a whole as well as the breadth of the product category. The product range from the t.Book to the t.Phone to the t.Band to t.Home to the t.Bike. The idea is to have a wide of range of products that is all connected to one common backend experience platform through which we are pushing a very seamless and continuous experience from entertainment to shopping, travel and payments and a bunch of other things. You can interact with these devices with your voice and gestures. The focus is on the experience from the software angle. On the hardware side, it's pure design. If you look at the t.Book and the t.Phone, people really appreciated them. The t.Book has a very unique identity. It has a two colours. It stands out. You will see the same in the t.Book 2.
Hardware products will have the pleasantness, uniqueness and Indianness of colours. They will not be black and white. We like colours I think we should celebrate that and bring that philosophy into our design. We will be even more riskier in terms of design. We will experiment a lot. Our smart things will blend into Indian interiors.
It all boils down to who can deliver the most experience. Price is also a factor. Nobody will want to buy a smart bulb for Rs 5,000. At Smartron, we are working under certain constraints but maybe we will be able to innovate and bring down the overall cost of "tronifying" your house at a lower cost that Indian homeowners can afford.
Now when you say this, one company that comes to my mind is Xiaomi. They have been doing some similar in China where they are launching all kinds of products under their moniker and tying it up with their own ecosystem.
We have a strategy and we will execute it. We don't worry about what Xiaomi is doing. They are too big for me to worry about and we are too small for them to worry about and if there will a cross of paths, time will tell what we will do. At no point I'm saying I want to do this and that and I want to bring them down. Markets are very dynamic and there is no fixed strategy. We have to navigate and adapt to it and be changeable. If I need to partner with Xiaomi, I will partner with them. You collaborate and compete on the same side. Definitely they're leveraging China's strength of hardware manufacturing. They are sourcing products and trying to churn out like Walmart. Xiaomi has a vision. If you talk to their CEO, their founder, they have a vision and they are very passionate. They want to be a $50bn company. It is a story to tell.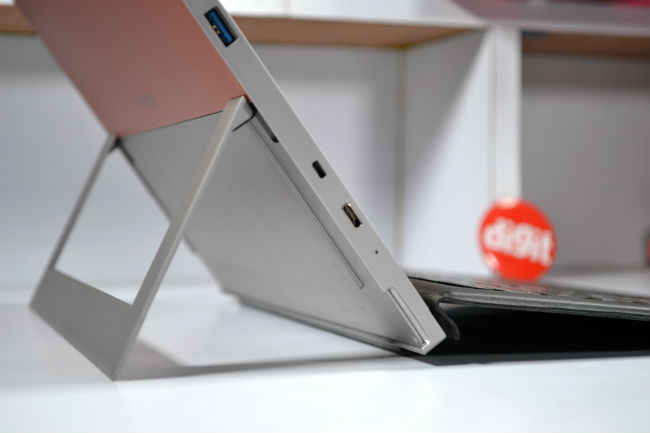 The Smartron t.Book, a Windows-based convertible launched in 2016
This is an Indian company with global ambitions. But how do you plan to do that when there are already such big players in the technology space?
That's a very flawed logic. If that's true, we should be saying the same to all the Chinese companies that put the Japanese out of business. We are in the Middle East, Africa, Southeast Asia. US is also interesting. The electric bike that we are coming out with will be an interesting product in the US. The IoT side is also pretty open. If you look at infrastructure, retail, fleet management, logistics, there is no dominant IoT brand playing there. But if you are looking at typical hardware-software play, the smart home is I think next frontier to win and no one has been able to conquer it. There are a lot of isolated solutions. But if you look at homes in the US, I have not seen a single home where there is a unified platform. Nobody is willing to take that full on.
We have raised almost 30$ million. 90 percent has gone into R&D. Now it will start to skew more towards marketing and sales. If you can spend more money on R&D and still establish a brand that's the best. You don't want to be spending a lot of money on branding like Oppo or Vivo does. Brand awareness is sticky and Oppo and Vivo doesn't have the stickiness. If my intention is to play for the long-term, I want to create that stickiness.
Smartron is an Indian company, but is it a Make In India company?
No. It's not. We are an Indian company. We are proud of the Indianness of our company. But we aim to be a global brand, so if the manufacturing is done in Korea or China, I don't care. At the end of the day, if we go for an IPO, "Smartron India Pvt. Ltd." will be enough. Today Samsung is a Korean company but it's a global brand. Same with Huawei. Same with Apple. They don't necessarily manufacture their products in their country. We consciously avoid the word "Make in India". I think we are too smart to manufacture. Let the Chinese manufacture. I think we should keep them very busy manufacturing, so that we can focus on high value product alone. We are a fairly sophisticated society. We communicate very well. We are more educated. We are uniformly developed as a country. Relatively speaking, compared to China. Why are we not taking advantage of that? We should be innovation-driven, solution driven, country. I'm all for designed in India, engineered in India. Manufacture wherever it's cheap. I'm very capitalistic. I think we've got great engineering talent and we should be designing, and innovating next generation product and manufacturing can be outsourced.