Samsung Fab Grab fest is now live and if you have been looking to upgrade your smartphone, the Galaxy S20 FE 5G (Buy Now) is available at a very exciting price of INR 34,999 as part of the sale. With features like a powerful Snapdragon chipset, 120Hz AMOLED display, and a wonderful day and night photography experience, this is a really lucrative deal for the sale price. Moreover, consumers can avail of an extra INR 2000 cashback for purchases made with HDFC Bank cards, reducing the effective fest price to just INR 32,999.
As part of the Fab Grab Fest, the brand will stream Samsung Live at 1 PM on May 3 and share exciting offers on the Galaxy S20 FE 5G. In case you intend to buy the phone, May 3 is the day that you will get the best deal. So, make up your mind and don't forget to tune in at 1 PM.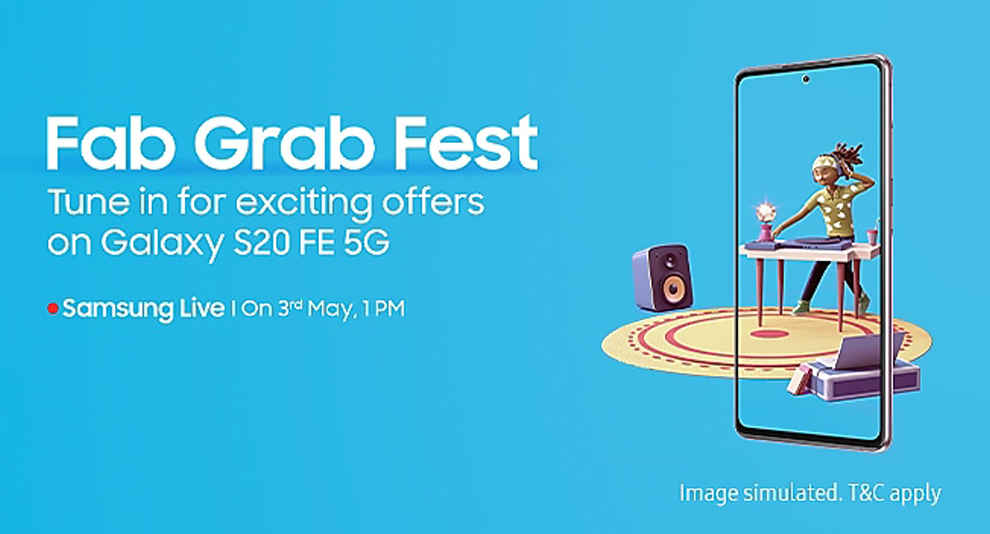 The ongoing Fab Grab Fest which started on 1st May 2022 is the biggest sales event for Samsung products and lists the hottest deals on home appliances, smartphones, tablets, QLED TVs, and more. If you have been waiting for an opportune moment to grab your favourite Samsung products, now is the time!
Here's why you should consider grabbing the Samsung Galaxy S20 FE 5G!
This clean and minimalistic design of this svelte 5G smartphone is bound to impress. It's not just about the phone being a head-turner, but also exceptionally comfortable to hold and operate.
On the inside, the Galaxy S20 FE 5G is driven by a powerful Qualcomm Snapdragon 800 series chipset that can deliver reliable flagship-grade performance without breaking a sweat.
The handset has a gorgeous Full HD AMOLED display and conforming to the latest trend, it supports a 120Hz refresh rate that makes animations and scrolling super smooth.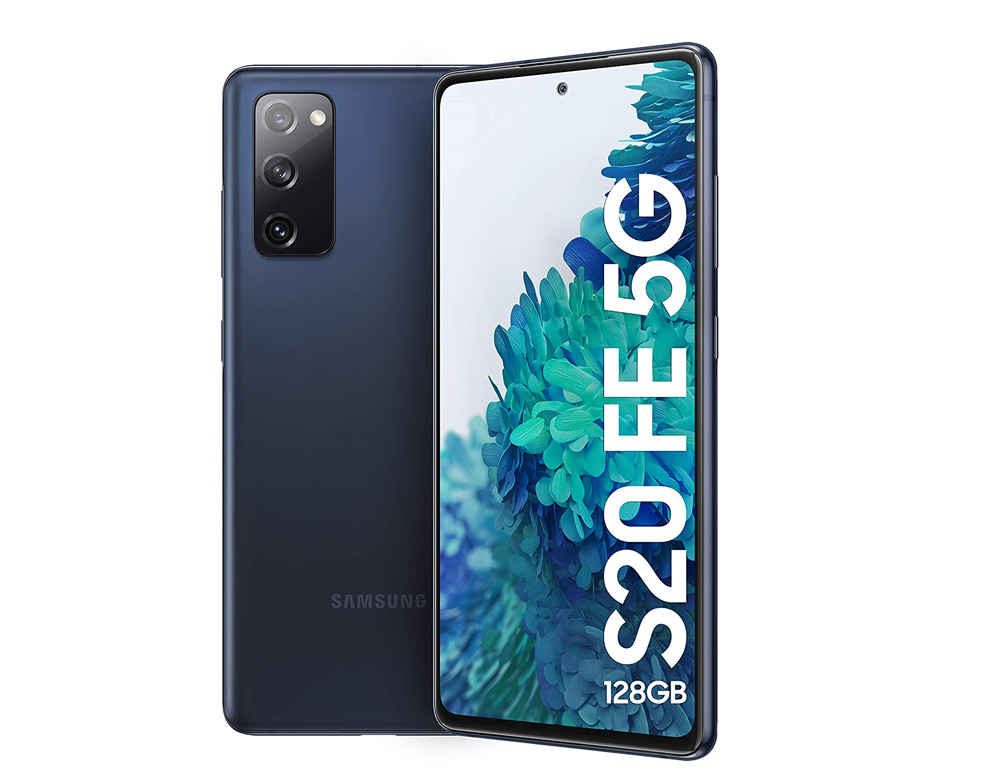 Another major highlight of the phone is its day and night time camera performance. On the rear, you will find a triple camera system with a 12 MP primary snapper, a 12 MP wide-angle shooter, and an 8MP telephoto camera with 3x optical zoom! On the front, there is a 32MP selfie camera that can capture 4K videos.
The primary 12MP sensor has a fast auto-focus speed and benefits from Optical Image Stabilization (OIS) which uses a combination of hardware and software processing that helps capture sharp photos even in low light.
The zoom camera also benefits from such stabilizations, which is very thoughtful since handshakes are further amplified when you zoom in on distant objects. The 12 MP wide-angle camera can be used to capture scenic canvases or can be incredibly handy when you need to gather several subjects in a single image frame.
Other notable features include stereo speakers, a dependable 4500mAh battery with fast charging support, and a secure under-display fingerprint reader.
Overall, the Galaxy S20 FE 5G is an amazing allrounder and makes a lot of sense for its offer price of INR 34,999.
Jaw-dropping deals you can't afford to miss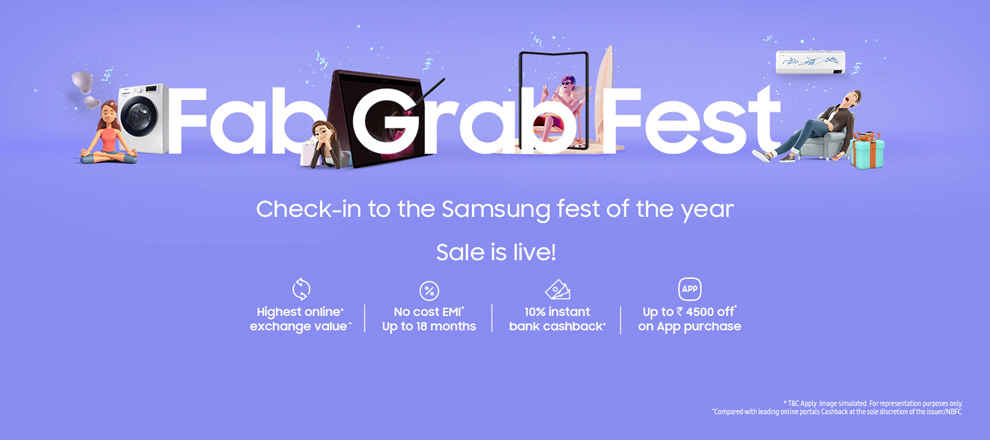 Apart from the Galaxy S20 FE 5G, the Fab Grab Fest brings several exciting offers for products across categories including TVs, home appliances, wearables, and more. Let's talk about some of the most appealing ones that you may want to consider.
The Galaxy Watch4 has an MRP of INR 26,999 and will be available at an offer price of INR 14,999! This should be an exciting companion to your Galaxy S20 FE 5G that can also track 90 different exercises, measure blood oxygen levels, and present a comprehensive sleep analysis. The Galaxy Watch4 can measure body composition in real-time and lets you track fat percentage, skeletal muscle, body water and more using a BioActive sensor.
The recently launched Galaxy M53 5G (6GB RAM) with an MRP of INR 32,999 is listed for INR 26,499 and Samsung further offers an additional INR 2500 cashback, reducing the effective fest price to just INR 23,999. Moreover, you will get a free 25W travel adapter and can avail of an extra INR 1000 discount for purchases made via the Samsung Shop App. This power-packed mid-range phone brandishes a 108MP camera, has an expandable RAM capacity of up to 16GB, and a super AMOLED+ display with 120Hz refresh rate support.
Samsung also has never-seen-before offers on several popular TVs including 4K Smart TVs, QLED TVs and the Neo QLED TVs. The Serif (55-inch) with an MRP of 163,900 will be available for INR 89,990 and the Frame QLED 4K TV with an MRP of 89,900 will be available for INR 58,990.
You will also get the coolest deals on Air Conditioners including Samsung's WindFree ACs. The 1.5T WindFree Split AC comes with innovative features like a PM 1.0 air filter, freeze wash, and AI cooling. The AC will be available for an offer price of INR 4X,990 as against an MRP of INR 72,990.
Starting early would be advantageous!
Samsung Fab Grab Fest is the perfect opportunity to score the best prices on your favourite Samsung products. To avail of these amazing deals and discover many more, visit the Samsung Fab Grab Fest website and pick up your favourite products before the stocks run out.
[Brand Story]